iPhone 6 Trade In Deals Compared
With the iPhone 6 already available for pre-order ahead of its September release date and millions of users just dying to get their hands on upgraded hardware, there's never been a better time use your smartphone upgrade. New iPhone 6 trade in deals revealed this week certainly aren't hurting the iPhone 6 release date festivities any either.
iPhone 6 trade in deals are essential because there aren't a lot of different ways to save on the cost of a new iPhone 6 or iPhone 6 Plus. Every retailer or, online or otherwise, follows Apple's recommended pricing. That saves them from dipping into their own profits in a war to offer users the cheapest iPhone 6, but it also means there isn't that much in the way of savings to be found.
Here's a breakdown of the iPhone 6 trade-in deals you can expect.
Retailers
Staples
Staples, the world's largest office supply store, isn't exactly well-known for its forays into the technology space. Years ago the company began offering support for Windows PCs and around a year ago the company also started catering to smartphone buyers in a big way. Now it offers trade-ins including a mildly attractive iPhone 6 trade in deal. As of now, Staples shoppers earn at least a $30 gift card when they trade in a laptop or at least a $50 gift card when they trade in their smartphone. Shoppers can use that gift card to purchase an iPhone 6. To be clear those figures are just were the value starts, for example iPhone 5 users can get as much as $280 thanks to this iPhone 6 trade in deal.
In addition to that iPhone 6 trade in deal Staples is offering another. Verizon iPhone users who turn in their device and sign a two-year service agreement will get the iPhone 6 for free. To be clear, it's still an iPhone 6 trade in deal since Staples is actually giving Verizon iPhone 6 buyers $200 for their device when then applying that to the cost of the iPhone 6 at $199.
Radio Shack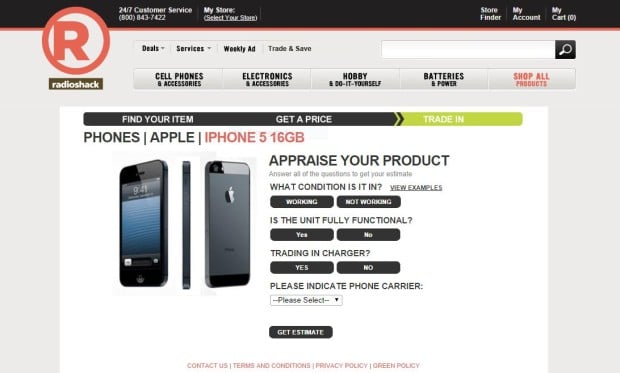 Radio Shack is doing a little iPhone 6 trade in special of its own. The small electronics retailer began offering users the chance to pre-order the iPhone 6 last Friday like everyone else. It also kicked off a slightly interesting iPhone 6 trade in deal of its own. iPhone 5's users who trade in their device will get at least $100 in trade-in credit. Radio Shack says that through its Trade & Save program users can look forward to $300 off their iPhone 6 too. Of course, those who trade in last year's iPhone 5s stand to make a bit more.
Wireless Carriers
T-Mobile
Early last week T-Mobile revealed that it would monitor trade-in values, match other carriers and give users a $50 bill credit as an apology if any other carrier offers more.
Read: How iPhone 6 Buyers Will Get The Best Deal on T-Mobile
Currently, the carrier is showing a trade-in value of $232 for the iPhone 5 with 16GB of storage. At that price Staples has some decent competition – provided that you're willing to switch to T-Mobile just to get the trade in value. T-Mobile only offers trade ins to users purchase a phone from them.
Verizon Wireless
Verizon isn't guaranteeing other's iPhone 6 trade in deal but it is offering a trade-in program of its own. iPhone 5 devices with 16GB of storage traded to the carrier stand to fetch as much as $200 even. That money can go towards the iPhone 6 or even monthly service charges.
AT&T Mobility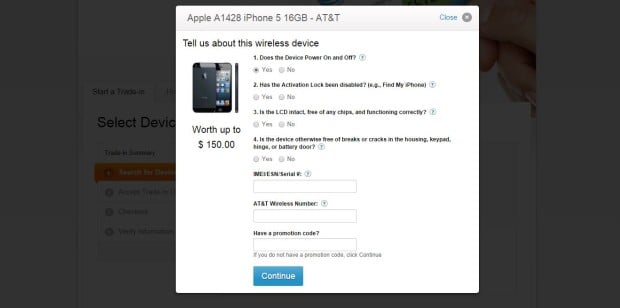 AT&T Mobility is offering up $150 for the iPhone 5 with 16 GB of storage. AT&T's deal works in the same way Verizon Wireless' does. The value can be used for either service or the iPhone 6.
Sprint
Finally, there's Sprint. America's third-largest carrier is offering trade in values for the iPhone 5 with 16GB of storage at $231.50.
Compared
Last week GottaBeMobile broke down various iPhone 6 trade in options for users. Overall the deals we found were pretty competitive. That being said, it is interesting to look at these iPhone 6 trade in deals when compared to what other users are getting from online websites like Gazelle.
Read: Getting the iPhone 6 on the Cheap: iPhone Trade-In Value Breakdown
When compared with the iPhone 6 trade in value that Gazelle is offering to users, Staples' iPhone 6 trade in offer seems downright generous. Unlocked iPhone 5 owners with 16GB of storage stand to only make $175 on their device. Owners of a locked iPhone 5 with 16GB of storage only stand to make $150 from a Gazelle trade-in. Clearly, users are winning with the Staples iPhone 6 trade in deal there. In fact, Staples' iPhone 6 trade in deal tops anything we could find except for basic trade-ins.
Of course, Staples is only giving users an in-store gift card with their iPhone 6 trade-in deal whereas, users who trade-in with Gazelle get funds they can use anywhere. The Staples iPhone 6 trade in deal also beats what Radio Shack is offering by a considerable margin. It beats what many of the carriers are offering their users too.
Remember, when preparing to take advantage of an iPhone 6 trade in deal read the fine print. You're going to want to be truthful about the damage your device has and how much it's worth. In some cases a charger and cable are also factored into iPhone 6 trade in deals.
Read: iPhone 6 Release Date: What Buyers Can Expect Now
Both iPhone 6 devices launch on Friday, September 19th.

As an Amazon Associate I earn from qualifying purchases.