iPhone 6 Video You Have to See This Weekend
A new iPhone 6 video has emerged ahead of the iPhone 6 launch date on September 9th.
For weeks, iPhone 6 rumors have been swirling around, teasing details about the iPhone 6 specs, iPhone 6 release date, and more. With an iPhone 6 launch date now set for September 9th in Cupertino, iPhone 6 leaks have picked up speed and thanks to a new video, we now have a look at what the iPhone 6 could look like when it arrives later on this year.
Feld & Volk, a luxury vendor that modifies iPhones for resale, has posted a new video that appears to show an iPhone 6 that's cobbled together using various components including rear shell, display, and internals. In fact, this iPhone 6 model is so sophisticated that it's able to boot to the 'Connect to iTunes' screen, giving us a glimpse at what a working iPhone 6 could look like.
The vendor put the iPhone 6 together using various pieces that it has acquired over the last few months. And while it can't get to a home screen running iOS 8, this is still one of the most complete versions of a pre-release iPhone 6 that we've seen. Most iPhone 6 videos have shown off alleged iPhone 6 models or iPhone 6 clones from China.
It's important to note that the iPhone 6 in this video uses the design that we've seen leak out over and over again ahead of the iPhone 6 release date. The iPhone 6's design is rumored to be thin, perhaps as thin as 7mm, and feature all of the usual bells and whistles including metal, a Lightning port, a SIM card tray, a headphone jack, volume rocker, and a power button.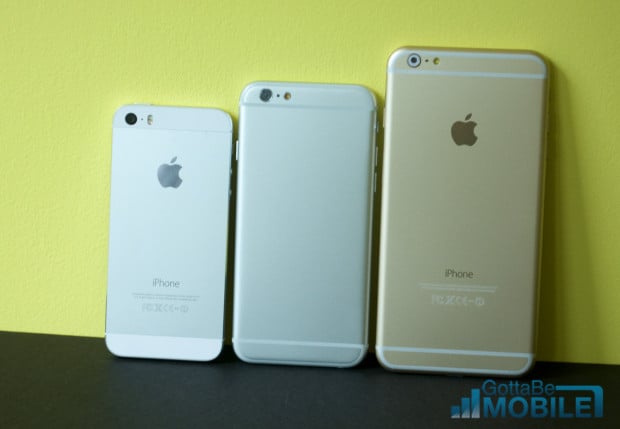 The iPhone 6 design is also expected to include Touch ID embedded inside of the home button and two larger display sizes that measure 4.7-inches and 5.5-inches. iPhone 6 rumors have focused on these two sizes, both of which would be a big step up from the 4-inch Retina Display that's found on the current iPhone, the iPhone 5s.
It's not clear what pieces this iPhone 6 uses but iPhone 6 rumors continue to point to upgraded internals including a new camera that takes advantage of image stabilization technology and an A8 processor that will be a step up from last year's 64-bit A7 chip. Apple's new A8 processor is expected to focus on performance with battery life as a focus. It's also rumored to be attached to a new M8 co-processor that could offer several new sensors.
The iPhone 6 specs might also include Near-Field Communication, a chip that would allow users to pay for goods and services at brick and mortar stores, tons of internal storage including a 128GB model, and iOS 8, the software that Apple's expected to detail alongside the new iPhone 6 at its September 9th launch event at DeAnza College in Cupertino.
Apple's new iPhone 6 might be leaking out like crazy but consumers are likely going to have to wait at least a few weeks for the iPhone 6 release date to arrive. iPhone 6 release date rumors put the device's release inside September with the week of September 15th being the focal point ahead of Apple's big announcement.
The company's iPhone 6 launch will come just a few short days after Samsung takes the stage on September 3rd to announce the new Galaxy Note 4, an iPhone 6 competitor that's expected to come with a handful of upgrades including a 5.7-inch Quad HD display. Motorola is also set to take the stage on September 4th to announce two brand new flagship smartphones including the Moto X+1 and the all new Moto G2.
All three of these new smartphones are expected to arrive in the month of September, putting added pressure on Apple to deliver a high-end iPhone 6 to consumers around the world. From the look of things, the company is on track to do just that.

This article may contain affiliate links. Click here for more details.