iPhone 6 vs. Galaxy Note 4 Release Rumor Breakdown
With September fast approaching and with iPhone 6 and Samsung Galaxy Note 4 rumors continuing to swirl, it's no surprise that we've been bombarded with questions about these upcoming releases. With those questions in mind, here we take a look at how the iPhone 6 release is shaping up next to the Samsung Galaxy Note 4 release in an effort to provide clarity to those in the hunt for a new smartphone.
For the past seven months, we've seen iPhone 6 rumors and Samsung Galaxy Note 4 rumors emerge side-by-side in the lead up to the fall and Apple and Samsung's usual iPhone and Galaxy Note release windows. On paper, both devices look like they're going to be powerful and popular devices, worthy successors to the iPhone 5s and Galaxy Note 3.
The iPhone 6 is expected to be a significant upgrade as it introduces a number of key features including larger higher resolution displays, a new design that features more metal and a thinner frame, iOS 8, a new A8 processor with M8 co-processor, and a camera that's expected to eclipse the quality found on the iPhone 5s. This is not an 'S' iPhone and therefore it should be a huge leap from the past two models.
As for the Galaxy Note 4, it's expected to feature some big time upgrades including a 5.7-inch QHD (Quad HD) display that could trump the iPhone 6's display, a Qualcomm Snapdragon 805 processor, a 16MP camera with Optical Image Stabilization, a new design that offers protection, durability and style, and a ton of internal storage. Like its predecessors, the Galaxy Note 4 should come with an S Pen stylus that takes advantage of unique software.
And maybe the most interesting detail of all is that the iPhone 6 release and Samsung Galaxy Note 4 release appear to be on a collision course. In the past month or so, we've begun to see details firm up around both releases to the point that we've put together our own list of expectations. Today, we want to deal in rumors and concrete details rather than predictions.
We've heard from a number of people interested in both of these smartphones and one the first questions we're usually asked is: "When are they coming out?" Here, we answer that question to the best of our ability and take a look at the key differences and similarities between the iPhone 6 release versus the Galaxy Note 4 release.
iPhone 6 Launch Date
Questions about the iPhone 6 from friends, family and readers just keep coming and coming. Them, like many of you, are curious about Apple's new iPhone and for good reason. It's poised to become one of the best smartphones of 2014 and perhaps, one of the best smartphones of all time.
All of those people want to know what you probably want to know and that is the specific iPhone 6 launch date. Naturally, people want to know when they'll be able to take a look at the phone they are thinking about buying. Here's what we know so far.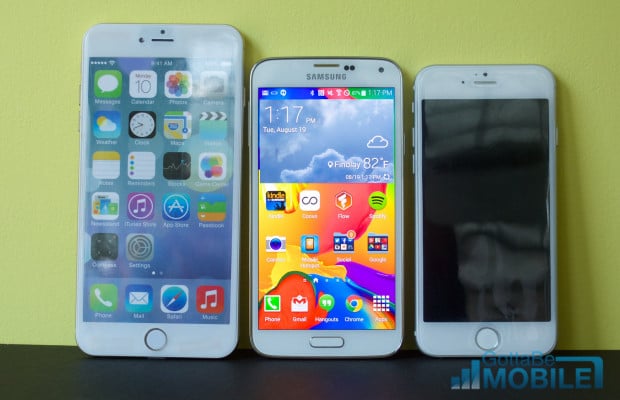 We know that Recode and The Wall Street Journal agree on a specific launch date for both of Apple's iPhone 6 models and that date is apparently September 9th. These are credible sources so the information itself is credible. Apple still hasn't confirmed September 9th though it should send out invites with that date plastered on the front sometime before mid-September.
The iPhone 6 launch date is extremely important because it represents the date on which consumers, like you, will see iPhone 6 rumors confirmed. And it's there that we should see Apple confirmed the elusive iPhone 6 release date which, according to rumors, will be coming in September.
So, how does this stack up with the Galaxy Note 4?
Galaxy Note 4 Launch Date
Well, as we've pointed out, the Samsung Galaxy Note 4 launch date is set in stone. Earlier this month, Samsung sent out invites to a media event dubbed Unpacked 2014 Episode 2 that will be taking place in three different cities on September 3rd. This is the date that had been rumored for the Galaxy Note 4 launch.
Unpacked 2014 Episode 2 will come live to you from Beijing, Berlin and New York City with Berlin, Germany serving as the Galaxy Note 4 launch event base. Samsung will also be offering up a live stream so that those around the world will be able to watch as the events unfold. This is important because this is where we'll hear about the Galaxy Note 4 specs and the Galaxy Note 4 release date, a release date that's also rumored for September.
So, here's the important thing to note. The Galaxy Note 4 launch event will be taking place just six days before Apple's. If you are even remotely interested in either of these devices, we suggest waiting for both of these events to arrive before coming to a decision. After September 9th, you'll be able to make a well informed choice about your next smartphone.
iPhone 6 Release Date
iPhone release dates are always announced on stage. And while nothing is confirmed, it's looking like Apple will announce both its 4.7-inch iPhone 6 and a larger 5.5-inch iPhone 6 on September 9th. If true, it would mirror what it did last year with the iPhone 5s and iPhone 5c and the iPad Air and iPad mini with Retina Display.
At this point, given Apple's history, and given the iPhone 6 release rumors that have continually put the 4.7-inch iPhone 6 model's release inside of September, it's looking like we'll see Apple stick to its pattern. Apple tends to release iPhones about two weeks after the announcement date and we're hearing that the smaller iPhone 6 could make its way to shelves before the end of September.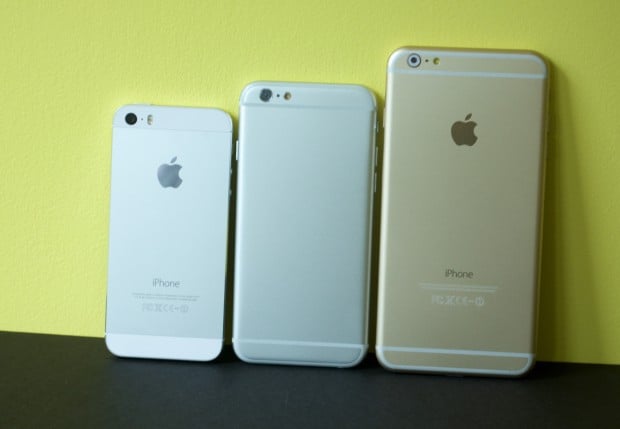 We've seen several specific dates rumored though rumors and speculation keep coming back to September 19th, a Friday and a date that falls in and around Apple's usual release window. That date isn't confirmed but it's certainly one that falls within the confines of Apple's patterns and could very well be the iPhone 6's initial release date. We say initial because iPhone 6 release rumors suggest that we could see a delayed release for the 5.5-inch iPhone 6. Rumors have centered around October and November.
So how does this compare to the Galaxy Note 4?
Galaxy Note 4 Release Date
Like Apple, Samsung typically announces release date details at its launch events. So, there's a good chance that we'll see the company issue a specific Galaxy Note 4 release date there.
Galaxy Note 4 release date rumors have continued to point to a quick arrival in an effort to take on the iPhone 6. Rumors have singled out the week of September 15th as a possible release window for the Galaxy Note 4 though that remains unconfirmed. By comparison, last year's Galaxy Note 3 launched September 4th and was released on September 25th so the timing does make a lot of sense.
Throw in the fact that Samsung is already marketing the Galaxy Note 4 in Asia and the fact that it's already taking shots at the iPhone 6 and it's easy to see why it could arrive earlier than usual.
If all of these rumors fall into place, it's possible that we could see the Galaxy Note 4 and iPhone 6 released the same week. While this might prove problematic for some consumers, it's actually a good thing because it will allow you to compare and contrast these devices right off the bat. That's something that rarely ever happens.
iPhone 6 Carriers vs. Galaxy Note 4 Carriers
Samsung Galaxy Note 4 release rumors point to an arrival on AT&T, Sprint, T-Mobile, U.S. Cellular, and Verizon in the United States. While the release might be limited, we will almost certainly see the Galaxy Note 4 emerge for hundreds of regions and tons of carriers around the world. This is a flagship smartphone after all.
iPhone 6 release rumors have not singled out any carriers but this is the iPhone we're talking about here. Unlike the Galaxy Note, a niche smartphone, the iPhone typically emerges for a ton of carriers in the United States and elsewhere. We haven't seen rumors point to any significant changes so look for the iPhone 6 to be released on a global scale as well.
iPhone 5s & Galaxy Note 3 Deals
If you're not sold on the Galaxy Note 4 or the iPhone 6, you'll be able to take advantage of a number of deals come September. We've already seen Walmart push the iPhone 5s price down to $99 on-contract and we would not be surprised to see Apple and other retailers drop their prices as well. Apple is notorious for switching up its price points after a new iPhone arrives.
As for Android, we've already seen the Galaxy Note 3 price dip in recent weeks and we've also seen the Galaxy S5 price start to fluctuate at retailers like Amazon. Point is, once these two devices are released, there should be a number of deals on older iPhones and Galaxy smartphones. Just another reason why you shouldn't commit to either the iPhone 6 or Galaxy Note 4 just yet.
September Competition
Finally, it's important to note that we should see some quality iPhone 6 and Galaxy Note 4 competition emerge in the month of September. On September 4th, Motorola will take the stage in Chicago and show off at least one new flagship smartphone, maybe two.
The company is widely believed to have a new Moto X+1 and Moto G2 up its sleeve for September. The Moto X+1 is expected to be a souped up version of the popular Moto X, a solid iPhone and Galaxy competitor and the Moto G2 will likely be a replacement for the Moto G. The Moto G is an extremely cheap off-contract device that's quickly become a favorite of ours.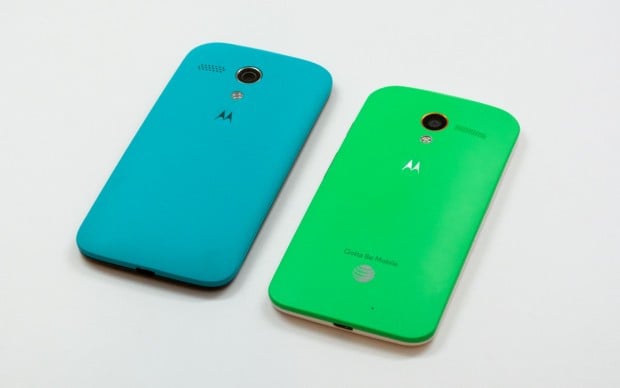 These are, of course, in addition to the competition that's already out. The LG G3, our favorite Android smartphone, is already out on shelves and there are also a ton of other big time options including the Nokia Lumia Icon and HTC One M8.
September is going to be a busy month. And while the iPhone 6 and Galaxy Note 4 releases will almost certainly dominate the story lines, there is a lot more than consumers need to pay attention to.
While we're still fishing for more specifics, this iPhone 6 release vs. Galaxy Note 4 release guide should help answer at least a few of the questions you might have had about these two top notch smartphones.

As an Amazon Associate I earn from qualifying purchases.