iPhone 6 vs Galaxy S3 Video: 5 Key Differences
The iPhone 6 is Apple's new iPhone that should arrive this fall with a larger screen that may tempt some Android users to switch to the iPhone. The Samsung Galaxy S3 is two years old and many users are ready for an upgrade, which means the iPhone 6 is on the radar as much as the Galaxy S5 and LG G3 are. This iPhone 6 vs Galaxy S3 comparison will help you figure out what Apple's new iPhone will offer and hoe it compares to the phone in your pocket.
In this iPhone 6 vs Galaxy S3 comparison we use an iPhone 6 mock-up that a company in China made based on iPhone 6 rumors and leaked schematics and a Verizon Galaxy S3. The Galaxy S3 is just like the one in your hand, and the iPhone 6 delivers a similar look to what Apple should announce this fall.
The iPhone 6 may end up slightly thinner and some of the rumored iPhone 6 specs could change, but the overall design, and size could very well stay the same as this mock-up. Out iPhone 6 vs Galaxy S3 comparison focuses on the 4.7-inch iPhone 6, which is similar in size to the Galaxy S3.
Read: Galaxy S3 Tips & Tricks
In addition to the major sections outlined below, the iPhone 6 will offer longer software support and updates than the Galaxy S3 does now, and it will arrive with iOS 8, the latest version of Apple's software.
You can catch up with the latest iPhone 6 rumors if you are interested in more about this new iPhone in our iPhone 6 rumor and release date roundup. If you think you want to stick with Android, check out how the Galaxy S3 compares to the Galaxy S5 and Galaxy S4.
iPhone 6 vs Galaxy S5 Video Comparison
The short iPhone 6 vs Galaxy S3 video below runs down the major differences between these two smartphones, which can help potential buyers decide if the iPhone 6 is the right phone to upgrade to this year.
Display Size
The Samsung Galaxy S3 features a 4.8-inch display with a 1280 x 720 resolution. This is a size-able display and a reasonable resolution, although one that Samsung boosted in the Galaxy S4 and Galaxy S5. The display delivers a good user experience, but it is not as sharp as the iPhone 5s and the iPhone 6 should deliver a bigger boost.
Reports indicate the iPhone 6 will offer a 4.7-inch display with a 1704 x 960 resolution. This is higher than the Galaxy S3 which should deliver sharper text and photos. This may not match the Galaxy Note 4's 2560 x 1440 resolution that rumors suggest Samsung will offer, but it is a nice step up from the Galaxy S3.
Apple will use Sapphire in the display according to many rumors, which will prevent many scratches and deliver a more durable design according to Sapphire industry backers.
Design
Plastic vs Aluminum is the shortest way to describe the difference between the iPhone 6 and Galaxy S3. This is the same compared to the Galaxy S5, but the quality of plastic on the Galaxy S3 is what makes this an even bigger point of comparison. The Galaxy S3 plastic is cheap and hard, unlike the soft touch plastic on the current Galaxy smartphones.
The iPhone 6 design is aluminum, and Apple plans to use more of it than in earlier models according to rumors. The iPhone 6 mock-up shows an all metal back, with markers for where antenna communication will take place. The real design may minimize the white marks shown on this mock-up.
The iPhone 6 vs Galaxy S3 photos above show the possible size difference between these devices. There is not a major difference in size or thickness, though the actual iPhone 6 may be thinner than this mock-up.
Camera
The Galaxy S3 feature an 8 MP camera that takes decent looking photos, but it struggles in lowlight compared to the iPhone 5s and other modern smartphones.
Apple may also offer an 8MP camera on the iPhone 6, but with bigger pixels to help capture better looking low light photos. Upgrading from the Galaxy S3 to any 2014 smartphone will deliver dramatically better looking photos. This includes the iPhone 6, even without sample photos or a firm Megapixel count.
Storage & Battery
The Samsung Galaxy S3 offers 16 and 32GB of storage depending on the model, but it allows users to add more storage with a Micro SD card slot in the back of the device. The 2,100 mAh battery is user-replaceable so you can swap in a new one if you need to keep using the Galaxy S3 without recharging.
Apple does not build in support for SD cards or battery replacements on the iPhone 5s, and it is very unlikely that this will happen on the iPhone 6. We should see 16GB, 32GB and 64GB iPhone 6 options, though some rumors suggest a 128GB iPhone 6 is still possible. The iPhone 6 battery is 1,810 mAh according to a leaked photo, which is a boost over the iPhone 5s, but less than the Galaxy S3.
Price & Carriers
The Samsung Galaxy S3 is free on most carriers that still sell this aging phone. The iPhone 5s is already down to $99 for the base model, but a new iPhone 6 price is expected to arrive at $199 for the 16GB option. Expect to see a $100 price jump for 32Gb and another for 64GB.
The Galaxy S3 is available on major U.S. carriers and a number of pre-paid carriers in the U.S. where it is a low-cost no contract option. Look for the iPhone 6 to arrive on T-Mobile, AT&T, Verizon and Sprint with US Cellular as another possible carrier. Although there will likely be pre-paid iPhone 6 options, don't expect them at the iPhone 6 release date.
We expect to see the iPhone 6 release date in late September near the iOS 8 release date.
Top 5 Phones to Consider Before Buying the Samsung Galaxy S3 [July, 2014]
Samsung Galaxy S5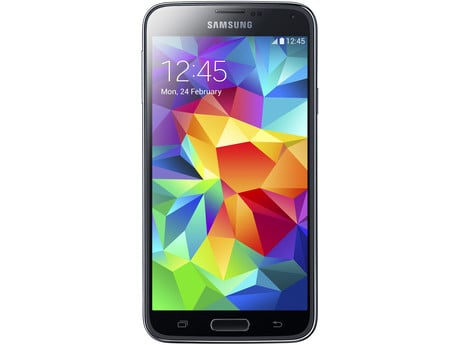 Without question, prospective Samsung Galaxy S3 buyers will first want to take a look at Samsung's current flagship, the Samsung Galaxy S5, before settling on a device that's more than two years old.
Samsung's current flagship offers some likeable features including a dust and water resistant design, tons of storage space, a fantastic camera, beautiful display, and more. It also offers some notable software changes including a new Ultra Power Saving mode that helps users conserve battery life.
We like the Galaxy S5 more than the Galaxy S4 because it's newer and almost as cheap. The Samsung Galaxy S5 is available for a fraction of its original cost through retailers like Amazon, making it worthy of your attention in the month of July.

This article may contain affiliate links. Click here for more details.