iPhone 6 vs HTC One M8 for Windows: What Buyers Need to Know
Apple's stunned smartphone buyers around the world earlier this year when it revealed the iPhone 6 and iPhone 6 Plus. Here was this new iPhone that offered all the same features from past iPhones – the TouchID finger print reader, a bigger display and better operating system and support for NFC payments – all while looking attractive and providing the ease of use that only an Apple device can.
Surprisingly, the iPhone 6 isn't being rivaled by a Microsoft Lumia device running Windows Phone this year – at least not in the United States. Instead, HTC's HTC One M8 for Windows is the only new and comparable advice to be made available in the last few months. Here is how the HTC One M8 for Windows and Apple's iPhone 6 compare.
Design
By now you may have already seen the iPhone 6, even if you don't think you have. The front of the iPhone 6 is almost identical to past iPhones. The 4.7-inch display is sandwiched between a pill shaped speaker grille and the same TouchID-enabled Home button that debuted in the iPhone 5s.
All the differences here are on the sides and rear, the iPhone 6 is rounded at the edges and thinner than it's ever been. Two speaker grilles – one of the fake still point down from the bottom of the iPhone 6 and a metal rear with curved edges ties everything together. The camera and flash are off to the right of the device. The camera sensor itself juts out a bit.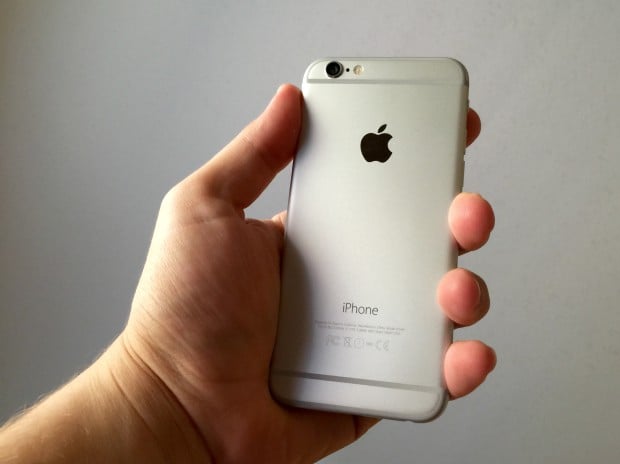 If you've seen what the company has been working on lately, than you'll also be familiar with the HTC M8 for Windows' design. When compared to the HTC One M7 the corners and edges are tapered so it fits a bit better in the hand than last year's model. The 5-inch display on the HTC One is also sandwiched between front-facing components. In this case it's a front facing camera, and two absolutely massive BoomSound speakers. There's are no physical buttons on the HTC M8 for Windows for navigating through Windows Phone. HTC canned them in favor of on-screen buttons.
The designs of the iPhone 6 and the HTC M8 for Windows lend themselves well to the question buyers face. The HTC M8 for Windows, looks and feels like a high-end smartphone. It's not exactly a blank canvas. The iPhone 6 looks and feels like something that belongs in a jewelry box. It's beautiful but delicate. Both devices have absolutely horrible looking rear shells that have way too many lines for my taste. The iPhone 6 is 0.28 inches front to back, which is crazy thin and probably a good reason to buy it over the HTC M8 for Windows for those looking for something ultra-thin. I'd caution that lately users have reported their iPhone 6 devices bending in their pocket.
Internals
Only the first and second generations of the iPhone have been specification leaders in the truest sense. Instead, Apple has kept upgrading hardware where it makes sense and letting Android and Windows Phone device makers beat each other over the head with faster processors and more RAM. The specifications for the iPhone 6 reflect this.
Users who purchase the HTC M8 for Windows are getting faster and more robust hardware. Let's start with the display, the HTC One M8 for Windows's 5-inch display has a maximum ratio of 1920 x 1080 pixels. In short, it's high-definition. Backing up that display is a 2.26 GHz quad-core processor and 2GB of RAM. Even its beefier speakers are better than what's available on the iPhone 6. There's just one speaker on the iPhone 6 and it's not all that good. It also only pumps out sound from the bottom of the device. The iPhone 6 is no slouch, but it's built to provide a decent experience. The truth is when you make the hardware and the software together as Apple does, you don't need sheer power to provide a decent experience. There's a 1.4GHz dual-core processor in the iPhone 6 and just 1GB of RAM.
Where Apple turns the tables on the HTC One M8 for Windows is camera optics. HTC has long taken flack for UltraPixel the rear-facing cameras that it's installed on the HTC One M8 for Windows and the HTC One M7. It uses a 4.0 megapixel sensor with bigger pixels to produce what HTC says is a decent image. There's also a second front-facing camera on the HTC One M8 for Windows for those users who want to add some cool movable effects to their pictures.
The iPhone 6 has an 8 megapixel camera that absolutely puts just about every other smartphone to shame. If you're looking for a powerful phone, go with the HTC One M8 for Windows. If you're looking to replace your camera than the iPhone 6 is right for you.
Extras
The extras in these devices are where most users should make their decisions.
The iPhone 6's rear-facing camera doesn't have optical image stabilization, but it can record slow motion videos in a breeze. The iPhone 6 also has a TouchID sensor for unlocking and app sign-ins. No passcode, no passwords. You just touch and go. The iPhone 6 is also the first iPhone device to support NFC and Apple Pay. When it launches in October users will be able to pay for their purchase with their bank cards and credits without pulling out their wallet.
The HTC One M8 for Windows has an NFC chip inside, but Microsoft's Wallet platform is an utter joke at this point. Like Google Wallet on Android, carriers have effectively stifled adoption while they work on their own service called SoftCard. It doesn't help that SoftCard isn't available on devices running Microsoft's Windows Phone operating system.
A big plus for the HTC One M8 is the TV app that allows users to control their television set and cable box with their phone. There are situations where this is useful, particularly in waiting rooms and McDonald's dining rooms where Fox News is the norm. I hesitate to call Cortana an extra, but it is. Microsoft's Windows Phone operating system has a built-in voice assistant like the iPhone 6's Siri. The device here is that Cortana can be accessed with a voice command or a gesture on the HTC One M8 for Windows' DotView case.
Availability & Pricing
The iPhone 6 is pretty much available wherever phones are sold in the United States and abroad. According to the Apple Store, The iPhone 6 starts at $199 with 16GB of storage and a two-year contract. The 64GB iPhone 6 – the one you'll definitely want – starts at $299 with a two-year contract. Finally, there's an iPhone 6 with 128GB of storage for a whopping $399 and a two-year contract. The iPhone 6 is available on T-Mobile, Sprint, AT&T and Verizon.
For now the HTC One M8 for Windows is a Verizon novelty. $149.99 gets buys an HTC One M8 for Windows with 32GB of RAM and the option to add more with an SD card slot. Unfortunately, it's not available anywhere else. That's despite both AT&T and T-Mobile confirming that they have versions coming sometime before the holiday season.
Read: T-Mobile HTC One M8 for Windows Release Confirmed
If you're on any network besides Verizon the answer is clear: go with the iPhone 6 if your needs are immediate. Anyone else has a pretty tough decision to make. The HTC M8 for Windows offers better hardware and Windows Phone 8.1 – a more robust operating system than Microsoft has ever offered. If hardware is your thing and you use other Microsoft products go with it – just know that you'll probably be stuck with third-party apps for your favorite services a lot.

This article may contain affiliate links. Click here for more details.