iPhone 6 vs. iPhone 5: What Rumors Tell Us Right Now
As we get closer and closer to the fall, we're starting to see iPhone 5 owners, who come off contract later on this year, ask questions about the iPhone 6. While we still can't officially compare the two, we can take a look at how the rumors stack up against the former flagship. Today, we want to take an updated look at how the rumored iPhone 6 compares to the iPhone 5 right now.
For most of 2014, we've heard rumors of a brand new iPhone 6, a device that will supposedly be a part of Apple's best product pipeline in 25 years. While we've heard and seen a lot already, we expect the pace of iPhone 6 rumors to pick up as we head further away from WWDC 2014 and closer to the fall. This is both a good thing and a bad thing.
It's good because it provides buyers with potential details about the iPhone 6 ahead of time. It's bad because iPhone 6 rumors will only help to complicate a decision that many Apple users are currently struggling with. One of those groups are iPhone 5 owners, and more specifically, those that bought the 2012 flagship when it first came out.
In the past week alone we've heard from numerous iPhone 5 users who are curious about the iPhone 6 and what it might bring to the table. Even though the iPhone 6 is still unannounced, the questions are valid. People want to know about a device that has the potential to be their smartphone for the next two years or more.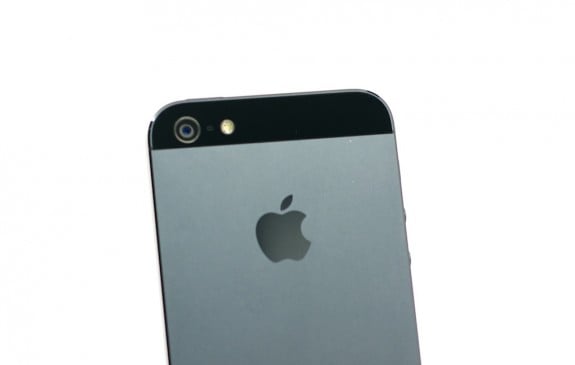 As we've argued, there are reasons for iPhone 5 users to be interested in both the iPhone 5s and the iPhone 6. The iPhone 5s is still a gem and should age well like iPhones before it. And there is, of course, the allure of the iPhone 6, the new iPhone that is said to feature a number of changes including a redesign, new processor, and more.
Unfortunately, you can't walk into a store and compare the iPhone 6 to your iPhone 5. (You can compare it to the iPhone 5s, however) and it'll probably be several months before consumers can do so. So here, we present the next best thing.
In the past six months, we've taken a look at how the iPhone 6 rumors stack up with the iPhone 5 in an effort to help those that might be thinking about upgrading. These comparison are meant as a guide for the fall and a way for iPhone 5 owners to prepare for the decision ahead.  Today, we want to take an updated look at the match up between the iPhone 6 and iPhone 5 and the differences that current iPhone users can expect this fall.
A Wait for the iPhone 6 Release
If you're waiting to upgrade from the iPhone 5 to the new iPhone, you're going to have to wait several months. It's that simple.
iPhone 6 release date rumors point to the fall. Literally, every single iPhone 6 release date rumor points to either to September, October or November. The timing makes a ton of sense. It's before the holidays, it's the same window that Apple's used before, and it lines up well with Apple's fiscal year which ends on September 27, 2014.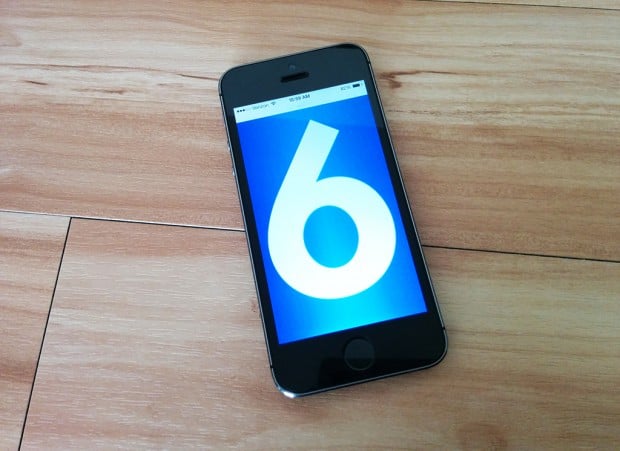 We typically see the new iPhone release arrive early enough to count opening weekend sales on the final quarter of their fiscal year. Apple sold more than 5 million iPhone 5 units in 2012 and combined new iPhone sales topped 9 million with the iPhone 5s and iPhone 5c in 2013. In other words, at this point, September is a safe bet for at least one iPhone release. Here's what rumors say:
Another key piece of the puzzle is the iOS 8 release date which was recently confirmed for the fall. New iOS software is always accompanied by new iPhone hardware.
Keep in mind, Apple typically uses staggered release dates. Major markets like the United States are typically at the front while smaller markets usually lag behind by several weeks and occasionally several months.
We've also heard that a larger 5.5-inch iPhone 6 could be coming later in the year, October or November, but at the moment, it's safe to circle September for the smaller 4.7-inch iPhone 6.
Size Difference
iPhone 6 release date rumors point to two iPhone releases. Rumors continue to point to the arrival of two new iPhone models, a 4.7-inch iPhone 6 and a 5.5-inch iPhone 6. The 4.7-inch model is thought to be the one arriving in September but both are expected to arrive ahead of the holiday shopping season, an important part of the year for Apple.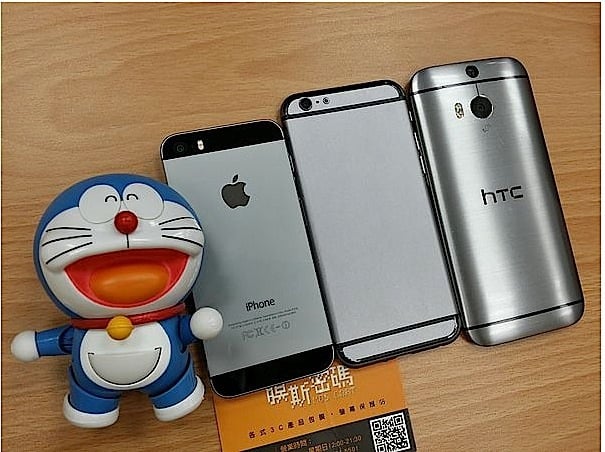 The iPhone 5 features a 4-inch Retina Display that is much smaller than its Android competitors. Companies like Samsung have attacked the size of the iPhone 5s' screen for being too small but it appears that Apple will be on the offensive this fall given how many rumors point to a bump in screen size for the new iPhone.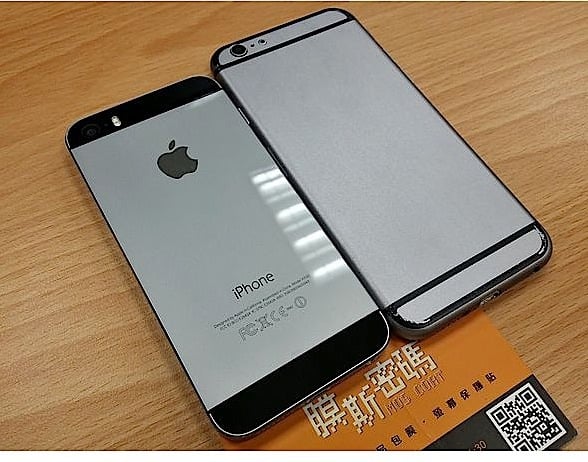 Sources have rallied behind 4.7-inch and 5.5-inch iPhone 6 models and we've even seen supposed dummy units leak out ahead of time. Those dummy units have given us a look at how these two sizes might match up with the iPhone 5 and with each other. The latest comparison comes from well known leakster Sonny Dickson, the man responsible for leaking the iPad Air and iPad mini ahead of launch.
Those who are concerned about a massive increase in size should calm down. While the 5.5-inch iPhone might be a lot larger than the iPhone 5, the smaller 4.7-inch model may not be that much bigger than the iPhone 5 and iPhone 5s. It appears that Apple could minimize the increase by thinning out the bezels and shifting buttons around. The power button will supposedly move to the side.
As we've pointed out, the Moto X, which sports a 4.7-inch, is actually comparable in size to the 4-inch iPhone 5s. Thin bezels, button placement and other little nuances helped to free up the space to keep the device's form factor compact and easy to use with one hand. In other words, while a size difference is natural with a bump in screen size, the overall footprint may not change too much, something that should be welcomed by iPhone owners.
Better Looking Content
Of course, that's not all. The iPhone 6 screen is rumored to have a sharper 1704 x 960 display with the same widescreen 16:9 aspect ratio that's found on the iPhone 5s and iPhone 5.
If Apple does increase the resolution and the pixel count on the new iPhone, and all signs currently point in that direction, then we'll get a new Retina Display that delivers crisper, better looking content than the Retina Display on the iPhone 5.
iPhone 6 rumors indicate that Apple also might increase the size of some apps in order to better take advantage of the resolution and the screen size.
New Look
From the ashes of the plastic iPhone 3GS came the iPhone 4, a device made of plastic, metal and glass. And from the iPhone 4s came the iPhone 5, a device with an industrial design highlighted by its anodized aluminum back. It's a pattern that Apple appears to be ready to repeat in 2014 with its follow up to the iPhone 5s.
After an 'S' release we typically see Apple focus in on hardware and specifically, on the design of the iPhone. So it hasn't been surprising to see iPhone 6 rumors hint at a major redesign that could leave the iPhone 6 looking more like the iPod touch than the iPhone 5s.
So what do iPhone 6 rumors say? Just about every iPhone 6 design rumor and every iPhone 6 design leak has pointed to an extremely thin iPhone. The consensus is that iPhone 6 will measure in and around 7mm. That's .6-inches thinner than the iPhone 5 and thinner than most smartphones on the market. The Galaxy S5, for example, is 8.1mm thin.
The lack of bulk is something that would obviously keep the weight change to a minimum and it would make a larger iPhone extremely pocketable, a hallmark of the iconic iPhone.
We could describe the potential look of the iPhone 6 and how it might compare to the iPhone 5 but a visual comparison is probably going to be better for those thinking about making the switch. Below is how the iPhone 6 could look next to the iPhone 5s.
Rounded edges, a thinner frame, new button placement, and a larger overall size dominate the design that is widely expected to emerge on Apple's new iPhone release. The iPhone 6 is also expected to retain the Touch ID sensor that is found on the iPhone 5s. The iPhone 5 employs a home button without a fingerprint sensor.
Similarities could include the Lightning port and the lack of a microSD card port. There are also rumors that hint at Lightning headphones but those rumors simply haven't firmed up yet.
Supercharged Specs
Display sizes and the design aren't the only iPhone 6 rumors that have firmed up. We've also seen a number of the iPhone 6's other features get rumored repeatedly.
iPhone 6 rumors suggest that we'll see the iPhone 6 deliver at least three key upgrades from the iPhone 5 including a brand new camera with image stabilization, a new A8 processor for better performance and battery life, and support faster data speeds. VoLTE is also expected to arrive with the iPhone 6 but there is a chance that iOS 8 will enable it for the iPhone 5s as well. The iPhone 5 isn't in the cards for VoLTE.
These are expected. Apple always performs yearly maintenance on the iPhone and typically, the camera and the processor are part of those yearly iPhone upgrades.
There are also two wild cards that we've heard could make the final cut on Apple's new iPhone. One, NFC. Near-Field Communication would allow users to treat their iPhone 6 like a debit or credit card. The other, wireless charging. Wireless charging, like NFC, has been available on Android smartphones for a number of years now.
iPhone 6 Price
Rumors tell us that if Apple does release two iPhone models, the larger iPhone 6 will be more expensive than the 4.7-inch model. Analysts continue to point to a $100 price difference between the two with rumors pointing to $199.99 and $299.99 price points. So, at this point, iPhone 5 upgrades should expect to have to shell out a bit of cash.
It's still not clear where the iPhone 5s or iPhone 5c  will fit in with the iPhone 6 models. Apple tends to keep devices at $99 and free-on-contract price points so there is a chance that iPhone 5 owners will have a few more options come September.

This article may contain affiliate links. Click here for more details.