iPhone 6 vs. iPhone 5: 5 Things to Consider
Two years ago, I pre-ordered the AT&T iPhone 5 to replace my iPhone 3GS. Two years later, I'm still an iPhone 5 owner but it's looking like those days are numbered. With an iPhone 6 pre-order date two days away and an iPhone 6 release date next week, I have my eyes set on an upgrade to Apple's latest and greatest smartphone.
I'm an oddball. Unlike most of my colleagues, I often wait several years before upgrading my daily driver. I can't tell you how many times I got ridiculed about my iPhone 3GS. I had it for three years before I replaced it with an iPhone 5. As I've noted before, the iPhone 5 was the iPhone 5 I had been waiting many years for.
Larger screen, 4G LTE data speeds, a metal design without the glass on the back, and a chance to stay in the Apple ecosystem. The iPhone 5 was the iPhone I had been waiting for for three years and it did not disappoint.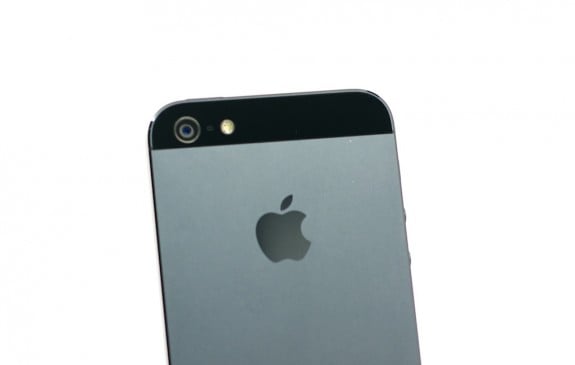 For the past two years, I've been using the iPhone 5 as my go-to smartphone. I also use a Nexus 5. The iPhone 5 is still one of my favorite smartphones and it's the reason why I passed on paying an ETF for last year's iPhone 5s. With iOS 7 on board and hardware that was, and still is, holding up, I didn't need to make an upgrade.
I'm about to come off contract at AT&T and as fate would have it, Apple just introduced a brand new iPhone 6 and a brand new iPhone 6 Plus. Both models arrived at Apple's launch event and both models are set to arrive in just a few short days. So I, like many iPhone 5 users, have a decision to make. Keep the iPhone 5 or upgrade to the iPhone 6.
Unlike many of you, I get to play around with the latest and greatest smartphones on a regular basis. And this is why I want to offer some tips or things that I think you iPhone 5 users should consider before upgrading to the iPhone 6. These are the things I, myself, have been considering ahead of Friday's iPhone 6 pre-order.
iPhone 5 Longevity
When I bought the iPhone 5, I knew that I was going to be getting frequent bug fix updates. I also knew that I'd get at least three years of iOS software support. Thus far, I've received countless bug fix updates and only one major iOS update in iOS 7. In just a few short days, I'm going to be getting another, Apple's iOS 8 update.
iOS 8 has the potential to prolong the life of my iPhone 5. iOS 7 worked wonders for it. I am expecting a high quality iPhone 5 iOS 8 update from Apple and that's been making my decision extremely difficult. Is this the end of the road? Maybe, I don't know. What I will say is that it's nice knowing that I don't have to upgrade if I don't want to.
You don't have to upgrade either. There is a good chance iOS 8 will fix iOS 7 problems. There's also a good chance that it will deliver excellent performance and features that make you think twice about ditching your iPhone 5. And then there's next year's iOS 9 update to look forward to.
So what am I getting at? Well, I think you, like me, should consider holding onto your iPhone 5, especially if you haven't put in any research. The worst thing you can do is blindly pre-order the iPhone 6. Apple's new iPhone isn't going anywhere and neither is your iPhone 5. In fact, it might get better next week after iOS 8 arrives.
iPhone 6 Plus Screen Size
I still love my iPhone 5 but I started loathing one of its features at the tail end of last year after I picked up the Nexus 5. The Nexus 5 comes with a beautiful 5-inch 1080p display. The iPhone 5's Retina Display is about as good when it comes to looks but it's the display size difference that started gnawing at me.
Big screen smartphones used to be massive. Remember the HTC ThunderBolt? Over the years, as technology has improved, companies have been able to offer large screens without the massive designs. There are some exceptions but there are a number of devices that make the iPhone 5 and its 4-inch display look bad. One of those devices is the Nexus 5.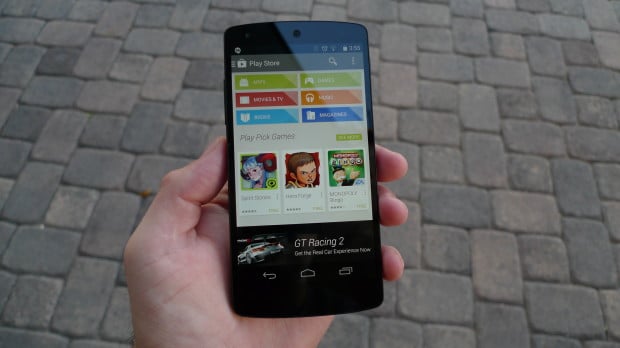 The 5-inch screen is perfect for watching video, playing the occasional game, browsing the web, writing email, and just about everything I do on my smartphone. And the best part? It's easy to use with one hand. Best of both worlds.
There's a ton of talk about the iPhone 6 and iPhone 6 Plus and their big screens. Say what you want but I think this was the next logical step for the iPhone. People want to use big, beautiful looking apps. They want a large screen for reading, surfing the web, and viewing video content. App Stores and the web have come a long way in two years. And that's what these iPhones deliver.
Now, there's a distinct difference between the two, one that I think you need to consider, especially if you aren't familiar with large screen smartphones. Apple's iPhone 6 Plus is a big phone. While I can't show you a video just yet, I can offer you some dimensions.
iPhone 6 Plus – 158.1 x 77.8 x 7.1mm, 172 grams.
That's as big as the Galaxy Note, one of the largest smartphones on the market, and one that even I, a man with large hands, feel uncomfortable using. The Galaxy Note series absolutely dwarfs the iPhone 5s and the iPhone 5, have a look at the photo below, and it's going to be a significant jump for many of you. You need to know that before you buy.
Personally, I'm drawn to the iPhone 6, the smaller iPhone and here's why:
iPhone 6 – 138.1 x 67.0 x 6.9mm, 129 grams.
Nexus 5 – 137.84 x 69.17 x 8.59 mm, 130 grams.
iPhone 5 – 123.8 x 58.6 x 7.6 mm, 112 grams.
It's larger than the iPhone 5 but not by too much. It's right around the size of the Nexus 5, a device that I honestly think is the perfect size for a smartphone. It provides tons of screen real estate without feeling like a burden. And that's exactly what I think the iPhone 6 will deliver. If I do upgrade, it'll be to the smaller iPhone 6.
iPhone 6 64GB
When I bought the iPhone 5, I opted for the 32GB model. I've been through the 16GB game before and it's not fun. Plain and simple, 16GB isn't going to be enough for many of you. iOS 8 will introduce some new cloud-based features including improvements to Photos but a 16GB iPhone is still going to be easy to fill up. Apps, games, you name it.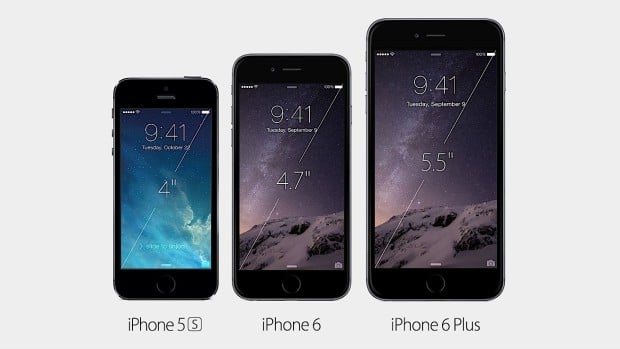 I advise you to consider the 64GB iPhone 6 if you do decide to upgrade from the iPhone 5. The 64GB takes over for the 32GB iPhone and slots in at its $299.99 price point. That's the same price I paid for the iPhone 5 32GB two years ago. To me, it's a no-brainer. Having 64GB of internal storage space will give you the same peace of mind that 32GB gave me. At the same price.
I've never run out of space on my iPhone 5 though I've been dangerously close. Right now, I have about 1GB of free space available. I'm going to have a hard time filling up a 64GB iPhone 6. I'll have an easy time filling up a 16GB iPhone 6.
Camera
I go to a lot of concerts and occasionally, I become that guy. You know, the dude that pulls out his iPhone to film his favorite song or a crazy moment. Apologies, it's a habit. At a festival this summer, I was with a large group and one of the people in the group had the HTC One M8. I shot a ton of video, lots of photos, and so did she.
When we got back, we all took a look at our footage. Almost immediately, my girlfriend started to "oohing" and "ahhing" at the quality of the photos and videos shot with the HTC One M8. And she was right. The quality of her photos and videos blew away the quality of my photos and videos. Needless to say, the iPhone 6 camera is one of the reasons why I want to upgrade.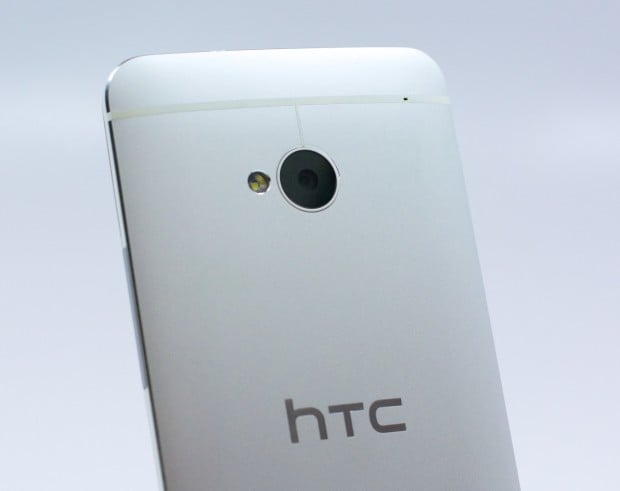 Smartphone camera technology has come a long way in the past two years. Low light photos and video are better looking and Apple in particular has tacked on a ton of enhancements to support its iSight camera sensor. Here's a list of the features coming with the iPhone 6's camera.
New 8-megapixel iSight camera with 1.5µ pixels
Autofocus with Focus Pixels
ƒ/2.2 aperture
Optical image stabilization (iPhone 6 Plus only)
True Tone flash
Five-element lens
Hybrid IR filter
Backside illumination sensor
Sapphire crystal lens cover
Auto image stabilization
Auto HDR for photos
Improved face detection
Exposure control
Panorama (up to 43 megapixels)
Burst mode
Tap to focus
Photo geotagging
Timer mode
I'm not going to lie. I was jealous of the footage shot with the HTC One M8 and it's something that's pulling me to the new iPhone. I don't know a lot of people that don't shoot a lot of photos or video with their phone. I think this is something most of you are going to want to consider, especially after seeing the iPhone 6 camera samples.
Cost
The iPhone 6 isn't cheap. The base iPhone 6 model starts at $199.99. The base model for the iPhone 6 Plus costs $299.99, or, the same price that we typically see attached to the Galaxy Note series. With that price in mind, those of you looking to move from the iPhone 5 probably want to be one hundred percent sure that you want to make the iPhone 6 your next smartphone.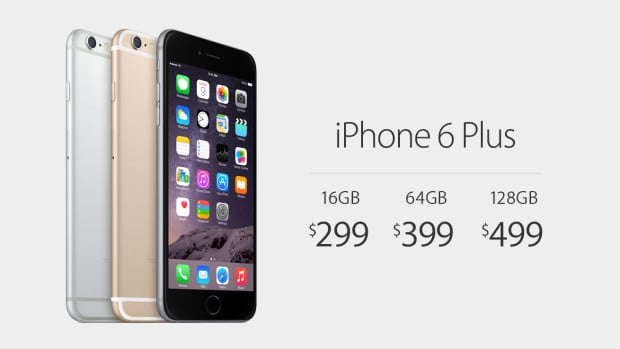 Consider every angle before buying. Look at your data plan options. Look at network speeds in your area and in areas you frequent. Look at competitors like the Galaxy Note 4, LG G3, Samsung Galaxy S5, and even the cheaper iPhone 5s. The iPhone 5s is still good. Be absolutely sure that you want to fork over $199.99, $299.99.
I was one hundred percent sure when I upgraded to the iPhone 5 and now, with two days to go before the iPhone 6 pre-order, I'm one hundred percent sure that I'm buying the iPhone 6 64GB on AT&T.