iPhone 6 vs LG G3: What Buyers Need to Know
The iPhone 6 was officially revealed today with a huge change from what we've seen out of Apple in the past. That being a big screen similar to many popular Android handsets. The new iPhone 6 and iPhone 6 Plus offer a 4.7-inch, and 5.5-inch screen to battle devices like the LG G3, Galaxy S5, and more from the world of Android.
At its launch event in Cupertino today, Apple execs took the stage and confirmed both the all new iPhone 6 and iPhone 6 Plus, which will replace the iPhone 5s from last year. All the rumors and speculation can finally be put to rest, as both big-screen smartphones are coming later this month.
Read: iOS 8 Release Date Breakdown
Now that the iPhone 6 and iPhone 6 Plus are official, consumers are likely torn regarding what smartphone to purchase this summer, or later this fall. The iPhone 6 has a lot to offer, and is finally delivering a bigger full HD display, but there's still countless Android phones with the same, if not more. Here we compare how the new iPhone 6's compare to the flagship LG G3 released earlier this year.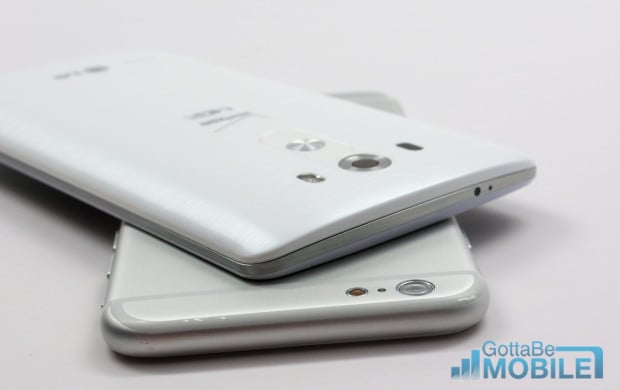 With the iPhone 6 finally here, how does it compare to other flagship and top end smartphones? We'll have to wait until we get our hands all over it for real comparisons. In the meantime, there are multiple differences that already stand out between the iPhone 6/iPhone 6 Plus when compared to other smartphones available today, and many are things buyers will need to know.
The iPhone 6 release date has already been set for September 19th, so there isn't a lot of time between now and when users will be able to get their hands on the phone, test it out in carrier stores, and start seeing it in the public. However, most of the competition Apple will be facing already have released their devices, and one in particular is the LG G3.
Display
First up is the display, considering this is the first time Apple has taken a major step in regards to screen size. The new iPhone 6 Plus has a massive 5.5-inch screen, but it's only 1080p. While we're sure it will look gorgeous, others have already moved on to 2k displays. The LG G3 has a edge-t0-edge 5.5-inch 2560 x 1440 Quad-HD display, one that will likely be more crisp, clear, and better than the iPhone 6 Plus.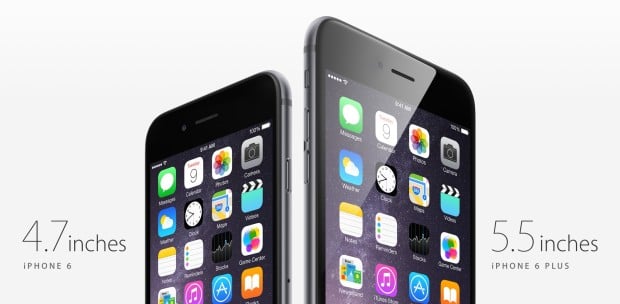 The regular iPhone 6 has been increased to 4.7-inches, but only has a 720p display. To be exact, that is 1334 x 750 pixels per inch. This should still look relatively clear, but most phones over the past year on the Android side in that screen size have already adopted the 1080p resolution that Apple saved only for its larger device.
We can't really take too many things away from the launch yet, as we've yet to actually use the iPhone 6, but surely more details will begin to surface soon enough. Their retina displays have always been excellent, and we can expect the same here, they just aren't as high of resolution as many were expecting.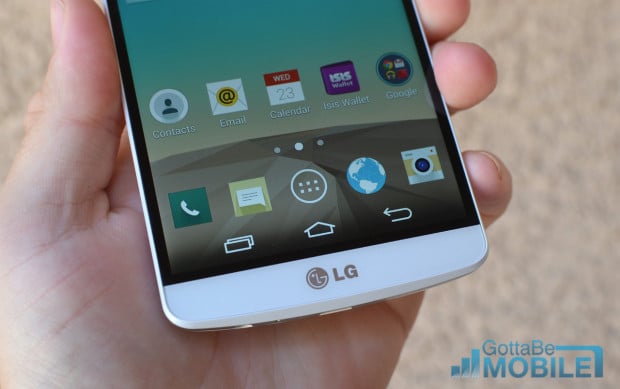 It's worth nothing that while the LG G3 screen is the same size, and packs way more pixels, it also doesn't' have the best viewing angles, but does manage to have a very slim bezel to keep the overall physical size of the device down. And that brings us to our next point.
Design
There is nothing bold or new with the iPhone 6 design, but it is different. They've changed out the look used over the past two years in favor of a more solid aluminum construction throughout the phone. There's no more two-tone colors, as it's all white, black, or gold. However there are some gaps in the aluminum design for WiFi, 4G LTE, and NFC connectivity. This is essentially a gap to ensure proper performance from wireless radios, and to make sure you get enough bars to place calls. It can't be all aluminum, or connections will suffer.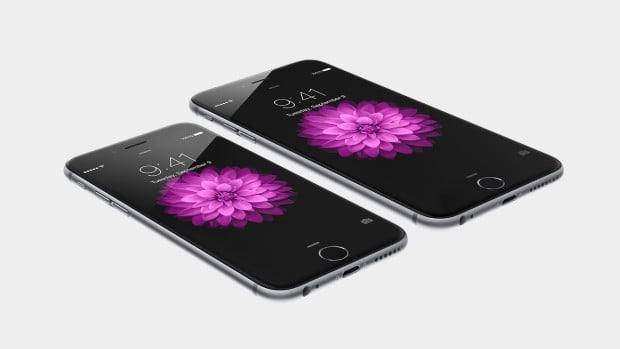 The overall design of the new iPhone 6 is pretty impressive. It's sleek, thinner than previous generations while also being bigger and boasting better battery life, but there are a few compromises. One is the resolution of each screen as mentioned above, and the second is the new 8 megapixel iSight camera sticks out a bit. We'd prefer it to be flat, but for whatever reason this wasn't feasible.
Overall the design is what we've come to expect from Apple. It's gorgeous, well made, and looks extremely durable. While we can't comment further yet, we can compare what we're seeing to the LG G3. Below is a video comparing the LG G3 to an iPhone 6 prototype from earlier this year.
LG's G3 was built with one thing in mind, and that was to be sleek and offer nearly nothing on the front but a speaker grill and the huge display. The buttons are on the back in order to keep the sides clear. This allows for an edge-to-edge screen that just looks stunning. In fact, they both have 5.5-inch screens, but the LG G3 is noticeably smaller. The photos below are only of a prototype unit of the iPhone 6 Plus, but it's nearly an exact replica.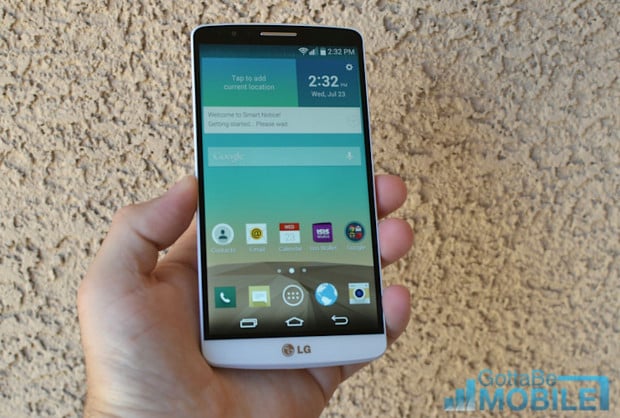 The LG G3 is made of a lightweight plastic with an aluminum look and feel, but rest assured, it's plastic. Whether that matters to you or not is up to the buyer, we're just sharing the details. The LG G3 is lightweight, durable, easy to hold, and has a stunning screen. We have a feeling the 6 Plus may be too big for many, but each buyer will need to head into a store later this month and try it out themselves to get a better idea of what they're working with.
Price
One major aspect of buying a new smartphone is the price. We all know Apple devices are expensive, and the new iPhone's are no different. However, this year Apple buyers will have a few new choices in terms of storage configurations too, but at a cost. Here's the breakdown for the new iPhone 6 and 6 Plus vs the LG G3.
iPhone 6 16GB – $199
iPhone 6 64GB – $299
iPhone 6 128GB – $399

iPhone 6 Plus 16GB – $299

iPhone 6 Plus 64GB – $399

iPhone 6 Plus 128GB – $499
As a reminder, these prices are when you sign a 2-year contract with your carrier of choice. Meaning the 128GB iPhone 6 is $499 along with a 2-year contract. The LG G3 however, is $599 outright, no contract required. That's quite a big difference. One thing to also consider is the LG G3 can accept micro-SD cards for expandable storage. Meaning users can buy the 32GB model for $199 from a carrier, and spend a little over $100 for a 128GB microSD card, ending up with 160GB of usable storage, for the same price you'll be paying for the 64GB iPhone 6, and even more savings if you get the iPhone 6 Plus in the 64GB configuration for $399.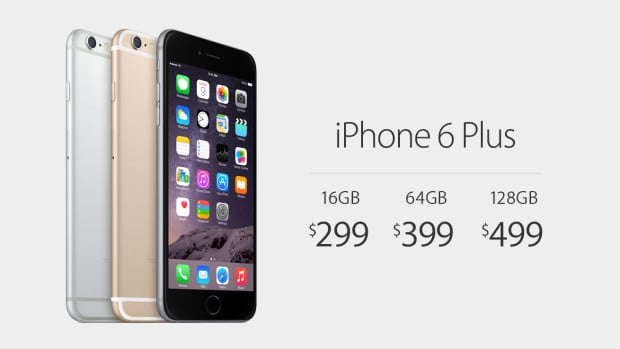 A bigger iPhone 6 with a huge 5.5-inch display and 128GB of storage sure sounds wonderful, but it will come at a price. We've yet to hear actual off-contract pricing, but will surely update the moment we know more.
Most likely users will opt for the 64GB iPhone 6 option, as 16GB isn't much these days with all the impressive games and high quality applications available for smartphones.
Software
Last but not least we'll quickly mention software. If you're debating between Android or iOS you've probably used one or the other, if not both. Android has a lot to offer users, and the LG G3 runs Android 4.4.2 KitKat. It's extremely customizable by LG, not to mention the wide array of 3rd party launchers, widgets, live wallpapers and more available from the Google Play Store.
The iPhone 6 runs a brand new version of iOS 8, which has been in beta testing for months. It has loads of changes, and is the biggest single change to iOS since the birth of the first iPhone. Many users have been enjoying iOS 8 for months, and come later this month it will be available on the all-new iPhone 6.
Trying to compare iOS 8 to Android 4.4.2 KitKat is like comparing Apples to Oranges, and everyone has different taste buds, needs, and preferences. That being said, iOS 8 has a lot to offer we haven't seen from Apple in the past. Things like ApplePay, more camera features, better panorama modes, 240 FPS for slow-mo video capture, and much much more.
Final Thoughts
If you've used an iPhone or an Android device in the past you know what you're getting with either of these phones, most likely. Instead of trying to compare each and every little bit, above are the important things buyers will want to know. Those being the design of each phone, the screen size and resolution, and of course the price. Both phones will be available from all major US carriers, as well as many around the globe.
Once the all-new iPhone 6 and iPhone 6 Plus are available to the public and we can test anything and everything it has to offer, we'll revisit this comparison with a more detailed breakdown of what buyers can expect before making a purchase.