iPhone 6 vs. Samsung Galaxy Note 3: Early Look at What to Expect
The Samsung Galaxy Note 3 is only a few months old which means that it will be doing battle with the iPhone 5s for many months to come. However, thanks to its age, it will also likely be on shelves, in some capacity, when Apple's brand new 2014 iPhone arrives. Here, we take an early look at how we think the Galaxy Note 3 will stack up against Apple's rumored iPhone 6.
In September, after months and months of rumor and speculation, Samsung finally announced the highly anticipated follow up to the popular Samsung Galaxy Note 2. The company called the new device the Samsung Galaxy Note 3 and since late September, early October in the United States, the Galaxy Note 3 has served as the company's flagship smartphone next to the Galaxy S4.
Given Samsung's history, the Samsung Galaxy Note 3 likely isn't going anywhere and will instead endure through the launch of the Samsung Galaxy S5, rumored to be arriving in early 2014. Samsung typically releases one new flagship model, per year, which means that a Galaxy Note 4 is likely a little less than a year away.
So not only will the Galaxy Note 3 be the one joined by the Samsung Galaxy S5, it will likely be one of the devices that takes on the other big name, rumored smartphone from 2014.
The iPhone 5s is the king of the iPhone world at the moment but rumors and history suggest that Apple will be delivering a new iPhone next year. That device is thought to be an iPhone 6 and whispers suggest that the device could be a lot bigger than the current iPhone 5s. And that means that it could be much closer in size to the Galaxy Note series.
There are likely many consumers who are looking at the Galaxy Note 3 right now and there are others that might be weighing it against a potential iPhone 6 purchase next year. For those that are curious, we want to take a very early look at how we think the iPhone 6 might stack up against Samsung's current big screen smartphone, the Samsung Galaxy Note 3.
Release Date
The Samsung Galaxy Note 3 is out on shelves and will be available, in our estimation, for many months to come. While it will likely be replaced by a Samsung Galaxy Note 4, Samsung's Galaxy Note launches tend to happen ahead of the holidays, during the fall. The company has used the Berlin-based IFA trade show as a launch pad and there is no reason, right now, to believe that that will change.
When the Galaxy Note 4 does arrive, the Galaxy Note 3 will likely drop in price and be advertised as a budget option through some carriers. We expect it to be available for some time to come, making it a very viable competitor to any iPhone that Apple releases next year.
Speaking of that, rumors suggest that the iPhone 6 could arrive in the summer or the fall. There is also a new rumor that suggests that we could see it as soon as May. We expect Apple to stick with either a summer of fall launch for the iPhone 6. Indeed, there will be some added pressure if the Galaxy S5 does in fact feature a premium design and a new QHD display, but Apple is known not to rush its products into battle. The May launch rumor also comes from Digitimes, a publication that has been wrong about a lot of things.
At this point, we expect one of two iPhone 6 launch and release date scenarios. A debut at WWDC alongside iOS 8 this summer, or, a release similar to the iPhone 5s and iPhone 5 in the fall. Anything other than those would be a surprise.
Either way, those who are thinking iPhone 6 or Samsung Galaxy Note 3 are likely going to be starring at the Galaxy Note 3 for a long while.
Design
Instead of using one of its usual plastic designs, Samsung switched things up with the Galaxy Note 3. It didn't go metal but it did use a different style. The design is made out of plastic that is meant to resemble faux leather. It's a lot different than any previous Galaxy smartphone design and it shows that Samsung is willing to change things around, year-to-year.
In addition to the changes to the back plate, the company slimmed down the Galaxy Note 3. The design, which is still larger than most smartphones, is now just 8.3mm thin. That's much thinner than the Galaxy Note 2. It weighs just 168 grams. Heavy, but lighter than other devices in its class.
We expect the iPhone 6 design to feature better materials than the Galaxy Note 3. Apple won't move back to plastic and will almost certainly extend a premium build to its customer base. Whether that means keeping the anodized aluminum back or not, remains to be seen.
The iPhone 6 will more than likely be as thin, if not thinner than the Galaxy Note 3 and probably weigh much less. Apple puts a ton of effort into keeping its devices pocketable and usable with one hand. The overall size of the iPhone 6 is likely going to be much smaller than the Galaxy Note 3. It may feature a larger screen than the iPhone 6 but we expect Apple to thin out the bezels and keep the size change to a minimum.
Display
One of the unique things about the Samsung Galaxy Note 3 is its massive 5.7-inch display. The display is one of the best in the business, checking in with 1920 x 1080 resolution and 386 pixels-per-inch. The display gives its users impressive looking content from the web to a movie on Netflix. Everything simply looks great.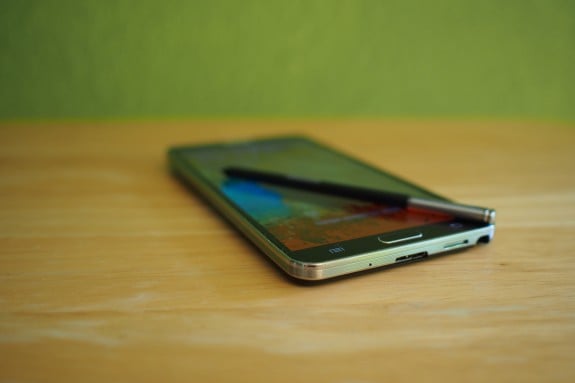 The Galaxy Note 3 display is so big, in fact, that users can comfortably watch a movie with someone else on a plane, in a train, or in a car. That's not something that is available to users of the current iPhone 5s. However, it may be a perk of the next iPhone, the iPhone 6.
For months, reports have claimed that the iPhone 6 will finally introduce a much larger screen to iPhone buyers. Furthermore, rumors have centered around a 4.5-inch to 5-inch display.
NPD DisplaySearch, which accurately predicted the iPad 3′s Retina Display, claims that Apple is working on two different display sizes including a 4.7-inch 1280 × 720 display and a 5.7-inch 1920 × 1080 display. Respected KGI Securities analyst Ming Chi Kuo believes Apple is planning an iPhone 6 with a 4.5-inch to 5-inch display in 2014. Kuo accurately predicted many of the iPhone 5s features ahead of the launch. It's not just them either.
A report from The Wall Street Journal backed those rumors saying that Apple is indeed testing larger iPhone display sizes and that it could become a reality in 2014. While we've heard large iPhone rumors in the past, it's hard to dismiss these sources and thus, it's hard to think of an iPhone 6 coming with a display like the iPhone 5s.
We expect a bigger, better display from the iPhone 6, a display that we think will be on par with the one found on the Galaxy Note 3 in terms of quality. We do expect the display on the iPhone 6 to be smaller than 5.7-inches. That just seems to big for a phone that will demand mass appeal.
Specs
The Samsung Galaxy Note 3 features some powerful specifications. Samsung outfitted the device with a speedy quad-core Qualcomm Snapdragon 800 processor that can handle just about anything thrown at it. The processor is also helped along by an extremely solid 3GB of RAM, ensuring smooth gaming and multitasking.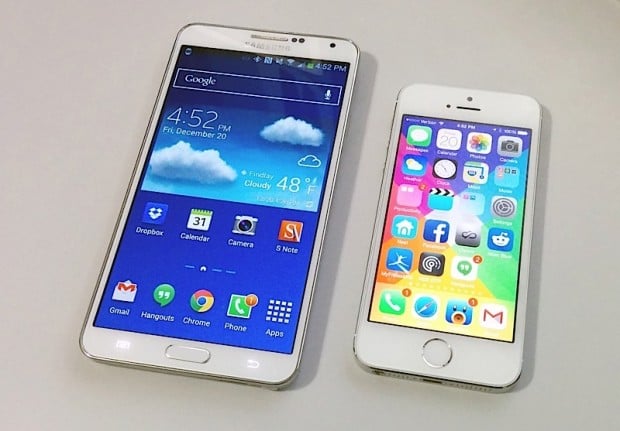 It also features a 13MP camera that can take solid photos and video and its 3200 mAh battery provides fantastic battery life, battery life that should provide all day use to Galaxy Note 3 users. In the U.S., it only comes in 32GB form but its helped along by a microSD card slot that allows users to expand memory with a microSD card up to 64GB in size. It also has a removable back that can work with an extended battery or a wireless charger.
We expect the iPhone 6 to be just as powerful. Apple's iPhones, year after year, come equipped with brand new hardware that allows users to seamlessly play games, use apps or multitask on their phone. There is simply no way Apple back tracks in 2014 so we expect hardware that is either on par, or better than the iPhone 5s and that means high-performance.
The iPhone 6 should feature a 64-bit processor, perhaps a new chip. It should come with an upgraded camera, new iPhones always do. There are rumors about the camera potentially featuring Lytro-like functionality but those rumors are based on patents. We do expect Apple's iPhone 6 to have a solid camera that should at least rival the Galaxy Note 3's sensor.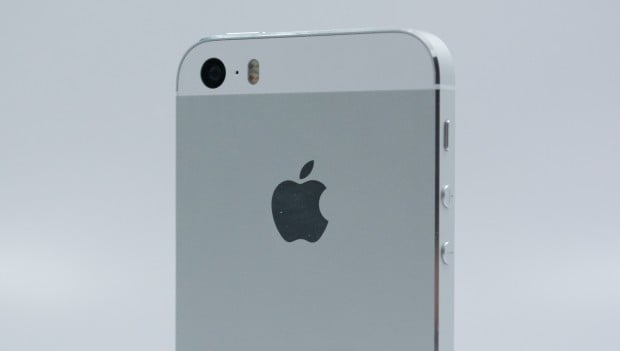 Apple always offers some of the best battery life around and the iPhone 6 should be no different. It should continue the long line of iPhones with stellar battery life.
Finally, expect more sizes from the iPhone 6 but Apple's iPhone line never comes with a removable back or microSD card slot. We don't see that changing with the iPhone 6.
Software
Samsung's Galaxy Note 3 runs some very distinct software thanks to device's bundled S Pen stylus. The Galaxy Note 3 is packed with S Pen specific software features like S Note and Air Command but it also comes with features like Multi-Window View multitasking that take full advantage of its large display. Multi-Window View allows users to use multiple apps on screen at once.
In addition to the unique S Pen features, it also is outfitted with most of the features found on the Galaxy S4 including all of the smart features and the upgraded camera application. The Galaxy Note 3 will continue to get outfitted with new software as well, thanks to Samsung software updates that will likely bring features from the Galaxy S5 and beyond.
Samsung tends to be a little slow to Galaxy Note updates, they're typically slotted behind the Galaxy S updates, which means that users might be in for some lengthy waits. The Galaxy Note 2, for instance, only received one major update this year. Still, we expect Samsung to deliver at least 18 months of software support. The Galaxy Note 3 is young which means that it has a full life ahead of it.
Next on the list is Android 4.4 KitKat, an update that will likely roll out at some point in the beginning of 2014, bringing new functionality to the Samsung Galaxy Note 3.
Apple's iPhone 6 won't run Android and it won't run Samsung's user interface. Instead, it will more than likely utilize a brand new iOS update from Apple. Apple hardware tends to launch with new software which means that an iOS 8 update is likely.
The look of iOS 8 will be vastly different from the look of the Galaxy Note 3's software and we expect it to offer a number of different features as well. iOS 8 should work to build on the foundation brought to the iPhone by iOS 7.
The iPhone 6 will likely get longer support than the Galaxy Note 3. Not only will it be a newer device but Apple also tends to keep its devices updated for three years rather than 18 months. That means that if the iPhone 6 does come with iOS 8, it will likely get iOS 9, iOS 10 and iOS 11 as well.
Carriers
The Samsung Galaxy Note 3 is available on AT&T, Sprint, T-Mobile, U.S. Cellular, and Verizon in the United States. It likely won't be heading to other carriers in the future. What this means is that we expect the iPhone 6 to have a distinct advantage when it comes to carrier choices.
Apple has shown a commitment to the big five as the iPhone 5s landed on AT&T, Sprint, T-Mobile, U.S. Cellular, and Verizon. It also, however, showed up on smaller regional carriers in the U.S., something that past iPhones have done as well. We don't expect that trend to be discontinued in 2014 and we expect the iPhone 6 to land for major and minor carriers in the U.S.
Price
The Samsung Galaxy Note 3 is an expensive smartphone. Unlike the Galaxy S4 and iPhone 5s, the Galaxy Note 3 checks in at $299.99 on-contract through U.S. carriers. This price didn't surprise anyone given that this is the price point that Samsung, and its carriers, have been comfortable with since the arrival of the original Galaxy Note.
As the months go on, the price will certainly drop, particularly through third-party retailers like Amazon. In fact, Amazon is currently offering some steep discounts on the Galaxy Note 3.
One analyst believes that the iPhone could jump up $100 or so thanks to the new technology on board. That would mean a $299.99 starting price tag, just like the Galaxy Note 3. This is certainly possible, given the rumors of a larger display, but we don't expect that to happen at this point. Apple's iPhone price has remained static for years and consumers have come to expect a premium $199.99 iPhone. We expect a $199.99 iPhone 6 of some kind.
With the Galaxy Note 3 price only getting better, we imagine the devices having similar price points when the iPhone 6 arrives. In fact, the Galaxy Note 3 could be cheaper than the iPhone 6 though those prices will likely only be found through third-party retailers. We can't see the Galaxy Note 3 dropping below $199.99 through carriers like AT&T and Verizon.

As an Amazon Associate I earn from qualifying purchases.