9 Great iPhone 6s Apps That Work with 3D Touch
The iPhone 6s was officially released last week on Friday, and many users have already taken the weekend to set up their new devices. If you're looking for some apps to use 3D Touch with, here are nine great iPhone 6s apps that already work with 3D Touch.
The iPhone 6s comes with the same overall design as the iPhone 6, but the newer model comes with a handful of new features, including a faster processor, more memory, a much better camera, and a new display technology called 3D Touch.
3D Touch is similar to how Force Touch works on the Apple Watch. You can tap on the screen to select something or simply open up an app, but you can also press harder the screen to activate more options and shortcuts.
For example, you can tap on an app to open it, or you could hard-press on the app to bring up shortcuts for that app, such as composing a new email with the Mail app without even having to open up the app in the first place.
Read: How to Get 3D Touch-Like Features on an Older iPhone
It's perhaps one of the biggest features of the iPhone 6s and it's easy to see why. It can make users more productive, as well as simply give users an easier and quicker way to access certain features of iPhone apps.
Here are nine iPhone 6s apps that already work with the new 3D Touch feature.
Camera+
The popular third-party camera app Camera+ has been updated to support 3D Touch, which allows iPhone 6s users to launch certain features of the app right from the home screen.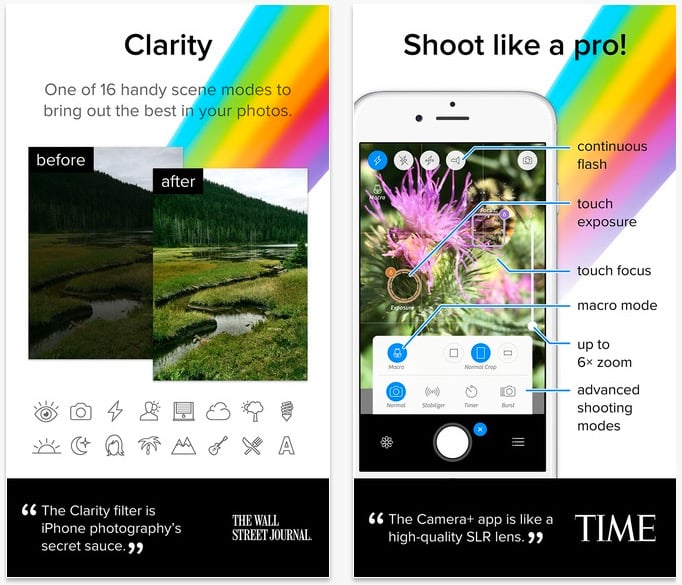 Camera+ includes a set of Quick Actions when a user activates 3D Touch. You can Take Photo, Take Selfie, Take Macro, and View Lightbox when you hard press on the Camera+ app icon.
The app also added a View Lightbox button to the Today widget in the Notification Center, allowing you to yet another way to quickly interact with Camera+.
Dropbox
Dropbox was one of the first apps to support 3D Touch on the iPhone 6s, and while the new capabilities aren't too big of features, it at least makes the app easier to use.
With 3D Touch, you can get shortcuts to your most recently actioned file or folder, as well as offline files. You can even upload photos and videos straight from 3D Touch and search your Dropbox without having to open the app first.
You can also use 3D Touch to Peek while inside the Dropbox app. You lightly press a file for a preview or a folder to view the contents inside. You can also Pop from a preview into the full file or folder by just pressing a little deeper on the screen.
Evernote
One of the most popular note-taking apps for the iPhone now comes with 3D Touch support on the iPhone 6s.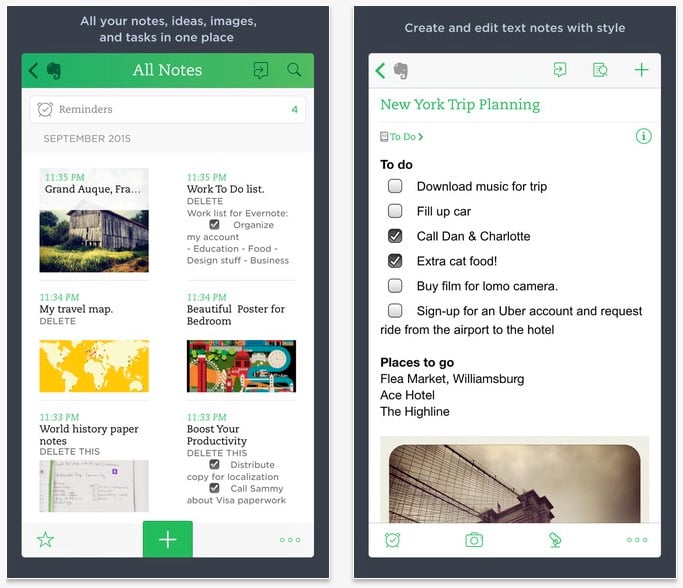 With Evernote, you can use Quick Actions from the iPhone home screen and either create a New Note, Take Photo or Set Reminder.
You can also use Peek to get a preview of any linked websites in a note and press deeper to go to that website in full. Peek is also available from the home screen with the Evernote app icon where you can get a preview of notes and Work Chats.
iMovie
It's obvious that all of Apple's stock apps on iOS come with 3D Touch capabilities, but iMovie isn't a stock app and we'd recommend downloading it if you record a lot of videos with your iPhone 6s, especially with 4K being a big new feature.
iMovie now comes with 3D Touch functionality, allowing users to quickly start a new movie project right from the home screen. It's perhaps not that great of a shortcut, but it certainly works and I'm sure many users will take advantage of it.
Instagram
One of the apps that was demoed on stage during Apple's iPhone 6s event was Instagram, showing off its new 3D Touch capabilities.
With Instagram on your iPhone 6s, you can use Peek and Pop to see a preview of photos when you're viewing someone's profile page.
You can also using 3D Touch on the home screen to get a set of Quick Actions with Instagram, including New Post, View Activity, and Search.
OpenTable
OpenTable allows you make reservations at restaurants that support the service, and now the app is even easier to use thanks to 3D Touch, giving users more capabilities.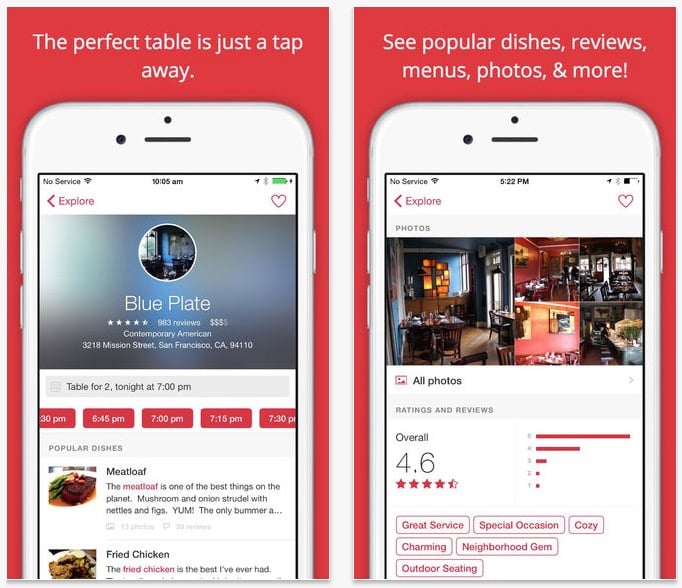 For instance, you can touch a restaurant in search results to learn more about the restaurant and even select a time to book instantly. You can also get Quick Actions with access to your favorite restaurants and quickly looking at your upcoming reservations.
Another iOS 9 feature in OpenTable is the ability to quickly find recently-viewed restaurants again using Spotlight Search on your iPhone.
Pinterest
If you're a Pinterest fanatic and have an iPhone 6s, then you'll probably love the new features that the app comes with in the latest update.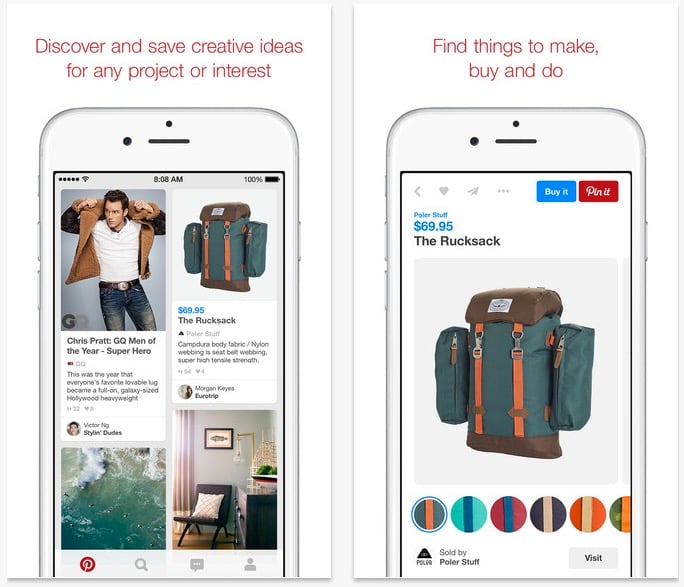 With the updated app, you'll be able to use 3D Touch to Peek and Pop into Pins, giving you a preview of a Pin without having to fully select it and open it. You can also use 3D Touch and Quick Actions from the home screen, like performing an instant search or creating a Pinterest board instantly.
Shazam
While I'm mainly a SoundHound user, the new Shazam app with 3D Touch may win me over.
With Shazam, you can use 3D Touch with Quick Actions on the home screen to instantly Shazam a song that you hear without having to open up the app first.
You can also use the new Spotlight Search features in iOS 9 to search for a song or artist.
Twitter
Another iPhone app that immediately updated with 3D Touch support is Twitter.
With 3D Touch, users can access New Tweet, New Message and Search from the home screen without opening up the Twitter app.
Unfortunately, Peek and Pop are not supported in the Twitter app, which is something that would be a huge feature in Twitter, but hopefully we'll see this in the future.

This article may contain affiliate links. Click here for more details.