iPhone 6s Release Date: 5 Things to Know Right Now
Apple still hasn't confirmed but thanks to a mountain of evidence (and analyst predictions), it looks like the company might have two new iPhones up its sleeve for 2015. With interest in the iPhone 6s and iPhone 6s Plus starting to grow, we want to take a look at five things buyers need to know right now in the buildup to the iPhone 6s release.
As we push deeper into the summer, we're getting closer to the products that Apple's already confirmed for the fall. At WWDC, Apple announced plans to release an iOS 9 update for mobile devices and it also revealed a new OS X El Capitan release for Mac. Apple hasn't announced release dates for its new updates but we get closer every time it releases a new beta.
We're also, it seems, getting closer to the release of new unreleased products in Apple's pipeline. The company isn't talking about its new hardware lineup for the fall but rumor has it, it's planning to release two new iPhone models that are currently dubbed iPhone 6s and iPhone 6s Plus.
We've seen iPhone 6s and iPhone 6s Plus rumors emerge at a steady pace over the past few weeks and we're starting to get a better read on their features and their release.
Analysts believe that Apple's new iPhones will come with a number of new features including improved cameras, a new processor, more RAM, and the Force Touch display technology. Force Touch is currently available on the Apple Watch and MacBook but not on the iPhone or iPad.
Prospective buyers are also curious about Apple's release plans. And while the iPhone 6s release date is still unconfirmed, we've seen several important pieces of information emerge ahead of Apple's announcements. With those in mind, here are a few things to know as we make our way into the summer.
iPhone 6s Production
The iPhone 6s release date isn't confirmed but we know that it's getting closer.
In the past month, we've seen countless iPhone 6s production rumors. It started with a report from The Wall Street Journal and its spiraled out of control since then.
iPhone 6s rumors indicate that Apple's suppliers have started producing the A9 chips that will supposedly power the iPhone 6s and iPhone 6s Plus. We've also heard that suppliers have ramped up production of the company's Force Touch display panels.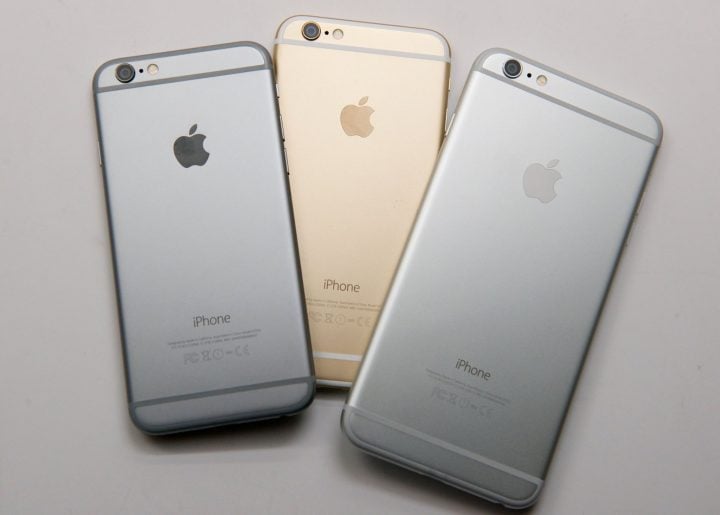 We've also seen one, two, three, four, five alleged iPhone 6s part leaks that all point to the start of production ahead of an iPhone 6s release later this year.
This mirrors what we saw, and heard, ahead of the iPhone 6 launch last year and it's sign that we're moving closer and closer to Apple's big announcement.
iPhone 6s Release Date Window
The start of iPhone 6s production means that the iPhone 6s release date is getting closer but it doesn't help to narrow down anything specific. Fortunately, there are a few clues that help us narrow the iPhone 6s release date window for consumers.
In May, respected KGI Securities analyst Ming-Chi Kuo told investors that Apple was planning to start production in August ahead of a release in September. That seems to be holding up.
Last month, T-Mobile started offering an iPhone 6 deal that allows customers to buy the iPhone 6 or iPhone 6 Plus and upgrade to Apple's new iPhone before the end of the year. The deal ends on September 8th which means that the iPhone 6s release date is unlikely to come before then.
The other clue that we have is the end of Apple's fiscal year. This ends on September 28th. Apple typically announces new iPhone sales relating to this period and analysts believe that an iPhone 6s release in September will help drive quarterly sales.
Apple has historically released its iPhone on Friday which means that September 11th, September 18th and September 25th are all options for the phone's arrival. With an iOS 9 release date confirmed for the fall (September 23rd), September 18th and September 25th emerge as the most likely candidates for the iPhone 6s release date.
We haven't seen any rumors point to these dates but they are the days to keep in mind if you're planning to buy a brand new iPhone in the days ahead.
Record Sales & Stock
Analysts are predicting record iPhone sales. UBS analyst Steven Milunovich believes that Apple will ship 49 million units in the September quarter which would be a record for Apple. His firm believes that demand for the iPhone 6s is extremely strong.
Apple, it seems, is expecting big sales as well. A recent report from The Wall Street Journal asserts that the company's asked suppliers to deliver 85 million to 90 million parts for the new iPhone 6s models.
With these increased orders, we could potentially see better stock in stores when the iPhone 6s release date arrives. Apple's iPhones are notorious for selling out hours after they go on sale and the iPhone 6 Plus was extremely hard to find in the weeks after its September release.
That said, we might still see shortages at launch. Kuo and Bloomberg believe that the iPhone 6s could start off slowly due to low yield of the company's new Force Touch technology.
Apple's not going to provide you with any clues during its iPhone launch event so if it offers a pre-order for the iPhone 6s, you'll want to order early if you want to get the device on release day.
iPhone Trade-ins
With an iPhone 6s release date on the horizon, now is a great time to start thinking about what you're going to do with your old phone. Start putting feelers out to friends and family or better yet, start researching how much you can get for it.
As we push closer to September, we're going to start to see resale prices on phones like the iPhone 6 and iPhone 6 Plus start to drop.
Jeff Trachsel, NextWorth CMO, recently told Gotta Be Mobile that "retailers are starting to discount the iPhone 6 to make room for iPhone 6s inventory, and resale values for models like iPhone 5 and 5s have not yet started to decline significantly."
He also told us that "selling now can help defray the cost of new, and can even help fund a warranty program – negating the need to hold onto a backup phone."
In the chart above you can clearly see that the iPhone 6s release date will almost certainly push the value of your current iPhone down 10% by the time the iPhone 6s release date arrives and perhaps another 20% to 30% by the end of 2015.
iPhone Deals & Price Hikes
It's also important to note that iPhone 6 and iPhone 6 pricing is starting to fluctuate at carriers and retailers. We've spotted a number of August deals that prospective iPhone 6s and iPhone 6s Plus buyers should be aware of before the phone's release. We expect more to emerge as we get closer to the iPhone 6s release date.
iPhone 6s and iPhone 6 buyers should also be aware that U.S. carriers have changed the way you buy an iPhone ahead of the iPhone 6s release date. Here are a few of the changes and we could see more as we get closer to the iPhone 6s release:
These are worth noting if you plan to buy a new iPhone in the next few months.
10 Phones You Shouldn't Buy Right Now
Samsung Galaxy Note 4
If you've been thinking about buying a Samsung Galaxy Note 4, it's in your best interest to hold off. A Galaxy Note 4 successor, and a Galaxy Note 4 price drop, are on the way.
Samsung hasn't confirmed anything yet but all signs point to a Galaxy Note 5 launch on August 12th or August 13th. The company has reportedly moved the Galaxy Note 5 launch up to put some room between it and Apple's iPhone launch.
Galaxy Note 5 rumors point to numerous upgrades including a design change, a brand new S Pen, an improved processor, and more. On paper, it looks like it will be an exciting new chapter in the Galaxy Note's legacy. It'll only be a few days before we find out for sure.
The Galaxy Note 5's arrival should signal the end of the Galaxy Note 4's reign as a $299.99 phone. It should drop to $199.99 or cheaper at most carriers. We should also see retailers undercut carriers as well. So, if you don't like the Galaxy Note 5, you can always buy the Galaxy Note 4 for much less than its current price.