iPhone 6s vs. Galaxy Note 5: 5 Things We Learned in May
Throughout the month of May we've seen iPhone 6s rumors and Samsung Galaxy Note 5 rumors tease consumers in the United States and regions around the world. Neither device is official yet but we're starting to see some details firm up as we press into June. With that in mind, we want to take a look at the five most important things we learned about the rumored iPhone 6s vs Galaxy Note 5 matchup.
Every year, Apple releases a new iPhone. This time around, the company is rumored to have an iPhone 6s up its sleeve to replace the iPhone 6 and iPhone 6 Plus from last year. iPhone 6s rumors have been rampant for several months now and they've picked up a ton of steam in May.
iPhone 6s rumors have hinted at the iPhone 6s release date, iPhone 6s specs and even the iOS 9 update that's expected to arrive at WWDC 2015 in June. We're starting to get a pretty good read on the iPhone 6s and we're also starting to get a good read on its competition.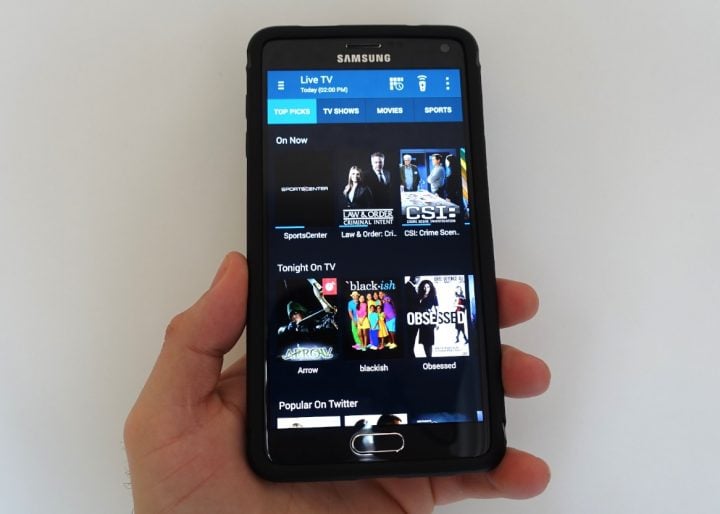 Every year, Samsung releases a new Galaxy Note. In 2015, it's rumored to have a Galaxy Note 5 in development, a device that will almost certainly replace the Galaxy Note 4 from last year. Like iPhone 6s rumors, Galaxy Note 5 rumors have been swirling around this month hinting at everything from the Galaxy Note 5 release date to the Galaxy Note 5 specs.
We've spoken to a number of people who are interested in both of these phones. And while neither of them is official, we've come out of May with some solid information and leads. With that in mind, we present the five biggest iPhone 6s vs Galaxy Note 5 takeaways from this past month.
iPhone 6s vs Galaxy Note 5 Release
These phones have been leaking out like crazy during the month of May and that probably won't stop anytime soon. The iPhone 6s and Galaxy Note 5 appear to be on a collision course.
Apple likes to use the month of September as its iPhone launch month. Samsung likes to use the IFA trade show in Germany as its Galaxy Note launch pad. Galaxy Note 5 launch rumors point to an arrival at IFA 2015 in September while iPhone 6s launch rumors put it in the usual timeframe.
We haven't seen any specific dates called out just yet but it's clear that these two devices are probably going to be rolling out in and around the same time that we always see them roll out. That is, unless someone does something crazy.
We've seen rumors hint at early releases but credible publications shot down the early iPhone 6s launch rumors and Samsung's J.K. Shin threw water on the early Galaxy Note 5 launch rumors.
Expect these two devices to heat up in June, July and August ahead of releases ahead of the holidays.
You'll Probably Have Options
If May Galaxy Note 5 and iPhone 6s rumors are accurate then we'll see two versions of the iPhone 6s and two new Galaxy Note models including a Galaxy Note 5 and a Galaxy Note Edge 2.
The iPhone 6s and iPhone 6s Plus are expected to retain the 4.7-inch and 5.5-inch display sizes that are found on the iPhone 6 and iPhone 6 Plus. The iPhone 6 Plus was Apple's first true Galaxy Note competitor and it looks like the Galaxy Note 5 will have company this fall.
As for the Galaxy Note 5, there's only supposed to be on model. That said, Samsung's also expected to introduce a big screen device that features a dual-edged display like the Galaxy S6 Edge. The device isn't rumored to have an S Pen stylus which could mean that it won't be a part of the Galaxy Note family.
Either way, it looks like we'll see multiple devices from both Apple and Samsung and that kind of choice is going to be great for those looking to buy this fall.
Expect the Usual Upgrades
Samsung Galaxy Note 5 and iPhone 6s rumors haven't unearthed every single feature yet but it's looking like we'll see the companies do what they usually do: Offer some big time software and hardware upgrades that help them advertise their latest devices as their best ever.
For instance, iPhone 6s rumors point to an A9 processor with 2GB of RAM. Galaxy Note 5 rumors point to a Exynos 7422 processor which will supposedly be the company's first all-in-one solution that combines CPU, GPU, RAM, storage, and modem on a single chip. The rumor comes from SamMobile, a credible source for Galaxy Note 5 information.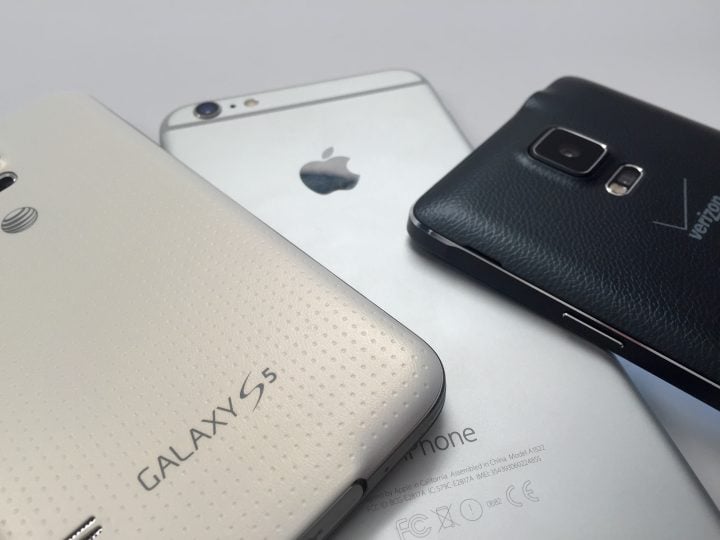 Apple's also expected to make some changes to the iPhone's camera sensor while Samsung's rumored to have some camera upgrades of its own on tap. Apple's also rumored to be making some design tweaks including changes to the Touch ID fingerprint sensor. Neither company will be sitting on its hands this year, that's for sure.
Now, thanks to these rumors, we've also learned that both of these devices are still in development behind the scenes. There are still a ton of mysteries (storage, battery size, etc) and it's going to be months before we get the full Galaxy Note 5 vs iPhone 6 picture.
For example, Samsung is apparently testing both Quad HD and Ultra HD on Galaxy Note 5 . The company has reportedly yet to decide on a panel and it could be weeks even months before the company comes to a final decision. Samsung, like Apple, has been known to cut features to swap them out deep in the development process.
Expect the expected but don't put your eggs all in one basket.
Expect Big Changes Too
This might be an iPhone "S" year for Apple but iPhone 6s rumors point to some massive changes that could help it compete with a redesigned Galaxy Note 5. The biggest changes could come to the display and camera.
A new report from 9to5Mac, a site that has a healthy track record when it comes to iOS rumors, claims that Apple's "Force Touch" technology will come to the iPhone 6s and iPhone 6s Plus. Force Touch technology can determine the action a user wants to perform based on the strength of a tap. Apple built this into the Apple Watch, the new MacBook and the MacBook Pro Retina and it's rumored to have it on tap for the iPhone 6s, iPhone 6s Plus or both.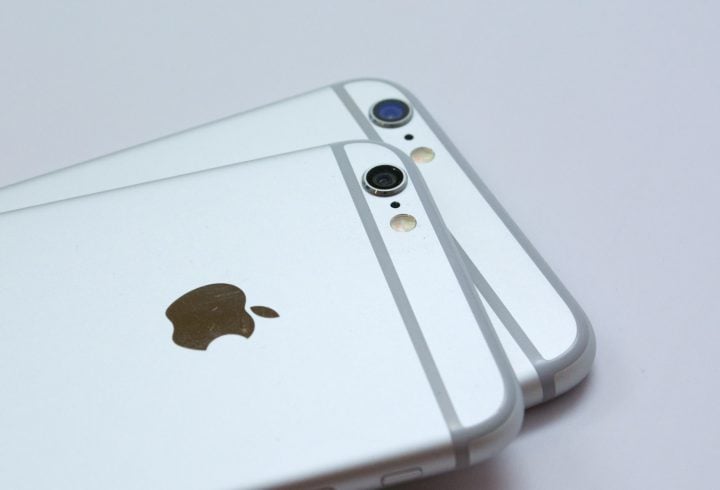 Multiple reports suggest that the iPhone 6s camera will feature a new 12MP sensor. Megapixels aren't everything but a jump from the usual 8MP could mean that Apple has something big in store.
As for the Galaxy Note 5, it's rumored to have a high-powered display, either Quad HD or Ultra HD, and Samsung executives have already been hinting at possible design changes that could fall in line with the glass and metal designs on the Galaxy S6 and Galaxy S6 Edge.
Don't write the iPhone 6s off just because it's an "S" year. It could come with some huge selling points that go beyond unique software features.
iOS 9 vs Android M
Yesterday, Google confirmed its next Android update, Android M. Android M will roll out in Q3 of this year, probably in August, which means that there's a chance the Galaxy Note 5 will have it on board. Even if it doesn't run it out of the box, it will get it at some point down the road.
Android M comes with some notable features, some of which can be seen in the video below, but it's also going to come with battery life improvements and fixes aimed at stabilizing Android's code. That could be huge for the Galaxy Note 5 and the Galaxy series as a whole.
It's also worth mentioning that the Galaxy S6 Android 5.1 update that's scheduled for June should share some things in common with the Galaxy Note 5's software so you'll definitely want to keep an eye on that as well.
The iPhone 6s won't run Android. It will run iOS and more specifically, it will run iOS 9. We've started to hear a whole lot about iOS 9 in the days leading up to its launch on June 8th at WWDC and it's looking like it will be similar to Android M. That is to say that it should include new features but also fixes and improvements aimed at stabilizing the software.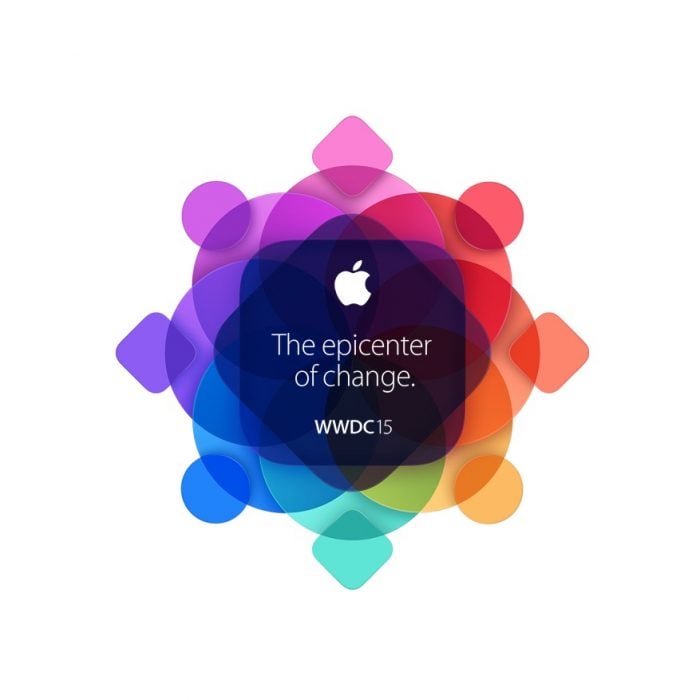 We should be able to compare the early versions of these two updates in June and give you a glimpse at what to expect from the Galaxy Note 5 and iPhone 6s software. Both appear to be aimed at improving the foundations left behind by their predecessors which means that these two rumored next-gen phones could be extremely stable.

This article may contain affiliate links. Click here for more details.