iPhone 7 Concept Brings New iPhone to Life
While we'll probably see an iPhone 6s release rather than an iPhone 7 release in 2015, that hasn't stopped Apple enthusiasts and designers from dreaming up concepts for a new iPhone and a new iPhone 7 concept brings a beautifully simplistic 2016 iPhone to life.
As we push away from September's iPhone 6 and iPhone 6 Plus release, we're starting to hear a lot more about Apple's plans for 2015. Recently, we've begun to see a number of iPhone rumors emerge hinting at the release of a 2015 iPhone. Rumors aren't pointing to the release of an iPhone 7 but to the release of an "S" model iPhone, an iPhone 6s.
Apple typically follows up a major redesign with an iPhone "S" release which means that rumors of an iPhone 6s and iPhone 6s Plus release in 2015 are credible. An iPhone 7 release is likely more than a year away but designers are already envisioning the iPhone 7 design, specs, and more.
Our friend Martin Hajek and German publication ComputerBild have dreamt up an early iPhone 7 concept that brings an iPhone fit for 2016 to reality. This new iPhone 7 concept comes with a gorgeous but simple design reminiscent of Apple's current iPhone 6 models. There are, however, some major changes lurking on board.
Hajek's new iPhone 7 concept features a massive display that covers most of the front of the phone. The bezels have been thinned out to incorporate as much screen real estate as possible. Apple's Touch ID is still available but it's now recessed into the device's display.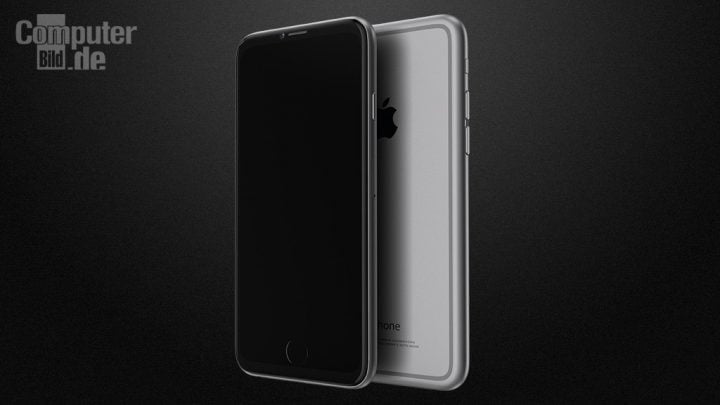 The overall size of the iPhone 7 concept is similar to the size of the iPhone 6 and iPhone 6 Plus and the design keeps a similar placement for the volume rocker and the ring/silent switch. The device comes with a speaker grille on the bottom right, a Lightning port in the center bottom, and a headphone jack in the bottom left. All of this is similar to the current iPhone.
On the back is where we see a number of changes. This iPhone 7 model incorporates a beautiful light up Apple logo in the back. The back of this iPhone 7 is also flush and doesn't feature the same lines that stretch across the top and bottom of the iPhone 6 and iPhone 6 Plus.
It also features a new camera that offers two sensors, lenses and a flash for great detail. Rumors suggest that we may see this technology appear before the iPhone 7 though nothing is set in stone. Hajek's design also pulls in a new selfie camera that takes beautiful front-facing photos.
All of this is wrapped up into a beautiful gunmental design that for many consumers is worthy of Apple's real iPhone 7. iPhone 7 rumors are non-existent at this point though we have heard rumors about this year's models.
While the iPhone 7 release isn't likely for 2015, we should see Apple deliver a brand new iPhone. iPhone 6s rumors have centered on two models, a 4.7-inch iPhone 6s and a 5.5-inch iPhone 6 Plus. The two devices are expected this fall alongside the company's iOS 9 update.
Both are rumored to have a number of upgrades including Force Touch technology, more RAM, a new Apple A9 processor, and a slew of camera upgrades that could help to make the iPhone 6s camera the best Apple camera to date.
Apple isn't expected to debut the iPhone 7,  iPhone 6s or iPhone 6 Plus on stage at WWDC. Instead, the company is rumored to have a new version of OS X, iOS 9, a new streaming music service, and a new Apple TV up its sleeve for its annual developer event.
iOS 9 is expected to bring several new features to the iPhone though rumors say that it will also come with a number of security enhancements and fixes to help stabilize the software on Apple's current smartphones and tablets. An iOS 9 release date hasn't been determined and it's expected to be placed in the company's beta program ahead of a public release.

This article may contain affiliate links. Click here for more details.