iPhone 7 Release Date Details
The iPhone 7 release date is coming in September. Multiple sources now pinpoint one of two dates that the new iPhone 7 and iPhone 7 Plus will go on sale and we can confirm Apple's plans to hold an iPhone 7 event just after Labor Day.
We've already run down what you can expect from the iPhone 7, including a slightly new look, better specs, no headphone jack and more storage — and now we're able to tell you the most important iPhone 7 release date details that you need to know about.
Watch the video below for an overview of the iPhone 7 design and a look at our early hands on with iPhone 7 mock ups.
The iPhone 7 release date is September 16 or September 23rd, with multiple important dates in the lead up to the day that you need to know about.
Apple sent out invites for an iPhone 7 event in September, firming up the iPhone 7 release date details we are sharing now. Other than the event date details, this information is not confirmed, but you should still put it in your calendar.
iPhone 7 Launch Date
Apple confirmed the iPhone 7 event date for September 7th, which is when we expect to see Apple take the stage and show off the new iPhone 7, iPhone 7 Plus, Apple Watch 2 and show off more about iOS 10.
It's not clear if we will see the 2016 MacBook Pro at this event, but we may learn a more specific macOS Sierra release date.
The September Apple Event starts at 10 AM Pacific, 1 PM Eastern. Apple will likely spend an hour or two on stage and it will take at least half an hour before they show off the iPhone 7 and iPhone 7 Plus.
There is a live stream of the event so you can watch Apple announce the new iPhone firsthand.
iPhone 7 Pre-Order Date and Time
You can expect to buy the iPhone 7 two days later if you want to order online.
Evan Blass, @evleaks, says that the iPhone 7 pre-order date is September 9th. This lines up with a traditional Apple timeframe.
You can expect iPhone 7 pre-orders to start online at Apple, carriers and retailers at 12:01 AM Pacific on September 9th. That's at night on the Thursday after the announcement. The iPhone 7 pre-order start time is at 3:01 AM Eastern, so you will need to get up very early or stay up very late if you are on Eastern time.
At this time you should be able to choose the iPhone 7 or iPhone 7 Plus that you want and then have it delivered to you on the iPhone 7 release date or reserve one for pickup. Last year Apple announced a program that allows users to upgrade to the new iPhone every year, and added in store pickup starting at 8 AM on the release day.
iPhone 7 Release Date Details
The iPhone 7 release date is September 16th according to a Gotta Be Mobile source and Evan Blass. One leak indicates that the iPhone 7 release date is not coming until September 23rd, which is also plausible.
We are preparing for the iPhone 7 and iPhone 7 Plus release date on September 16th, which means we will be going to the store at 8 AM to pick up a pre-order.
If you know you want a specific iPhone 7 or iPhone 7 Plus model, you need to make sure that you pre-order or you will likely end up without the model you want.
Expect Apple Stores, carrier stores and even some retailers to open at 8 AM on the iPhone 7 release date and expect lines.
Keep in mind that if you are upgrading from a payment plan or annual upgrade plan you may need to make a final payment or a higher than normal payment to buy the iPhone 7. Not every carrier will sell an iPhone 7 unlocked from day one, and some may push a contract even if the iPhone 7 works on multiple carriers without an issue.
9 iPhone 7 Features We Want in 2016
Waterproof iPhone 7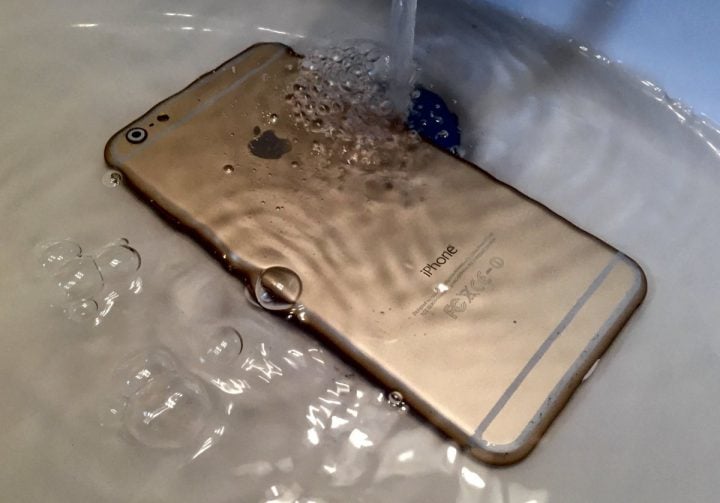 Apple upgraded the iPhone 6s design to make it withstand water better than the iPhone 6, and there are several Apple patents focused on delivering an iPhone that survives in water, which gives us some hope for a waterproof iPhone 7.
With a new design Apple may be able to incorporate a water-resistant iPhone 7 design into a production model allowing users to not worry about using the iPhone near water.
If Apple is able to deliver this, it would likely come with caveats such as only providing protection for 30 minutes of submersion for 3-6 feet or less.
The Samsung Galaxy Note 7 is water resistant, working in water including the ability to use the S Pen underwater as demonstrated in the video above.
A report from FastCompany claims that this is a feature Apple will provide with the iPhone 7 by coating the components of the iPhone 7 with a special chemical. We've heard rumors like this before and Apple pulled the feature, so while it is exciting, make sure you check before dropping your iPhone 7 into the water later this year.
The latest iPhone 7 rumors from earlier this year suggest Apple will not deliver a waterproof iPhone 7 this year. This back and forth mirrors what we see with many rumors and we may not know until the fall.

As an Amazon Associate I earn from qualifying purchases.