iPhone 7 Release Date, Specs, Price & Camera Rumors
The iPhone 7 release date is coming in September according to multiple rumors and Apple's historical release cycle. It's time to start waiting for the iPhone 7 release date before you buy a new iPhone.
iPhone 7 release date rumors now point to two potential release dates, both in the next month.
Finally we have our first look at what is likely the iPhone 7 Plus running iOS 10 on video from Sonny Dickson. Dickson is a well known Apple leaker that previously shared the many iPhones ahead of the announcement.
— Sonny Dickson (@SonnyDickson) August 31, 2016
This is what you need to know about when you may be able to buy the iPhone 7. We'll also walk you though important iPhone 7 specs, the potential iPhone 7 price and multiple models that may arrive for sale.
The latest iPhone 7 rumors offer more support for a waterproof iPhone 7 that is better suited to taking underwater photos.
Here's our look at the most important iPhone 7 release date and iPhone 7 rumors that you need to know. We'll help you make sense of what the rumors currently say so that you can start to decide if you want to wait for the iPhone 7 or take advantage of one of the iPhone 6s deals.
iPhone 7 rumors point to more storage for the base model, a larger camera that is closer to the edge of the phone and new renders offer a better look at a potential iPhone 7 design.
This year there will be a new iPhone that Tim Cook promises will include a new feature, "that you can't live without." We expect that this is the iPhone 7, but there is no formal name yet. Apple may not deliver the massive change in looks that we've come to expect every two years, but there are new features coming.
iOS 10 doesn't tell us much about the iPhone 7, other than narrowing the release date down to the fall.
Here is a look at what to expect from the 2016 iPhone release and what new features Apple may upgrade for the iPhone 7.
Despite Tim Cook's optimism while telling Jim Cramer on CNBC that, We are going to give you things that you can't live without that you just don't know you need today.", analysts don't all agree.
A new report suggests the iPhone 7 features will not be enough to satisfy users who are looking for a huge upgrade — which could mean fewer sales as consumers decide to wait for the iPhone 7s or iPhone 8, which may include a huge screen technology upgrade.
We also include what not to expect from the iPhone 7 in 2016, to help you set your expectations and be on the lookout for fake videos.
Here is a look at the latest iPhone 7 news and rumors, as well as what you can expect from the new iPhone in 2016.
What to Expect from the iPhone 7
Although the iPhone 7 release date is still weeks away, there are enough leaks that we are starting to get an idea about what the new iPhone 7 could look like and what the iPhone 7 specs might offer. Use these links to jump to specific sections and to see the potential changes.
Based on our observations of how the company delivers new iPhones to the market and other factors we have a short list of things we expect from the new iPhone 7 in 2016.
iPhone 7 Release Date: What to Expect
The biggest thing to expect from the iPhone 7 release date is that it is coming in Fall 2016.
A case manufacturer tells Gotta Be Mobile that the iPhone 7 release date is September 16th, which is the same time frame as Evan Blass shares.
Blass, formerly known as evleaks, specifically states that this is the in-store iPhone 7 release date.
iPhone 2016 release: week of September 12th.

— Evan Blass (@evleaks) July 23, 2016
This timeline makes sense for the iPhone 7 release date, and it means that we could see an Apple Event on September 6th or 7th.
A new report from 9to5Mac shares a leaked AT&T schedule calling for workers to change the store banners and merchandising on September 9th and September 23rd. This could point to an iPhone 7 pre-order on the 9th and an iPhone 7 release date on the 23rd.
Last year Apple announced an annual upgrade program for the iPhone, which offers a fast and affordable way to upgrade from the iPhone 6s to a new iPhone in 2017. With the start of this program in September 2015, expect the iPhone 7 release date in September 2016.
If the iPhone 7 release date is September 16th it will be interesting to see how Apple handles the iPhone upgrade program, considering this is a week before the year is done. This could require users to make a final payment before trading in and buying the iPhone 7.
New iPhone 7 Design
The hallmark of a new iPhone without an "s" in the name is a new design. We don't know what the 2016 iPhone will look like, but we can't count on a completely fresh look for the iPhone 7 design.
New iPhone 7 and iPhone 7 Plus photos show the lack of a mute switch. This is a change Apple made for the iPad Pro, but it is the first time we've seen this on an iPhone where fast access to silent mode is important.
In late June The Wall Street Journal reports that the iPhone 7 design will look much like the iPhone 6s, but without a headphone jack. This could reduce the thickness and make the phone more waterproof according to the report. The article claims Apple will save a major redesign for 2017.
In August we see a new Apple Patent, filed in 2015 and just granted, for a better way to take iPhone photos underwater. The patent, found by Patently Apple, shows a new way to take iPhone photos underwater that can edit the photo to make the photo look more realistic without removing the blue of the water.
In early July a photo of a dummy unit that case manufacturers use to test the fit of cases appeared on Tecttastic. These types of dummy units are sometimes spot on.
In 2012 we broke the news of what the iPhone 5 would look like with an engineering sample that was spot on to the final product. This leaked to us in early July. In 2014 we shared comparisons of the iPhone 5s and iPhone 6 using a dummy unit purchased from China in the middle of the summer.
The iPhone 7 video below uses a CAD design based on iPhone 7 blueprints to highlight what the new 2016 iPhones may look like.
While the overall design is similar to the iPhone 6s and iPhone 6s Plus, there is a smart connector on the iPhone 7 Plus shown above and there is a larger camera placement for the iPhone 7 Plus to allow for a dual-lens camera. The designs also show no headphone jack.
The backs of the phones match up with previous reports that claim Apple is moving the antenna bands from running across the back to running near the curves at the top and bottom.
New iPhone 7 and iPhone 7 Plus cases from Alibaba and other retailers differ. Some include a smart connector on the back, while others do not have a cutout. Oppomart lists a SunnyC iPhone 7 Plus case with a cutout.
A leak No Where Else, showing what could be the iPhone 7 dimensions. These are the same as the iPhone 6s. This lines up with a previous leak from Macotakara from the Macfun publication. It appears to show the dimensions and design of the iPhone 7 Plus. The overall size and design is just like the iPhone 6s Plus.
We don't normally see that type of similar look and style with a jump from the S version to a new number for the iPhone. Many other rumors suggest the iPhone 7 will be thinner than the iPhone 6s.
It is possible that this year will be a refinement to the iPhone 7 design, ahead of a major upgrade in 2017.
A photo of what could be the iPhone 7 Plus shows the new antenna lines at the edges of the phone, a dual camera module and what appears to be a smart connector. An image from Bastille Post shows an early look at the iPhone 7 Plus Smart Connector.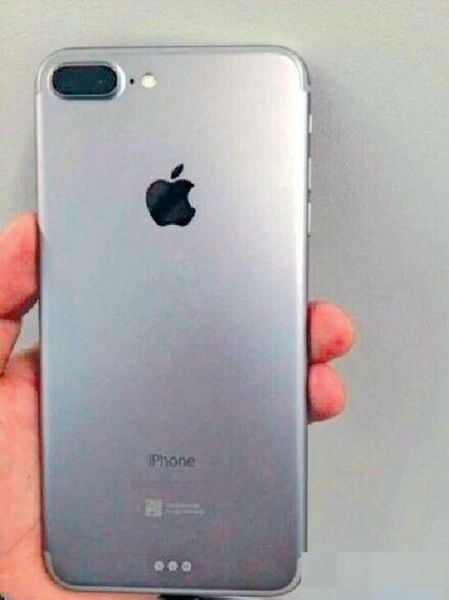 The Smart Connector could allow the iPhone to connect to smart accessories that can draw power while still leaving the Lightning connection available to use with headphones or another accessory.
New reports from analysts indicate that the iPhone 7 will use a new home button that includes Force Touch like haptic feedback to allow you to se home button functions without actually pushing a physical button. This could work similar to the way the TouchPad works on the MacBook.
Mark Gurman at Bloomberg weighs in, stating that the iPhone 7 design will include a new home button that is pressure sensitive and Apple will remove the headphone jack.
We are seeing additional rumors that the iPhone 7 design will use a similar design language to the iPhone 6s, but with a flush camera and no more antenna lines on the back of the phone.
Another leak from Nowhereelse.fr offers a look at what could be the back of the iPhone 7 with a larger camera and possibly a second speaker.
In a new series of photos from Weibo, shared by 9to5Mac, we get a look at what could be the iPhone 7 design including a new camera that is larger in diameter and with openings that suggest it could deliver a laser auto focus.
The iPhone 7 design may include better water resistance and dust resistance, which is a feature Apple upgraded unofficially on the iPhone 6s and that Samsung brought back for the Galaxy S7.
iPhone 7 Colors
The iPhone 7 colors may change some this year according to new reports from Macotakara and 9to5Mac.
Instead of a deep blue as one rumor suggested, these reports claim Apple is prepping a new iPhone 7 color that will replace Space Gray.
Instead of a gray, rumors suggest Apple plans to deliver a Space Black similar to the Apple Watch.
If true, expect to see that come alongside Silver, Gold and Rose Gold. The Space Gray, or Black, should come with a black front. The other colors all come with white fronts.
iPhone 7 Battery Life
When it comes to how long you can use the new iPhone, the design could impact the iPhone 7 battery life.
A leak from China, by way of Apple.hdBlog.It includes images of what could be the iPhone 7 battery. This is similar in capacity to the iPhone 6 battery.
Pat Clawson, CEO of Blancco Technology Group explains to Gotta Be Mobile that design choices could impact the iPhone 7 battery size. Clawson explains,
"The most significant ramification is that the battery will now be smaller in size (6 mm) and it relies on performance improvements of the operating system. Because there is more and more functionality and complexity in the operating system, it will be difficult to optimize the power consumption of the battery"
Blanco Technology Group is a mobile solutions provider that conducts diagnostic testing on millions of Android powered and iOS powered smartphones each quarter. This allows the company to share insights into the functionality that a new iPhone may deliver.
iPhone 7 Camera
Expect to see a jump in the in the camera from the iPhone 6s to iPhone 7, and also from the iPhone 7 to the iPhone 7 Plus.
Rumors suggest the iPhone 7 camera will feature a 12MP sensor that boosts the overall quality of photos taken on the iPhone.
The iPhone 7 Plus may stand out with a dual-lens camera system that may include LinX technology to deliver a better photo with DLSR -like quality. Some iPhone 7 Plus rumors suggest the phone will even include optical zoom capabilities.
In June a new set of photos appear on Nowhereelse.fr showing a closer look at the iPhone 7 Plus dual camera.
The reports continue to suggest this is going to be a feature reserved for the iPhone 7 Plus, and the iPhone 7 camera will not gain this feature.
We are seeing dual-camera systems on smartphones with greater frequency, so this certainly makes sense for a high end iPhone 7 Plus. This feature may not make it into the iPhone 7 due to the added space this type of camera requires.
The video above includes a closer look at how the iPhone 7 Plus camera could work, and what it could do with a dual lens system. Macrumors created the video based on an Apple patent that includes recording at different zoom levels and even recording at slow motion and regular speed at the same time.
Makers of Camera+ show the evolution of the iPhone cameras in a comparison from the first iPhone up to the iPhone 6s so you can see the small changes from one to the other including the low light upgrade in the image below. See more comparisons from the Camera+ developer.
You can see many upgrades through the various iPhone releases, including better detail, better low light performance and more. We expect the iPhone 7 camera will follow this tradition.
Headphone Jack and Lightning Port
As we briefly mentioned in the iPhone 7 design section, there is a chance that Apple will remove the headphone jack from the iPhone 7 to allow for a new design that uses that space better.
A leaked part shows a 3.5mm headphone jack. This is allegedly an iPhone 7 part, which could mean that we won't see Apple take this major step in 2016. In June another leaked part shows a headphone jack.
Finally in July we see many photos of what could be a Lightning earpod headphone set from Apple. The photos show Apple Earpods with a Lightning connector. The Lightning connector looks oddly large, but it may be to keep the headphones from fraying like Lightning cables or it could be to house some kind of audio processing chip. Many more photos are shown on Wiebo.
The latest authoritative report comes from The Wall Street Journal who states that the iPhone 7 will not have a headphone jack.  Macotakara reports that Apple will bundle a Lightning to 3.5mm headphone adapter with the iPhone 7 instead of shipping it with Lightning Apple Earpods. This would allow users to continue using their current headphones.
We heard from accessory makers who are already planning for this removal with a focus on delivering high quality Bluetooth headphones and another planning to make a third-party iPhone battery case with a Lightning connection.
Chinese manufacturing companies are already working on Lightning to 3.5mm adapters, showing off prototypes at Computex Taipei.
Fast Company reports that Apple could include wireless charging as part of the design, with a waterproof feature added in as well.
iPhone 7 Specs & Performance
As a matter of tradition the new iPhone gets a new processor each year. With the iPhone 7 we could see Apple go with an Apple A10 processor, although the name may change by the time this new iPhone comes out.
Pat Dawson explains what the new Apple A10 processor could add to the iPhone 7 experience,
"Apple's earlier processors have been very good and A10 should be even better. A9 was dual core, but A10 is six core. I expect the A10 processor will be much faster and could have 20 percent higher performance and 40 percent less power consumption compared to the iPhone 6s. Though it remains to be seen what impact the faster processer will have on battery life, which we know has come to be one of the biggest frustrations of Apple users."
We could see 2GB RAM in the iPhone 7 and 3GB RAM in the iPhone 7 Plus. If Apple continues with the current trend, the iPhone 7 should deliver more power and longer battery life to users.
New reports suggest Apple will use an Intel LTE modem in the iPhone 7 that could support faster LTE speeds. The speeds would depend on carrier support, so there is a chance that you would not see an overall increase in speed in most uses, at least right off the bat.
| Display | 4.7-inch Retina HD Display, 1334 x 750 Resolution, 326 ppi |
| --- | --- |
| Processor | Apple A10 Processor M10 Co Processor, 2GB RAM |
| Storage | 32GB, 128GB, 256GB Rumored |
| Rear Camera | Flush Rear Camera, 12MP Camera likely |
| Front Camera | 5 Megapixel Front Camera |
| Battery | 1,754mAh Rumored |
| Software | iOS 10 |
| Security | Touch ID |
| Design | Metal design, Flush camera, no antenna lines waterproof may not happen |
| Connections | Lightning Connection, No headphone Jack rumored |
The iPhone 7 Plus specs may include more RAM, more Storage and a better camera system.
iPhone 7 Storage
Recent reports reveal that Apple is looking into new storage options, including a 32GB base iPhone 7 model that would finally cut off the 16GB storage size.
Following multiple leaks rom China and other sources that monitor the iPhone supply chain, The Wall Street Journal shares news that the iPhone 7 storage will start at 32GB, citing a person familiar with Apple's plans.  An IHS Technology analyst also suggests that this could be the new starting size even though Apple does not offer a 32GB iPhone currently.
We've also heard that there could be a 256GB iPhone 7 storage option that would offer double the current max storage on the iPhone 6s. Some rumors claim this is coming to the iPhone 7 and iPhone 7 Plus, while others indicate that the 256GB option will only be on the more expensive models.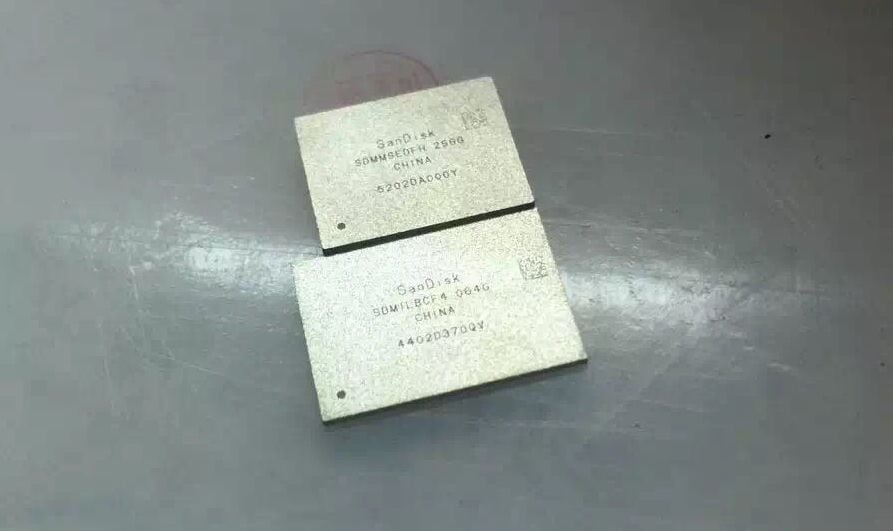 A leak from an Italian website HDBlog includes a photo of the SanDisk 256GB NAND flash memory chip that could fit inside an iPhone 7 Plus — allowing users to purchase double the current amount of storage on the iPhone 6 Plus.
The added space would be important given the new camera options rumored. Surprisingly the smaller chip in the photo is the 256GB flash storage module. This would allow Apple to add more storage while maximizing area inside the phone for other upgrades.
iPhone 7 Price
The iPhone 7 price is likely to arrive at a familiar price point. Expect the iPhone 7 with the base level of storage to start at $199 on carriers that still offer contracts and at $649 off contract. The rest of the iPhone 7, iPhone 7 Plus prices we expect are listed below.
32GB iPhone 7 – $649
128GB iPhone 7 – $749
256GB iPhone 7 – $849
32GB iPhone 7 Plus – $749
128GB iPhone 7 Plus – $849
256GB iPhone 7 Plus – $949
Even if Apple switches to offer more storage on the base iPhone 7 and iPhone 7 Plus, don't expect a price bump.
Apple offers an annual upgrade plan that makes upgrading from the iPhone 6s to the iPhone 7 easier. There will likely be many iPhone 7 deals, as we've seen retailers start discounting the iPhone 6s within a month of release.
iOS 10
We expect the iPhone 7 to arrive with iOS 10 installed. Apple announced the new iOS 10 update at WWDC 2016 in early June. This new software includes dozens of new iOS 10 features that will change how you use your phone.
iOS 10 is coming to the iPhone 6s, iPhone 6s Plus and to older iPhones, iPads and iPod touch devices. You don't need the iPhone 7 to run iOS 10, but we expect to see some iPhone 7 and iPhone 7 Plus specific features.
iPhone 7 vs iPhone 6s: What's in a Name?
Apple announced the iPhone 6s and iPhone 6s Plus last year, which followed the tradition of iPhone upgrades as outlined below for the last eight iPhone releases.
After the iPhone 3G, Apple stuck to using the same general iPhone design for two years and offering an iPhone "s" model. This includes the following models;
iPhone 3G to iPhone 3Gs
iPhone 4 to iPhone 4s
iPhone 5 to iPhone 5s
iPhone 6 to iPhone 6s
This leads us up to the iPhone 7 and iPhone 7 Plus that we expect to see this fall with a new look and new features.
We could see a change with the iPhone 7 that switches to a major upgrade in 2017, not this year.

What Not to Expect from the iPhone 7
It's important to remember that there are a lot of talented designers making videos that claim to show the iPhone 7 design and features. Many will even say "Official" in the title. We won't know exactly what the iPhone 7 looks like until the fall, but if you see a video of an iPhone 7 with a screen that slides out to triple in size or  offers other crazy features, the odds are good that it is not the new iPhone 7. The video above is simply a rendering, and is not what the iPhone 7 will look like.
At this point we don't expect a major screen upgrade on the iPhone 7. There are rumors that Samsung is working on a OLED display for Apple, but recent reports suggest it will not arrive until 2017. We continue to hear that Apple may be working on a huge upgrade for the 2017 iPhone.
What's Next? iPhone 8 Rumors Pick Up
The iPhone 7 release date isn't even here and there are plenty of new iPhone 7s rumors about the 2017 iPhone suggesting that it will come with a big screen improvement and there is a chance that sales this year will be down.
A new WSJ report outlines a change that could come for the 2017 iPhone, which would mark the 10th anniversary of the iPhone.
For years, Apple Chief Design Officer Jony Ive has expressed a desire for the iPhone to appear like a single sheet of glass, according to people familiar with the matter. The current design ideas for the 2017 iPhones are expected to push the handsets in that direction by eliminating much of the bezel around the display with the OLED screen.
9to5Mac reports that Ming-Chi Kuo of KGI Securities sees a slow 2016 because he thinks we won't see, "many attractive selling points for the iPhone 7." Kuo believes Apple needs a new design as well as important new features to be a success. This is even more important with the Galaxy S7, Galaxy S7 Edge and HTC 10 delivering more competition this year.
9 iPhone 7 Features We Want in 2016
Waterproof iPhone 7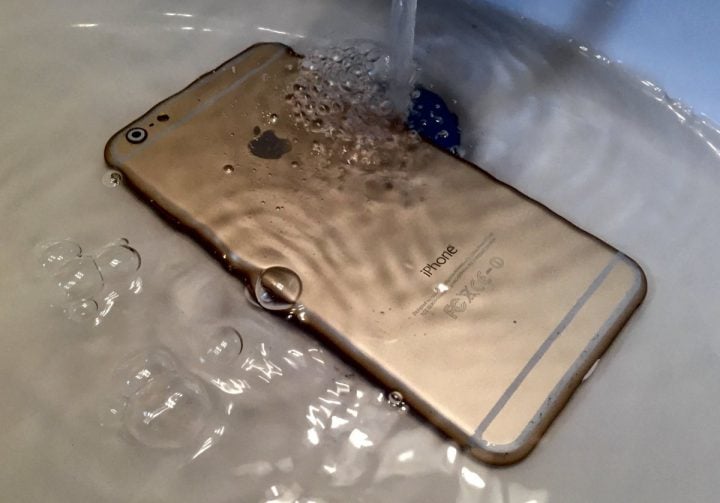 Apple upgraded the iPhone 6s design to make it withstand water better than the iPhone 6, and there are several Apple patents focused on delivering an iPhone that survives in water, which gives us some hope for a waterproof iPhone 7.
With a new design Apple may be able to incorporate a water-resistant iPhone 7 design into a production model allowing users to not worry about using the iPhone near water.
If Apple is able to deliver this, it would likely come with caveats such as only providing protection for 30 minutes of submersion for 3-6 feet or less.
The Samsung Galaxy Note 7 is water resistant, working in water including the ability to use the S Pen underwater as demonstrated in the video above.
A report from FastCompany claims that this is a feature Apple will provide with the iPhone 7 by coating the components of the iPhone 7 with a special chemical. We've heard rumors like this before and Apple pulled the feature, so while it is exciting, make sure you check before dropping your iPhone 7 into the water later this year.
The latest iPhone 7 rumors from earlier this year suggest Apple will not deliver a waterproof iPhone 7 this year. This back and forth mirrors what we see with many rumors and we may not know until the fall.

As an Amazon Associate I earn from qualifying purchases.