iPhone 7 Release Will Punish Buyers with Bad Credit
If you have bad credit the iPhone 7 release date will bring a higher price up front and in some cases higher monthly payments if you want to get the new iPhone on carriers like Sprint, Verizon, AT&T or T-Mobile.
If you don't have good credit, you will need to tell carriers that you are "building credit" or, "I'm working on my credit" when you choose your new iPhone.
Shoppers who don't know their credit score or who are below a 700 credit score need to take note of how they will need to pay to buy a new iPhone. These prices reflect the current difference to buy an iPhone with bad credit in 2016, and point to the prices you can expect for the iPhone 7 later this year.
While credit did play a role in two-year contracts, the shift from contracts to monthly payment plans brings bad credit back into the forefront of the buying decision as it can quickly take $0 down, low monthly payment options off the table when you look to buy a new iPhone or smartphone.
Whether you know your score or not, you may have bad credit. A report from 2015 outlines that 56% of consumers have subprime credit scores. This means you can't get the best deals on loans, but it also means you can't get the best deals on an iPhone 6, iPhone 6s or later this year the iPhone 7.
Now that the Apple Event is confirmed for September 7th and it looks like the iPhone 7 release date is coming just over a week later this news is even more important.
In most cases shoppers will buy an iPhone 7 on a payment plan or a lease, not on a two year contract. This is what you need to know about how your credit plays into that in 2016.
Bad Credit iPhone Details
Every major carrier has something to say about buying an iPhone with bad credit. According to Credit.com, good credit is 700 or higher. If your credit score is 699 or lower you may fall into the "building credit" range. Bad Credit is typically defined as 600 or lower, but the actual number varies from one place to the next.
You can use WalletHub to get your free credit score updated daily or the Credit Karma app to see your credit score free of charge without any catches or hassles that come with some services.
Verizon and Sprint include options on the buying page to indicate that you need to work on your credit.
AT&T chat told us that, " In order to check if you qualify for the AT&T NEXT program, we can go through the process of adding the device, a plan and then moving to the check out process. Once there we can enter your credit card information so the System can determine if a deposit is need or not."
T-Mobile requires a deposit if you have bad credit, but if you have 12 months of T-Mobile service with on time payments you qualify for the best pricing on T-Mobile phones.
In the video above John Legere explains this option and how it works. But if you are not a T-Mobile customer with 12 on time payments you don't yet qualify for Smartphone Equality.
iPhone 7 + Bad Credit = More $$$
Here's a look at how this shakes out in terms of what you will pay if you have good credit or if you have bad credit. That is really what the carriers are saying when they ask you to choose something other than good credit or when you are not a "well-qualified buyer" at the time of checkout.
This is how much you need to be prepared to pay extra when you buy a new iPhone 7, assuming Apple keeps it the same price as the iPhone 6s. We know the exact amounts for Verizon and Sprint.
| Carrier | Downpayment | Monthly Payment | Total |
| --- | --- | --- | --- |
| Verizon Good Credit | $0.00 | $27.08 | $649.99 |
| Verizon Bad Credit | $260.00 | $16.24 | $649.99 |
| Sprint Good Credit iPhone Lease | $0.00 | $26.39 | $475.02 |
| Sprint Bad Credit iPhone Lease | $175.00 | $16.67 | $475.06 |
As you can see, it is much more expensive up front to buy a new iPhone with bad credit. The good news is that the monthly payments are lower and the overall price is the same as buying with good credit.
We expect the iPhone 7 price to be the same as the iPhone 6s, so you will need a downpayment of $175 to $260 with you on the iPhone 7 release date if you want to buy.
T-Mobile customers with 12 back to back on time payments can get the $0 down pricing. AT&T customers should check with the online support to see what the pricing is for their credit score.
Check out the slides below for more information on the iPhone 7 release and potential iPhone 7 features.
9 iPhone 7 Features We Want in 2016
Waterproof iPhone 7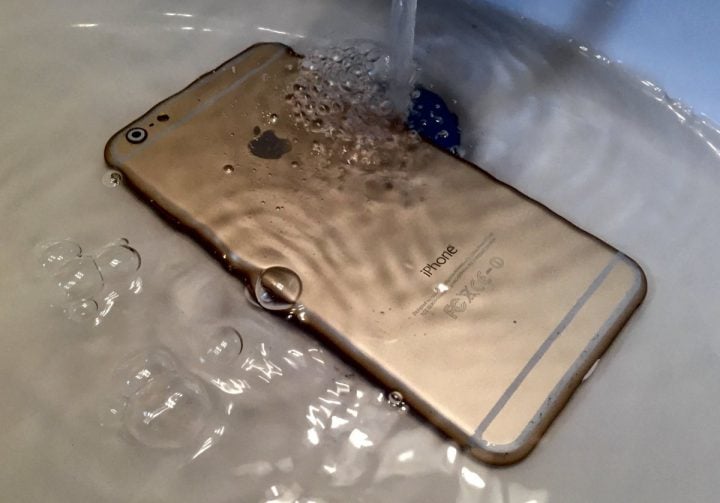 Apple upgraded the iPhone 6s design to make it withstand water better than the iPhone 6, and there are several Apple patents focused on delivering an iPhone that survives in water, which gives us some hope for a waterproof iPhone 7.
With a new design Apple may be able to incorporate a water-resistant iPhone 7 design into a production model allowing users to not worry about using the iPhone near water.
If Apple is able to deliver this, it would likely come with caveats such as only providing protection for 30 minutes of submersion for 3-6 feet or less.
The Samsung Galaxy Note 7 is water resistant, working in water including the ability to use the S Pen underwater as demonstrated in the video above.
A report from FastCompany claims that this is a feature Apple will provide with the iPhone 7 by coating the components of the iPhone 7 with a special chemical. We've heard rumors like this before and Apple pulled the feature, so while it is exciting, make sure you check before dropping your iPhone 7 into the water later this year.
The latest iPhone 7 rumors from earlier this year suggest Apple will not deliver a waterproof iPhone 7 this year. This back and forth mirrors what we see with many rumors and we may not know until the fall.

As an Amazon Associate I earn from qualifying purchases.