iPhone 7 vs iPhone 6s: What's The Difference
This is what's new in the iPhone 7 and how the iPhone 7 vs iPhone 6s comparison stacks up so you can decide which iPhone to buy. There are a lot of new iPhone 7 features — even if at first glance the iPhone 7 and iPhone 6s look similar.
For the most part the iPhone 7 and iPhone 7 Plus include the same features, so you can use this comparison even if you are thinking about buying the iPhone 7 Plus. We'll call out the specific differences between the iPhone 7 and iPhone 7 Plus so that you know exactly what you are getting.
Apple adds two new iPhone 7 colors, makes the iPhone 7 handle being dropped into water better, there is better battery life and more power when you need it — to name a few new iPhone 7 features.
The iPhone 7 is $649 and the iPhone 7 Plus is $769, which is about $27 a month and $32 a month with monthly payments. For the $120 premium the iPhone 7 offers a new dual camera upgrade and a bigger screen.
Apple didn't deliver a processor boost to the iPhone 6s, but they did change the storage options so that users who buy an iPhone 6s no longer need to settle for a 16GB base storage model.
If you decide to buy the iPhone 7 or iPhone 7 Plus you give up a headphone jack and a real button for the iPhone home button, which are important things to consider. Users in Japan will be interested in the upgrade since it delivers support for Apple Pay with Felicia.
Apple also changed the LTE modems inside the iPhone 7, which means you cannot  use an AT&T or T-Mobile iPhone on Sprint or Verizon. You can take a Verizon or Sprint iPhone to AT&T or T-Mobile though.
In the slides below we combine photos, videos and details about the new iPhone 7 features and specs. Unless otherwise noted the same features work for comparing the iPhone 7 Plus vs iPhone 6s Plus.
No Headphone Jack, Better Speakers and AirPods
Apple removed the headphone jack from the iPhone 7. The iPhone 6s still has a headphone jack. That's a major difference and one that users feel strongly about.
In the iPhone 7 box you will get Lightning EarPods and a Lightning to 3.5mm adapter so you can use a wired option. You cannot charge your iPhone and listen to music at the same time without wireless headphones or a Lightning adapter that splits into two.
Apple now includes Stereo speakers that are twice as loud as the iPhone 6s speaker. That's awesome if you are always listening to music or watching movies on your iPhone.
Apple also now sells AirPods. These are wireless headphones that look like EarPods with the cords cut off. They get 5 hours of battery life, charge in a carrying case that can provide 24 hours of battery life and work alone or as a pair. Sensors know when you have the headphones in, and you can tap to use Siri. This uses a new Apple W1 chip and pairs automatically with your iPhone when you open the case near it. The pairing syncs across your other devices using iCloud.
iPhone 7 Camera Upgrades
Apple packs in major camera upgrades from the iPhone 6s to the iPhone 7. The True Tone LED flash is not better than ever with a four LED flash that can deliver even better looking photos with flash.
On the iPhone 7 Apple includes a new 12MP camera with optical image stabilization. There is a new f1.8 aperture lens that allows up to 50% more light in and a new six element lens. In short it's a major upgrade that will help you take better looking pictures in lowlight than with the iPhone 6s.
For the iPhone 7 Plus Apple goes even bigger adding in two lenses to boost what you can do with the iPhone. The iPhone 6s Plus only has one camera. There is a 12MP wide angle and a 12 MP telephoto lens. This allows you to use optical zoom up to 2X and better looking digital zoom up to 10X. Later this year a free update will add a portrait option that allows users to shoot with a shallow depth of field to blur the background for a pretty effect.
There is now a 7MP FaceTime HD camera on the front of the iPhone 7 and iPhone 7 Plus, which means better selfies and better video calls than on the iPhone 6s or iPhone 6s Plus.
New iPhone 7 Home Button
Apple completely changed the iPhone home button from the iPhone 6s to the iPhone 7. On the iPhone 6s there is a physical button that moves when you push it. The iPhone 7 home button is a solid piece of material that senses a tap, a touch or a push like the newer Apple trackpads do.
Users can still use the home button to unlock the iPhone 7 with Touch ID and to make Apple Pay payments. A Taptic Engine module in the phone provides tactile feedback, similar to 3D Touch, which is supposed to simulate the feel of a button. Early reports from users are mixed.
The home button will also deliver notifications through the home button with different buzzes and vibrations for calls, texts and other notifications. Apple calls this a customizable home button.
This is a major change from the clickable button on the iPhone 6s.
New iPhone 7 Colors & Design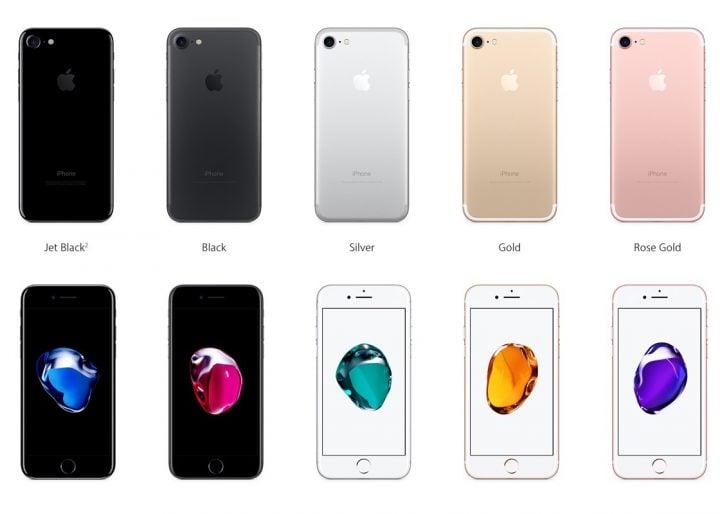 The iPhone 7 colors now include two additional options. Apple adds Black and a glossy Jet Black to the iPhone this year. The company uses the Jet Black iPhone 7 in a lot of the product photos, but also warns that over time it could show scratches more than other iPhone 7 colors.
Apple moves the antenna lines and makes them less obvious by better blending them with the phone colors.
In the new iPhone 7 Apple uses the same 7000 Series aluminum as the 6s and offers Silver, Gold and Rose Gold. Apple still sells the iPhone 6s in four colors including Space Gray, but you cannot get the new Black options.
iPhone 7 Screen Changes
Apple keeps the same iPhone 7 and iPhone 7 Plus screen sizes as we see on the 6s and 6s Plus and the resolution is the same, but these are not the same screens.
Apple includes a new brighter display on the iPhone 7. It's 25% brighter than the iPhone 6s. The display also shows color better thanks to a wider color gamut. That's a fancy way of saying colorful photos and videos will look better on the new iPhones.
Apple also talks about improved 3D Touch on the iPhone 7 display, but doesn't go into many details about how it differs, other than alluding to iOS 10 changes that we expect will carry come to the iPhone 6s.
iPhone 7 Performance Beats iPhone 6s
The iPhone 7 is twice as fast as the iPhone 6, which means faster every day actions as well as graphics upgrades that will allow you to play better looking iPhone games. The graphics performance is up to 3X faster than the iPhone 6.
This is also a nice jump from the iPhone 6s to the iPhone 7 in all around speed. Apple also adds in better overall battery life thanks to the high-efficiency cores that can use 1.5th the power of the high performance portion.
iPhone 7 Battery Life Gains on iPhone 6s
Apple says that you will get about two hours more iPhone 7 battery life than you do on the iPhone 6 and about an hour more than the iPhone 6s.
Water Resistant iPhone 7
The iPhone 6s is unofficially water-resistant, or at least more so than the iPhone 6. With the iPhone 7, Apple goes full on and offers a IP67 rating for the two new models.
Apple calls this splash and water-resistant. This allows your iPhone 7 to survive a quick trip into water that is not more than 1 meter deep. This does not mean you should go swimming with the iPhone 7 and more than you would with the iPhone 6s.
If, like us, you like to take your iPhone to the pool or use it while sitting in a hot tub — it should survive this much better than the iPhone 6s. Read more on the iPhone 7 water resistant feature to understand what it means for how you can use the new iPhones near water.
iPhone 7 Doubles iPhone 6s Storage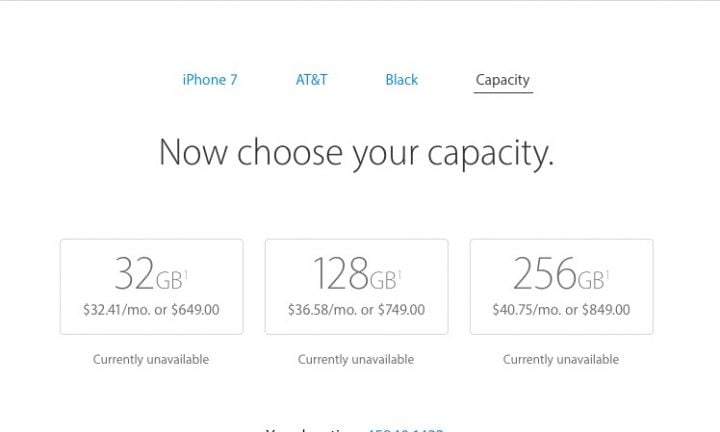 Apple finally kills off the 16GB iPhone storage for the iPhone 7. This year you can buy the iPhone 7 in 32GB, 128GB and 256GB storage options. That's a new high storage tier that power users will want to take note of.
If you buy an iPhone 6s you will soon see the 32GB and 128GB options as the only models you can buy, as the 16GB option is also phased out there. Many stores are still selling the 16GB and 64GB iPhone 6s.
iPhone 7 Delivers Faster LTE than iPhone 6s
The iPhone 7 now supports LTE Advanced. That means that the iPhone 7 is open to speeds up to 450Mbps.
This is a 50% boost from the fastest speeds the iPhone 7 supports and it's three times faster than the iPhone 6 LTE speeds. Of course your carrier will need to deliver those speeds, so don't expect to get 450Mbps immediately.
the iPhone 7 also supports 25 LTE bands, which means LTE in more places you travel.