iPhone 7 vs iPhone 7 Plus: What Buyers Need to Know
The new iPhones are here and this is what buyers need to know about how the iPhone 7 vs iPhone 7 Plus comparison stacks up. Apple continues to only deliver a small number of differences between the two new iPhone models — but they are important to consider before you buy.
While Samsung differentiates between the different devices with a stylus and other special features — Apple sticks to five main differences between the iPhone 7 and iPhone 7 Plus.
We'll quickly walk you through the differences you need to know about before you buy the iPhone 7 or the iPhone 7 Plus.
iPhone 7 vs iPhone 7 Plus Size
How big of an iPhone do you want? That's the first question to ask yourself. The iPhone 7 Plus is much larger than the iPhone 7.
iPhone 7 Plus Size – 6.23 x 3.07 x 0.29 inches — 6.63 ounces
iPhone 7 Size – 5.44 x 2.64 x 0.28 inches — 4.87 ounces
Go to a store and check out the iPhone 6s and iPhone 6s Plus to see if you can handle the larger iPhone. Keep in mind holding it in your hand, typing and talking on the phone with it.
You should also consider how you carry it. Does it fit in your pockets? Or will you carry it in a purse? What about when you put a case on it?
These are all important things to keep in mind before you even start to compare specs and features.
iPhone 7 vs iPhone 7 Plus Screens
The most obvious difference between the iPhone 7 and iPhone 7 Plus after the physical size is the screen size.
iPhone 7 Plus Screen – 5.5-inch 1,920 x 1,080
iPhone 7 Screen – 4.7-inch 1,334 x 750
The iPhone 7 Plus screen is larger and offers a higher resolution with more pixels per inch. If you want a bigger surface for gaming, editing photos and browsing the web — this is your choice. For some users it's enough to leave the iPad at home.
With a smaller 4.7-inch screen the iPhone 7 still offers all the same features like 3D Touch, a wide color gamut and is 25% brighter than the old iPhone. You just need to decide how big of a screen your iPhone needs.
iPhone 7 vs iPhone 7 Plus Cameras
This is where you need to really start thinking about the iPhone 7 vs iPhone 7 Plus differences. That's not an optical illusion. There is a second camera on the back of the iPhone 7 Plus. That's double what you get on the iPhone 7 and it allows you to do cool things.
Right out of the box this means you can now use optical zoom on an iPhone. The second lens is a telephoto lens that allows you to use a 2X optical zoom. The iPhone 7 only supports digital zoom which means a lower quality photo. If you constantly zoom in when taking photos you may know what you need to buy now.
A free software update will allow you to take shallow depth of field photos with the iPhone 7 Plus later this year in a portrait mode. This keeps the close up face or object sharp and in focus while blurring the background for a dramatic effect most often found on DSLRs and other higher end cameras.
This is the major difference that buyers need to consider. If you wan the best iPhone camera yet, go big and get the iPhone 7 Plus.
iPhone 7 vs iPhone 7 Plus Performance & Battery Life
Both the iPhone 7 and iPhone 7 Plus include the same Apple A10 Fusion processor. That means you should get blazing fast performance on either phone. Apple says it is a twice as fast as the iPhone 6 and delivers better looking graphics.
Early benchmarks suggest that the iPhone 7 Plus uses 3GB RAM while the iPhone 7 only uses 2GB. That could lead to better overall performance on the iPhone 7 Plus for power users — only time will tell if it is something users can actually notice.
The iPhone 7 Plus includes a larger battery so you will get up to 7 hours more talktime, 6 more days of standby, an hour of added internet use or an hour of added wireless video playback. The iPhone 7 Plus can also deliver up to 20 hours of more wireless audio playback. In short, you get more battery life.
iPhone 7 vs iPhone 7 Plus Price
Are you to the point where the iPhone 7 or the iPhone 7 Plus is starting to come out ahead in your mind? Here's the price difference that you need to know about. It's no longer a $100 difference — it's $120.
If you want the iPhone 7 Plus with the same storage as the iPhone 7, you pay $120 more. That gets you a larger screen, bigger battery and the added camera features.
iPhone 7 vs iPhone 6s: What's The Difference
New iPhone Colors & Design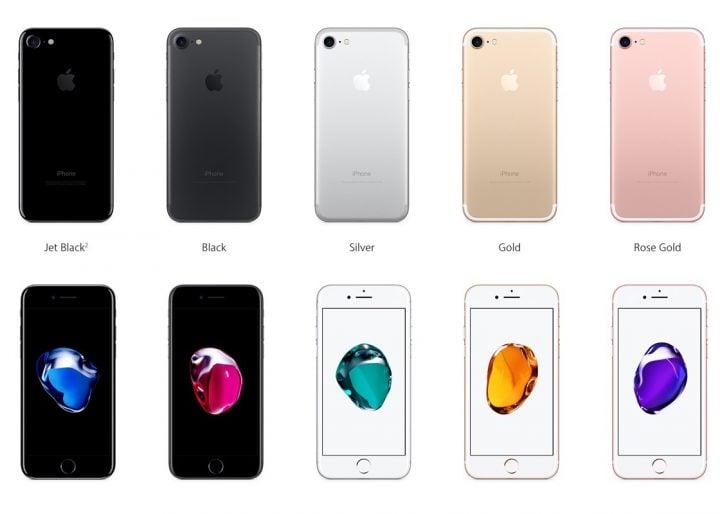 The iPhone 7 colors now include two additional options. Apple adds Black and a glossy Jet Black to the iPhone this year. The company uses the Jet Black iPhone 7 in a lot of the product photos, but also warns that over time it could show scratches more than other iPhone 7 colors.
Apple moves the antenna lines and makes them less obvious by better blending them with the phone colors.
In the new iPhone 7 Apple uses the same 7000 Series aluminum as the 6s and offers Silver, Gold and Rose Gold. Apple still sells the iPhone 6s in four colors including Space Gray, but you cannot get the new Black options.