iPhone 7 is Not Waterproof
Apple's iPhone 7 and iPhone 7 Plus are officially water-resistant but users need to remember they aren't waterproof. Before you start testing out the iPhone 7 and its capabilities, you might want to know a little more about what exactly the IP67 rating means.
During Apple's event on September 7th the company unleashed its new and improved iPhone 7 and a dual camera 7 Plus. During the live announcement up on stage Apple stated both have an IP67 rating. YouTubers will put that to the test, but regular users shouldn't do the same at home.
Read: 11 iPhone 7 Release Date Tips
Before owners try taking their phone in the shower, take photos under water or just test out the water resistance, they need to know the phone is NOT waterproof.  Apple's warranty does not cover water damage. So keep that in mind. Read on for more details on how much water the iPhone can really handle.
For more information on IP-ratings and what they all mean can be found right here. It explains what each number stands for and how long a device can be in contact with liquid. Many potential buyers are excited about this feature but it's nothing new. Samsung's Galaxy S7 and Note 7 have an IP68 rating, which is higher than Apple. So what's the difference and which one can handle water better? Let us explain.
iPhone 7 is NOT WaterProof
When it comes to the iPhone 7 water-resistant rating all you need to know is it can handle certain situations but it's not waterproof. The new iPhone 7 and iPhone 7 Plus both have an IP67 dust and water resistant rating. That means they can get wet, but we wouldn't recommend finding out how wet. In the right circumstances water will still damage and ruin an iPhone.
IP67 Rating
Let us explain. An IP67 rating usually states a device can be dropped in 1 meter or 3.3 feet of water for nearly 30 minutes. The actual rating system says 15cm – 1 meter and that 3.3 feet is actually the limit of its resistance and capabilities.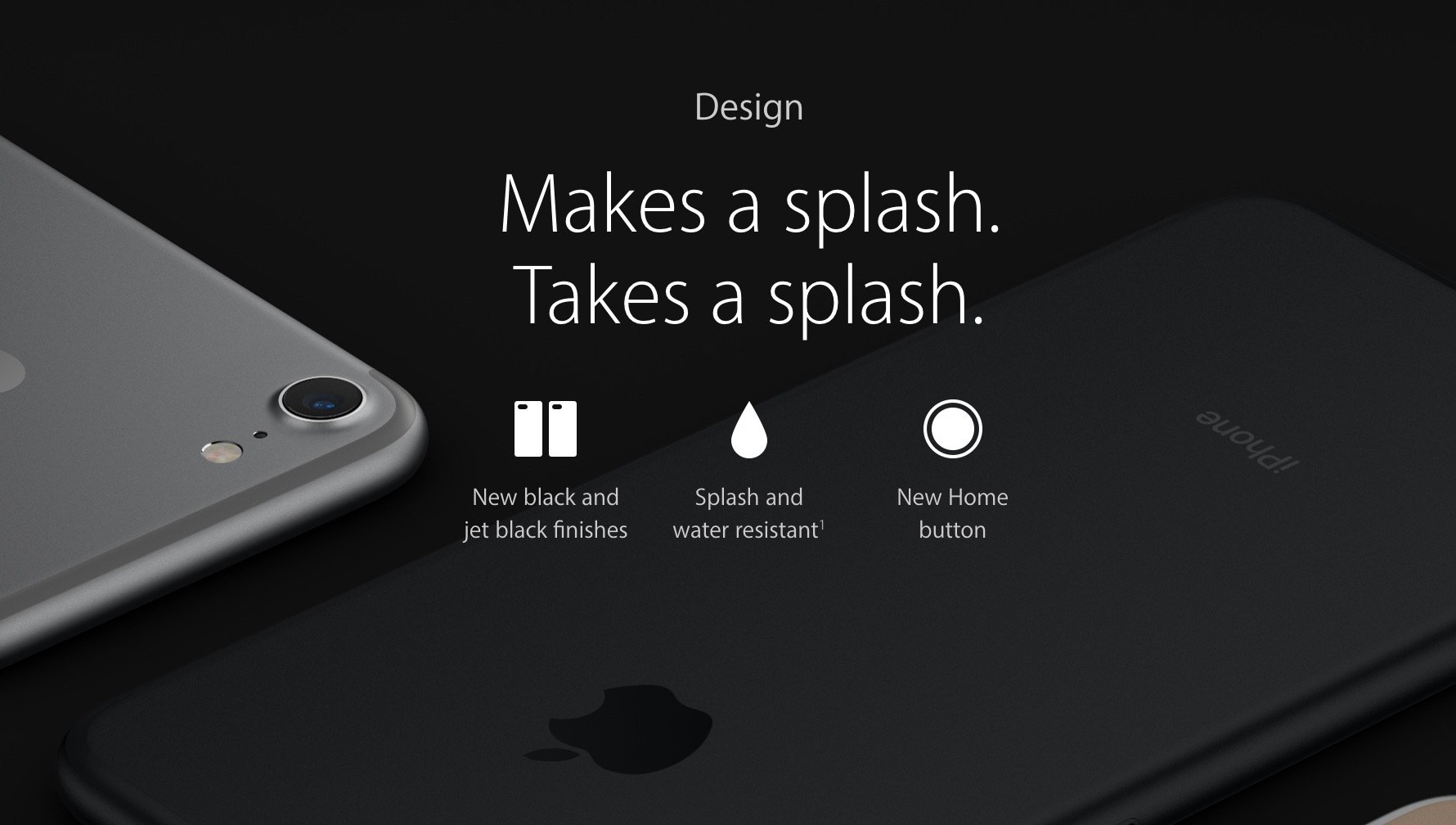 Then there's Apple.com which states the iPhone is splash and spill resistant in one place, and "splash and water resistant" in another. The company mention anything about going under water, using it in a pool, or anything remotely close to that. This is a marketing move. Apple doesn't want users claiming they saw it in a commercial when trying to replace a broken device.
Samsung's Galaxy S7 and Note 7 lineup are IP68 rated which means they can be submerged in 1.5 meters or 5ft of water for over 30 minutes. Samsung markets their phones that way. The Galaxy Note 7 can take photos or record video under water, and the S-Pen stylus can write on the screen while submerged. This was shown off right on stage during the announcement. We only say this as a comparison so iPhone 7 buyers can limit their expectations.
At the end of the day the new iPhone 7 is water-resistant and will likely be just fine if you drop it in a toilet, get thrown in the pool, or decide to go for a run in the rain. It's designed to be able to survive getting wet, but don't try it just to test it. YouTube videos will surface of torture tests and we'd recommend watching those. Again, the warranty does not cover water damage. Don't risk it.
Being rated for IP67 water resistance gives users peace of mind when buying an $800 phone. Just don't put that to the test.