iPhone 8 Plus Review: One of the Best Phones You Can Buy
In this long-term iPhone 8 Plus review, I'll explain what I love about the iPhone 8 Plus, what I can't stand about it and why it might be better to buy this phone than the iPhone X.   No, the iPhone 8 Plus doesn't have a sleek all-display design like the iPhone X or the latest flagship Android phones, but you shouldn't underestimate Apple's biggest phone.
There's no mistaking that the iPhone 8 Plus is one of the best smartphones money can buy and it may be a better choice than the iPhone X for some people. Yes, the iPhone 8 Plus might look a lot like its predecessors, but there's enough changes beneath the surface to make it a worthy upgrade.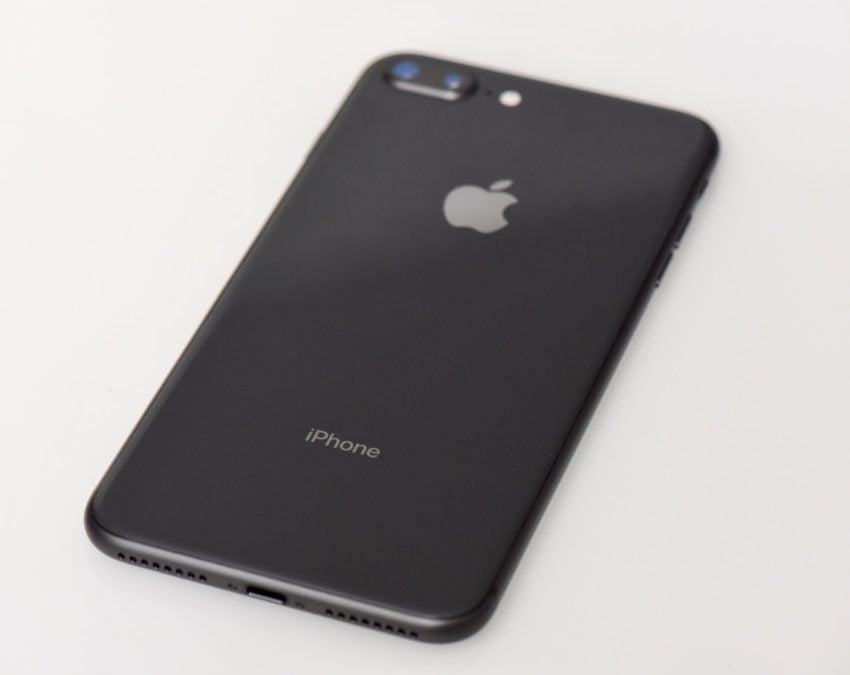 As attractive as the iPhone X is, the fact of the matter is that most people can't comfortably spend $999 on a phone all at once. The iPhone 8 Plus offers a lot of the advantages of the iPhone X, but with a more palatable $799 entry price.  While it's natural to balk at spending $999 on a phone, it's worth noting that it amounts to a price difference of just $8 per month for those financing it through Apple's upgrade program or wireless carriers over 24 months. Depending on how well the iPhone X and iPhone 8 Plus sell, the net price difference may shift over time as Apple and its partners adjust their offers.
If you're really torn between the two models, I recommend waiting out the initial pre-orders and wait to see what iPhone X deals are available and seeing what common complaints crop up. While we're excited to see the iPhone X, it's very common for all-new gadgets to have unexpected issues. The iPhone 8 Plus is the fourth iteration of the Plus-sized iPhone and at least you know what you're getting.
iPhone 8 Plus Design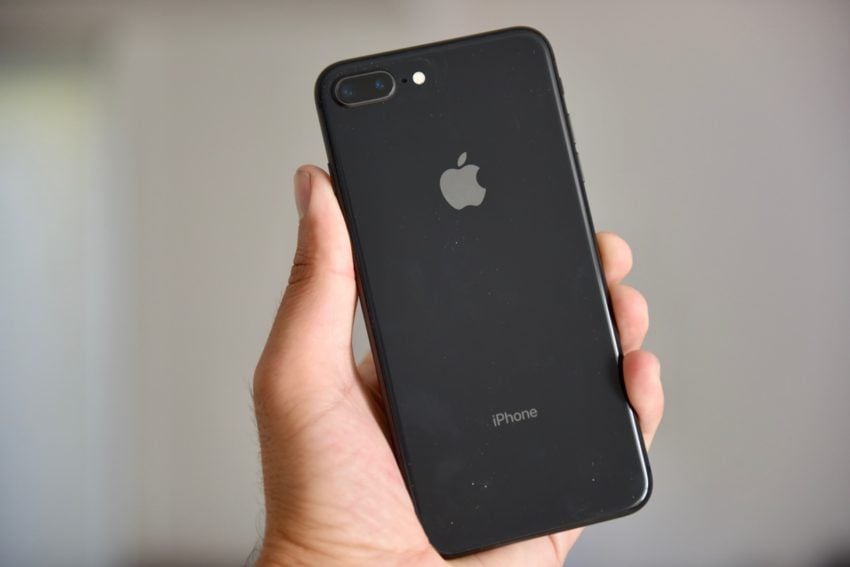 While the rest of the phone looks and feels a lot like the iPhone 7 Plus, the glass back differentiates the iPhone 8 Plus just enough from the older model so you can readily tell the difference between the two at first glance.  While the back of the iPhone 8 Plus might look different, it is still more than a handful, even for those of us with large hands. I'm 6'4″ tall and my big hands still get sore using the iPhone 8 Plus at times, especially in portrait mode. My hands are relieved every time I switch over to a smaller phone. If you have smaller hands, using the iPhone 8 Plus can be a real struggle.
The silver and gold iPhone 8 Plus variants come with white bezels.  As you can see in the above photo, the iPhone 8 Plus (mid right) and the iPhone 7 Plus have the same dimensions and tower over the iPhone 7 (left) and iPhone 8 (mid left).  I opted for the space grey iPhone 8 Plus because it looks sleeker and because it's the only version that comes with black bezels.
While the iPhone 8 Plus is nice and familiar to me since I've each of Apple's plus-sized iPhones, the bezels at the top and bottom of the phone seem really out-of-place in 2017. Virtually every other flagship phone launched this year has minimized bezels. The giant bezels are a reminder that the iPhone 8 Plus is indeed a retread rather than Apple's best effort.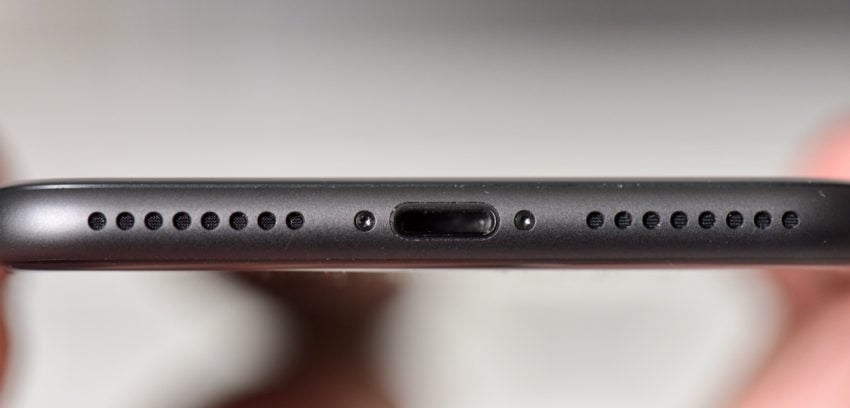 The iPhone 8 Plus doesn't have a headphone jack, which is something that you will have to adapt to sooner or later. For better or worse, the entire industry is moving to wireless headsets. While the iPhone 8 Plus does come with a headset that can plug into its Lightning port, I recommend getting a wireless headset for the best experience. It is very annoying to have to choose between charging and listening.
iPhone 8 Plus Cameras
The most impressive upgrade over the iPhone 7 Pus is the iPhone 8 Plus' cameras. All three camera lenses shoot significantly better photos than older iPhones. I'm blown away by the iPhone 8 Plus cameras and at times can't believe that my camera phone takes better shots than my expensive dedicated cameras.
The iPhone 8 Plus portrait mode is simply incredible and reason enough to forsake the iPhone 8 and its single rear-facing lens. I've shot countless portraits of my son with the iPhone 8 Plus and I still can't get over how easy it is to produce images that look like I put serious effort into them.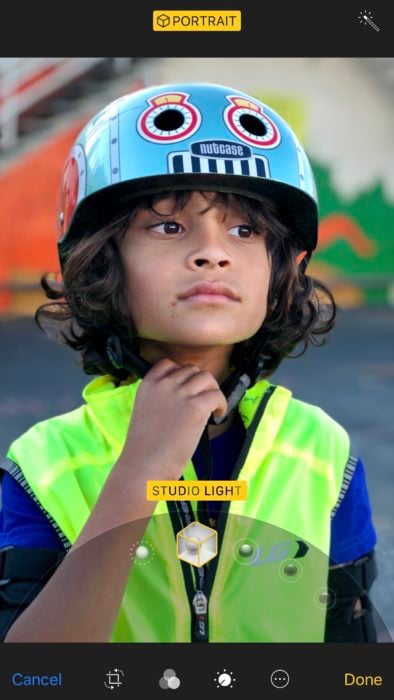 There are five lighting effects to select from in portrait mode, including Natural Light, Studio Light, Contour Light, Stage Light and Stage Light Mono. The idea is to add effects to portraits that would typically require lights, flashes, photo editing expertise and/or backdrops.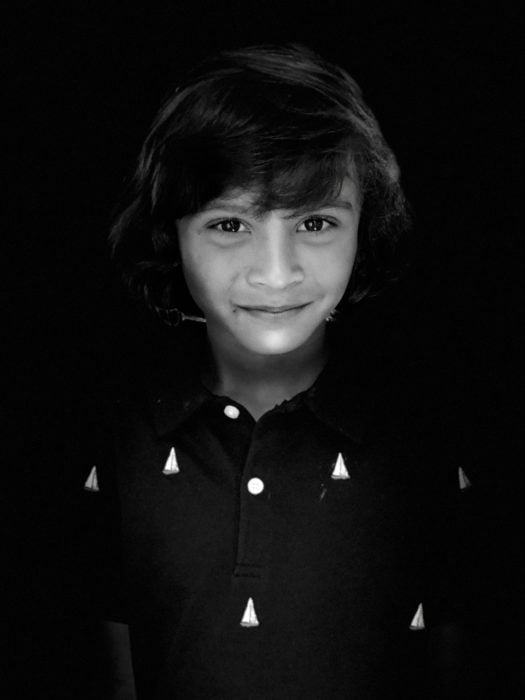 I shot the above photo of my son in my kitchen with the iPhone 8 Plus in portrait mode, then simply selected the "Stage Light Mono" setting to make it look like I shot the portrait in front of a backdrop. While there are a couple of spots where Apple's software could have done better, the image looks a heck of a lot better than the effort I put into shooting and editing it.
As much as I like portrait mode, it doesn't always work as expected, especially with stage lighting. Sometimes the iPhone 8 Plus doesn't cut out the subject from the background accurately. As you can see, the above photo lops off a good chunk of my son's helmet and arm. It also seems to apply the lighting to his torso rather than his face.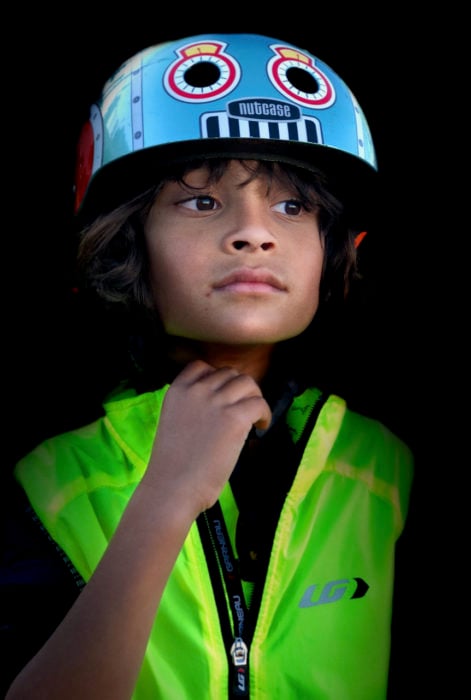 The next photo I shot is virtually the same setup a few seconds later and the iPhone 8 Plus did a much better job differentiating between my child and the background. I suggest taking multiple portraits of subjects with different backgrounds if you know you want to use the stage lighting effect later. The iPhone 8 Plus has the same fast processor as the more expensive iPhone X, which means that you can take multiple portraits back-to-back. The iPhone 7 Plus needs several seconds to process portraits.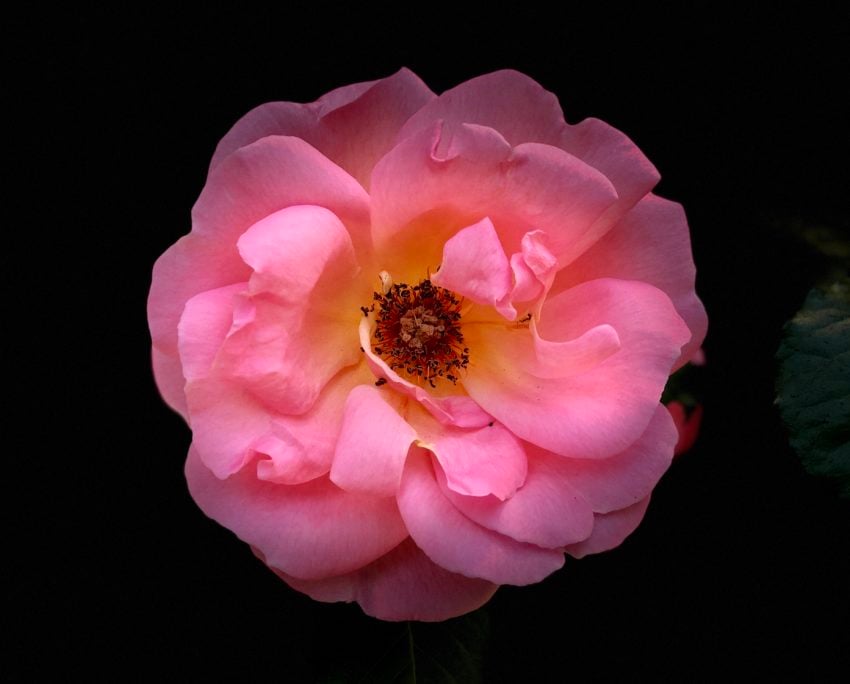 I enjoy experimenting with any camera I buy and found that Portrait mode can be used to make photos of inanimate objects more interesting as well. For example, I took the above photo of a rose in front of my house with the iPhone 8 Plus in Portrait mode. I then selected stage lighting to add the black background. I cropped the photo to center the flower and the result is a photo that's good enough to print and hang on a wall.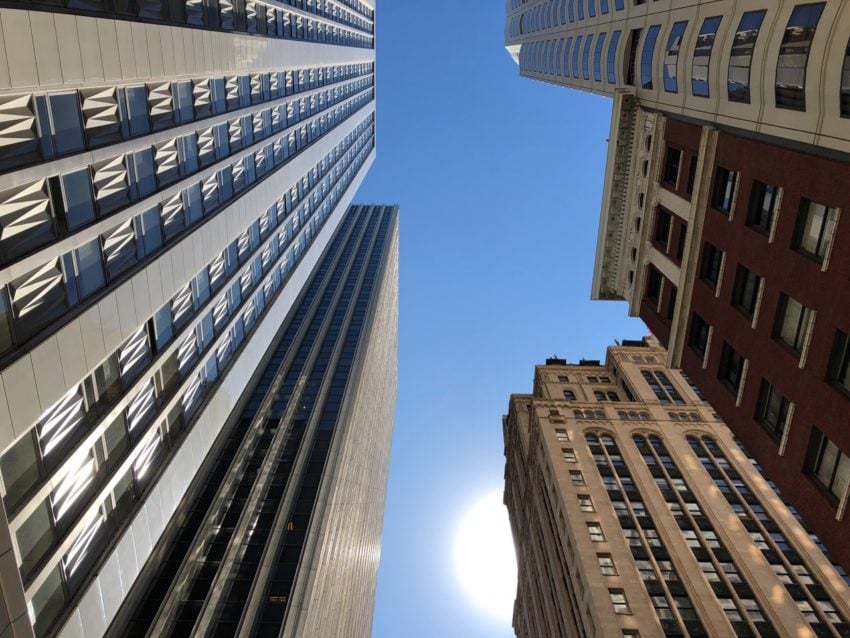 The iPhone 8 Plus is smart enough to optimize shots in less than ideal lighting situations. For example, I shot the above photo of skyscraper from my car while waiting at a red light in downtown San Francisco with the sun peeking out from behind a building. Shooting towards the brightest possible light source is far less than ideal, yet the iPhone 8 Plus handled it just fine and balanced the exposure perfectly.
The iPhone 8 Plus produces beautiful photos in each of its many modes, including panorama mode. I shot the above photo just before boarding a boat for  a dinner cruise through Tokyo.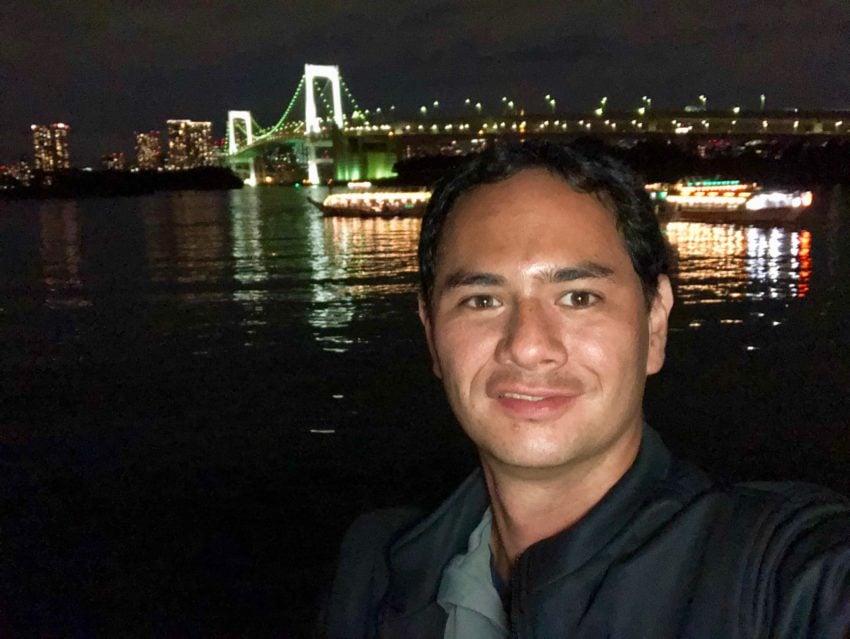 The selfie camera on the iPhone 8 Plus takes much better selfies than older iPhones. The difference is most noticeable in low light, such as the photo above. My face was unlit except for light from the iPhone 8 Plus display that flashes to full brightness when taking selfies in low light. Notice that the bridge, boats and light reflecting on the water are all clearly visible.
The iPhone 8 Plus takes superb videos as well, all the way up to 4K resolution. I shot the above video clip with my iPhone 8 Plus from the Tokyo Tower observation tower. While the iPhone 8 Plus won't replace a professional video camera, it's more than good enough to capture everyday life in 4K.
As with shooting portrait photos, editing videos is noticeably faster thanks to the new processor.  I applied a tilt-shift effect to the above video that I shot at a famous crosswalk in Tokyo with a third-party app and exported it in just a few seconds.
iPhone 8 Plus Review: Wireless Charging
The most visible change to the iPhone 8 Plus compared to the previous three versions is the new glass back. Apple had to get rid of the metal back to allow for wireless charging. The iPhone 8 Plus can be charged by simply laying it down on a compatible charging mat, such as the $59.99 Belkin Boost Up Wireless Charging Pad, even with a case installed.  That means you don't have to fiddle with any cables to charge the iPhone 8 Plus, so long as you have plenty of time. Wirelessly charging takes about the same amount of time as using the included 5W AC adapter.

Charging the iPhone 8 Plus with a $49 MacBook adapter and the $29 cable is very fast. Apple claims that this setup will charge the iPhone 8 Plus battery 50% in just 30 minutes. It's fantastic when I need to recharge in a hurry.  You can opt for third-party solutions that support the Power Delivery standard or use your existing USB-C MacBook power adapter with a USB-C to Lightning cable.  It's ridiculous that Apple only provides a 5W power adapter in the box rather than an 10W or 29W adapter, especially since this is a $799 phone.
iPhone 8 Plus Review: 64GB Not Enough
The $799 iPhone 8 Plus comes with 64GB, which might be enough if you plan to use it to shoot a lot of video, download tons of movies or want to keep all of your photos on your iPhone. As with every other iPhone before it, the iPhone 8 Plus can't be upgraded with more storage down the line. The 256GB iPhone 8 Plus is the only other option and it costs $949, a $150 premium.
Right out of the box, iOS 11 takes up about 4GB of that space and adding common Apple apps such as iMovie, Garage Band, Pages and Numbers take a few more GB out of what's available for your personal photos, videos and files. How much storage you need will vary greatly depending on what other apps you install and how much content you create and download. If you've run up against storage problems with your current iPhone, then you should strongly consider the more expensive iPhone 8 Plus.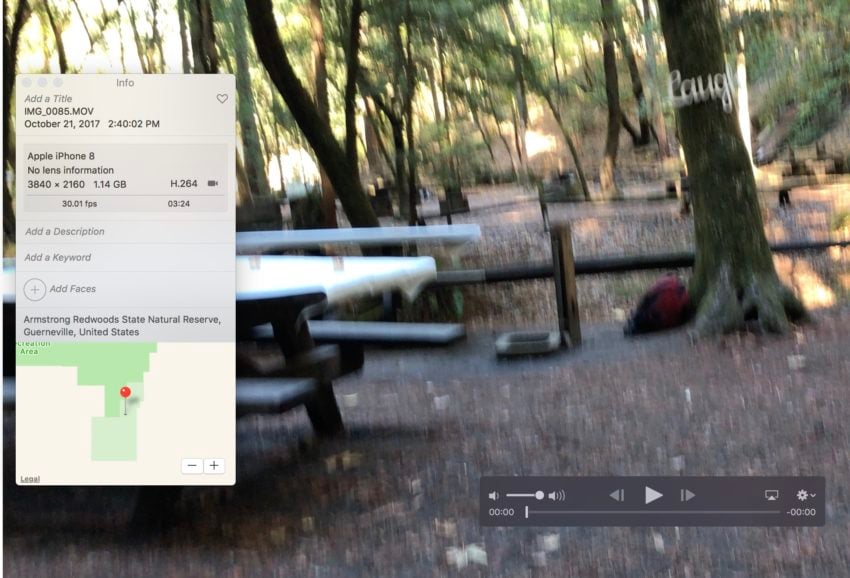 Apple's using a new photo format that makes it so that photos show with the iPhone 8 Plus take up less room, but using burst mode, slow motion video, 4K video and panorama can still take up huge amounts of storage. As good as it 4K video shot on the iPhone 8 Plus looks, those with the 64GB model will have to use it sparingly, unless they plan on buying a higher-end iCloud subscription. A 3 minute, 24 second 4K video I shot at a family wedding took up 1.14 GB of space.  If you shoot a few dozen similar clips you won't have room for anything else on your 64GB iPhone 8 Plus.
While streaming movies and videos is easy enough to do at home, iTunes and other services don't allow streaming over 4G LTE and require you to download movies when you hit the road. If you plan on loading up your iPhone 8 Plus with movies, you're going to want the 256GB version. The screen shot above is from the Cars 3 page on iTunes and it shows that the HD version of the movie is more than 4GB.
iPhone 8 Plus vs iPhone 8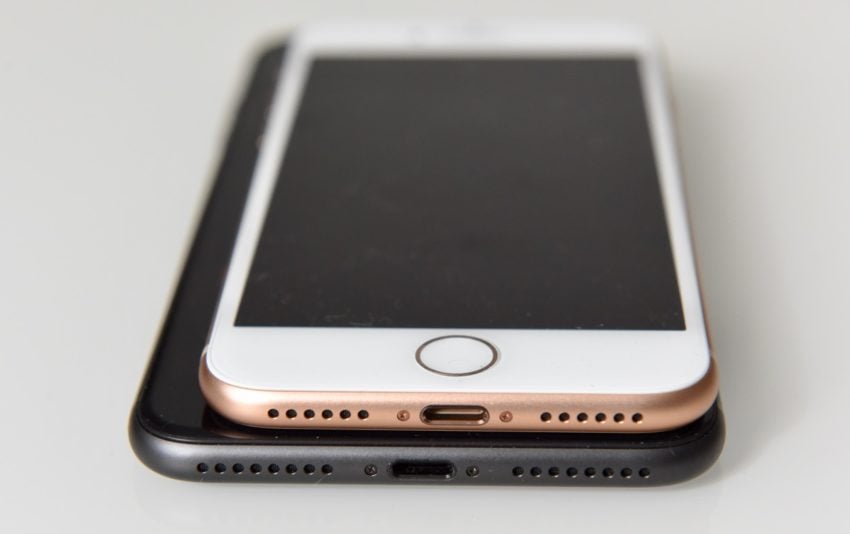 The iPhone 8 Plus and iPhone 8 have very similar features and capabilities, save for the screen size, cameras and price tags. The larger display and telephoto camera with portrait mode are well worth the $100 premium, but the iPhone 8 Plus is simply too large for some people. If you've never used a large phone like the iPhone 8 Plus before, I highly recommend trying it out thoroughly after buying it and returning it if you just can't get used to it. The size difference is most noticeable when using the phones with one hand.
If you don't watch a lot of video content or play a lot of games, then the iPhone 8's display is plenty big enough for most tasks. If you want the best of both worlds, you're going to need to plunk down the extra cash and get the iPhone X.
iPhone 8 Plus Review: It's Not Waterproof
While Apple markets the iPhone 8 Plus as water-resistant, it is not as water-resistant as other expensive phones, such as the Samsung Galaxy Note 8. While the iPhone 8 Plus can stand up to brief accidental spills, you shouldn't use it underwater intentionally. Apple's warranty and AppleCare+ won't cover water damage, despite Apple advertising the phone as water-resistant.
While the iPhone 8 Plus can handle getting a little fresh water splashed on it like in the above video, you should really put it in a waterproof case if you plan on using it at the beach, in the snow or in the pool. Chlorine from pools, minerals from hot springs, saltwater and other impurities can all damage your iPhone 8 Plus, even in shallow depths. Water from hoses, water balloons or water canons can get past the iPhone's rubber seals because they can generate more pressure than simply placing the phone 1 meter deep in fresh water.
If you dig into the iPhone 8 Plus specifications, you'll learn that  Apple states that the iPhone 8 Plus is "Rated IP67 under IEC standard 60529." What that means in plain English is that in lab conditions, the iPhone 8 Plus can be safely submerged in water as deep as 1 meter for up to 30 minutes. Most water your iPhone 8 Plus encounters is not pure however.
While the IP67 rating can prevent some water damage, I really wish Apple would've gone the extra mile and made the iPhone 8 Plus more water-resistant. Samsung's Galaxy Note 8 and Galaxy S8 both carry an IP68 rating, which means they're about 50% more water-resistant.
iPhone 8 Plus Review: Final Thoughts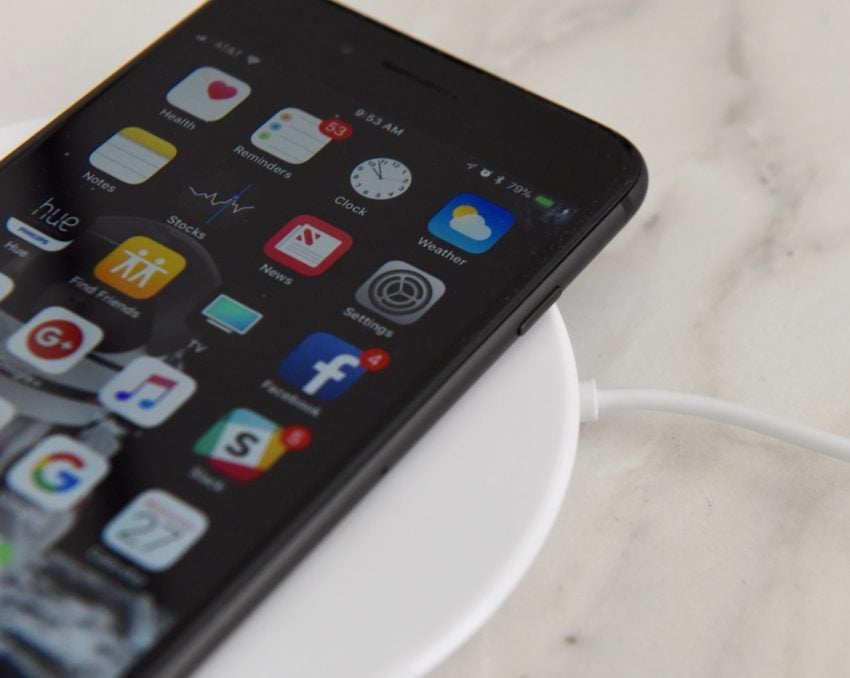 The iPhone 8 Plus is a superb phone and if the iPhone X didn't exist I'd be perfectly content with it and recommend it without hesitation. But the iPhone X does exist and spending the extra $200 on it means that you get a phone that is easier to handle and has a better display. If you're paying for the iPhone X on an installment plan, the price difference works out to just 27 cents per day. If you can't swallow the price difference and really want the iPhone X, I suggest taking a close look at your wireless bill and find a way to make up the difference by downgrading some services that you may not need.
The iPhone 8 Plus is a mature version of a design that Apple's been iterating on for four years. You know what you're getting and it's a solid phone. The iPhone X certainly has its advantages, but it is Apple's first crack at an all-new design. The new OLED display, the notch at the top of the screen, near bezel-less design and Face ID are all brand new. As with all new generation iPhone releases, people are going to have legitimate complaints about the iPhone X and Apple will do its best to address with yet another iPhone next fall. That might be when it's best to buy an 'iPhone XS' or whatever Apple decides to name its next phone.
The iPhone 8 Plus is one of the best phones money can buy despite its somewhat outdated design.