iPhone, Android & iPad Gaming Overtake PSP Vita & Nintendo DS
Although Sony's intent to cut the price of PlayStation Vita and it's memory cards didn't completely come out of nowhere, a new report on iOS & Google Play Store games revenue points to another reason for the new pricing changes. The world's two largest mobile platforms are devouring mobile gaming market share, and unfortunately for Sony and Nintendo, it's only going to get worse when iOS 7 debuts later this year.
According to statistics in the last joint report by industry watchers IDC and App Annie, during the first quarter of the 2013, Apple's iOS platform garnered $100 million in revenue from users purchasing games for devices like the iPad, iPod Touch and iPhone. It did managed to surpass that sum in the second quarter of 2013, topping out at $110 million.
By comparison indexed revenue for what the report calls "gaming-optimized handhelds" — like the PlayStation Vita and Nintendo 3DS —  topped out at around $40 million in the first quarter of 2013. That revenue then declined in the second quarter of 2013, falling to around $40 million in revenue.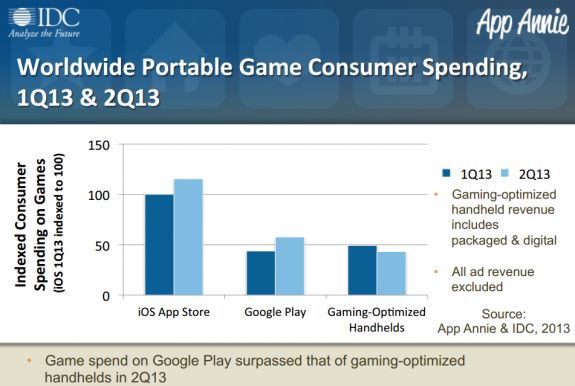 Although these numbers show a resilient Google Play Store, which topped out at around $55 million in gaming in the second quarter of 2013 – still ahead of purpose-built handheld gaming consoles, clearly the star of the show is Apple's iOS. iOS earning more than twice the amount of handheld game consoles confirms what some industry watchers had suspected for years. To make matters worse, this report doesn't tally revenue generated by the advertisements that are included in most free games on iOS and Android.
As smartphones and tablets become more ubiquitous, consoles like the Nintendo 3DS and the PlayStation Vita are feeling the hurt in revenue. That's made worse by the fact that neither Sony nor Nintendo have a huge mobile presence. This means that neither of them are necessarily making up the losses with gains in mobile gaming.
While Sony's line of smartphones do offer PlayStation functionality, it's hardly fully featured. The outlook is worse for Nintendo, who has yet to embrace smartphone or tablet-based mobile gaming in any significant way. Instead, the company is counting on users always being willing to pay for new devices and it's bevy of blockbuster titles like Mario and Pokémon.
Read: iOS 7 Will Support Game Controllers
So far, one of the biggest things going for both Nintendo and Sony has been that the types of games they offer simply can't be duplicated with on-screen controls. While true, Apple's iOS 7 actually includes standardized support for physical controllers, killing that advantage. It's also looking less and less likely that users will continue to keep paying for titles based on Nintendo and Sony characters if they can't play them were they want. Unless Sony and Nintendo embrace these new markets, particularly iOS, they could find their console selling blockbuster franchises out-classed by a new range of characters who have their roots in the indie gaming scene that's captured imaginations on smartphones.
Apple is expected to ship iOS 7 with support for gaming controllers when it announces the next generation of iPhone devices at an event on September 10th.