iPhone Announcement: AT&T, Sprint Come Out Ahead With Cheaper Pricing
With today's iPhone announcement, U.S. carriers AT&T and Sprint seem to be the favored carrier as far as pricing and plan goes. Though Apple has not disclosed specific information about model availability at this point for different carriers, the iPhone maker has announced that the 8 GB iPhone 3GS will continue to sell for free. As AT&T is the lone U.S. carrier that has offered a GSM iPhone 3GS model, with Verizon Wireless and Sprint the other two carriers now offering iPhone models in their portfolios, it stands that AT&T may be the only carrier to offer the free budget iPhone 3GS as part of its lineup. Neither Sprint nor Verizon carried the iPhone 3GS and it's unclear if Apple will make a world-phone or CDMA-only iPhone 3GS to fill the economy price on the two CDMA carriers.
Sprint is the other carrier out of today's announcement with an advantage. It is the only carrier out of the four major U.S. carriers–AT&T, Sprint, T-Mobile, and Verizon–to still offer an unlimited data plan without throttling. AT&T and Verizon now offers only limited and metered data plans with overage charges if you go over your monthly allocation while T-Mobile will throttle you.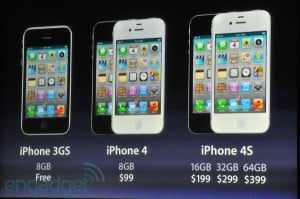 So, based on preliminary information we're seeing from Apple's keynote today where Tim Cook leads, it appears that AT&T's advantage is in price with a free iPhone 3GS 8 GB model for those willing to sign a two-year agreement and Sprint's advantage comes from its data pricing on its Now Network.
Update: Apple updated its page to reflect that Sprint and Verizon will be getting the iPhone 4 as well. However, both U.S. CDMA carriers do not have access to the free on contract iPhone 3GS that AT&T will have, giving AT&T the hardware price advantage for the entry-level market into iOS. 
It's unclear right now if Verizon Wireless and Sprint will have access to an inexpensive $99 on contract iPhone 4 with 8 GB of storage, or if that model will only be available, like the iPhone 3GS, to GSM carriers only. Verizon began offering the CDMA edition of the iPhone 4 earlier this year on its network, so it could potentially get orders for the 8 GB model for $99. Will Sprint be able to offer low-end models or will Sprint customers be saddled with high-end models? Apple announced the world-phone, which combines CDMA and GSM models into one, will be priced at $199 for a 16 GB iPhone 4S, $299 for a 32 GB iPhone 4S, and a new 64 GB iPhone 4S for $399. Considering Sprint's marketing hits the consumers with budget-priced data plans in the past, it would be a shame if Sprint is left out of the entry-level iPhone game and is only saddled with more high-end iPhone 4S models.
We'll continue to update this space as we learn more.