iPhone App of the Day: URL/Link Shortener
Today we're going to spotlight a free app that does one simple thing, and does it well. Not all Twitter clients on iOS will give you a shortened URL for links that you're sharing. You may also need a link shortened for an email or a Facebook post. With this handy app, URL/Link Shortener, you'll always have quick and easy access to links that are nic.e an.d sho.rt (we'll be here all week, folks).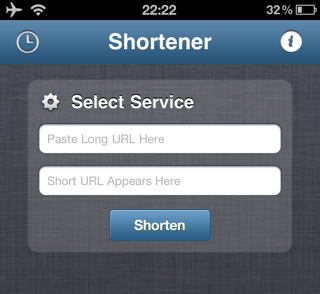 On opening the app, you're greeted with the attractive display you see above (Apple's oft-used cross-hatched pattern serves as the background). You can then tap the gear icon to select the service that you want to use. There are a whopping 100 services to choose from. Popular bit.ly is near the top of the list, if you like familiarity. goo.gl is not included, for those whose loyalty to Google runs that deep.
After pasting your long link in the first field, you tap 'shorten' and the short URL is automatically copied to your clipboard – ready to paste into Twitterrific, Facebook, or your email.
URL/Link Shortener is optimized for the smaller screens of the iPhone and iPod touch. If you want it on your iPad, jailbreak app RetinaPad will make it look very nice on the large display (see more here), but it will get the job done regardless.
AppStore (free):   bit.ly/raHZmF
Developer's website:   bit.ly/nnwJHP

As an Amazon Associate I earn from qualifying purchases.