iPhone App Sale Discounts 20 Popular Productivity Apps
Apple has discounted a handful productivity apps in its latest iPhone app sale, chopping the prices off of some popular apps for a limited time.
While the list includes some apps that you've probably never heard of, it does include a handful that are quite popular, including Fantastical 2, Clear, Launch Center Pro, Scanner Pro, Notability, and Todo.
It's not exceptionally rare to see Apple run its own limited-time app sale in the iTunes App Store, but it's something you don't quite see every day, so take advantage of it while you can. Most of the time, you'll just see individual app sales that can be hard to catch if you're not looking closely, but Apple is advertising this sale front and center on the App Store, so it's hard to miss.
Here's a full list of all 20 iOS productivity apps that are on sale, with individual links to the respective app in the iTunes App Store.
Most of these apps are universal, so they'll work on both iPhone and iPad, but some are for iPhone only, including Fantastical 2.
As aforementioned, it's easy to spot these kinds of big app sales since Apple publicizes them on the front page of the iTunes App Store, but most of the time, you have to be on constant lookout for when a wishlist app goes on sale, and that can be a little tricky. However, we've discussed in the past some ways that you can keep up with app sales and never miss a major discount.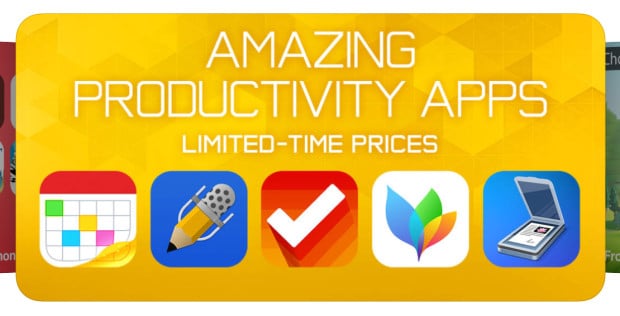 There are plenty of services out there that are nothing more than curators of app deals, with AppShopper being one of them. We've tried out many app deal sites, but we've found AppShopper the best one that fulfilled our needs.
With AppShopper, you can subscribe to an RSS feed that constantly updates with new iPhone and iPad app deals. There all sorts of different RSS feeds on AppShopper. You can subscribe to RSS feeds that let you know when apps or games are updated, or subscribe to price-drop RSS feeds for only popular apps or even all apps that are available. You can even choose between iPhone apps, iPad apps and Mac apps. In fact, there are a whopping 40 RSS feeds that you can choose from.
Alternatively (and perhaps a better way of doing this), you can create a wishlist on AppShopper and get notified whenever one of those apps goes on sale. You can also download the AppShopper iOS app to your iPhone and get push notifications whenever certain apps or games go on sale.
It's funny how consumers will spend hundreds of dollars on a smartphone or tablet, but they shriek at the $5 price for an app or game. It's a strange and mysterious aspect of human life, but we've all done it. We see a great-looking app that has gotten rave reviews, and it's something that you could actually use every day to help you in some fashion, but once you look at the price tag, you quickly turn around and walk away.
Because of this, we tend to look for deals and sales of apps and games before we'll buy them, because developers always put their apps and games on sale at some point, whether it'd be around Christmas time or otherwise. However, without any way to track all of these deals, we usually have to just check up on the app daily to see if it's gone on sale, but it actually doesn't have to be that difficult.