iPhone Christmas Apps: 5 Fun Apps for 2014
Christmas is right around the corner, and playing around and having fun with some iPhone Christmas apps is a great way to get into the holiday spirit, as well as prepare for all the fun you'll have with family and friends.
There are a ton of Christmas-themed apps for the iPhone, which isn't all too surprising, considering that Christmas is the most popular holiday of the year. Searching for "Christmas" in the iTunes App Store will return hundreds of results for Christmas-themed apps. Most of them are kind of cheesy and not worth a download, but some of them are actually quite fun.
These apps include selections like games and even silly light-hearted apps that provide humorous entertainment around a bunch of friends or family. There's even an app that easily lets you manage Christmas lists and tracks what you bought for certain people, as well as an app that will let you track where Santa is at as he makes his way around the globe delivering presents to all the children.
Some of these apps can certainly be the focus of entertainment at any family gathering, while others are quite useful during the holiday season, so without further ado, here are five Christmas-themed apps that you should take a look at in order to get into the Christmas spirit this year.
Angry Birds Seasons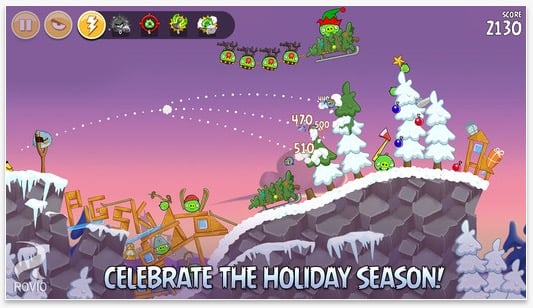 This one is pretty obvious and deserved a place on the list. There's no denying that Angry Birds is one of the most popular iPhone games of all time, and Angry Birds Seasons is Christmas themed again this year, letting you slingshot birds in the snow wearing goofy Santa hats.
If you don't know what Angry Birds is, it's a game where users slingshot birds toward a structure in order to knock it down and destroy the mean pigs that stole the birds' eggs.
It may sound rather violent, but it's actually a fairly G-rated game that is great for kids to play during long road trips or flights over the holidays.
Angry Birds Seasons is only $0.99 and it's well worth a dollar spent to give your children hours of entertainment.

As an Amazon Associate I earn from qualifying purchases.