iPhone Dominates as Most Popular Camera on Flickr
Flickr is one of the most popular image hosting services on the internet, and it's what most professional and novice photographers use to show off their work. Therefore, Flickr is a decent platform for which you can see what the most popular cameras are that all your favorite photographers are using, and the iPhone absolutely dominates.
With Flickr's Camera Finder, you can see what cameras users are wielding the most based on EXIF data from all the photos that have been uploaded to Flickr over the years. And as for the most popular cameras being used in the Flickr community, the iPhone takes four out of the top five spots.
The iPhone 5 is the most popular camera on Flickr right now, with the iPhone 4s in second, iPhone 5s in third, iPhone 4 in fourth and rounding out the top five is the Canon EOS 5D Mark II.
When you only count smartphones, the same four iPhones take the top four spots, but Samsung's Galaxy S III sneaks in at number five, surprisingly enough (where's the Galaxy S4?).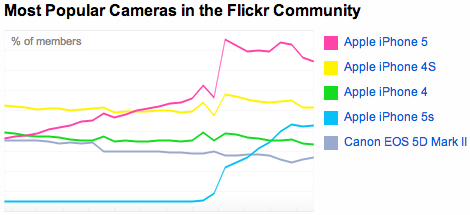 These stats shouldn't be too surprising, though, as smartphones are being equipped with better and better cameras every year. Plus, with the iPhone having one of the best smartphone cameras on the market, it's no wonder that people are taking a lot of photos with it, and many professional photographers are rocking an iPhone as a secondary or tertiary camera while on the go.
As for the most popular camera brand on Flickr, Canon takes the cake, with Apple in second, Nikon in third, Sony in fourth and Samsung in fifth with its line of Galaxy S smartphones.
Interestingly enough, the most popular smartphone brand after Apple and Samsung is HTC, with its One X and One X+ models as the front runners. Nokia is also near the top with its Lumia series of phones, including the impressive Lumia 1020 with its 41-megapixel sensor.
At the end of the day, though, the iPhone is the camera that most people want to use, and with different accessories like the Olloclip, as well as third-party camera apps, users can take even better photos than what the stock experience offers, and that's fantastic for photo enthusiasts of all levels.