iPhone Fitness App Breeze is RunKeeper for Walking
The makers of the popular RunKeeper fitness and workout app have created and launched an iPhone fitness app aimed for the everyday user. It's called Breeze, and it's a simple, yet elegant app that counts your steps and coaches you to achieve daily walking goals.
The only downside is that Breeze only works with the iPhone 5s, since the app uses the device's M7 co-processor for all of its data curation. RunKeeper says that the app will arrive on more devices in the future, but it remains to be seen which phones will be lucky enough to get the app.
The RunKeeper app itself uses the M7 chip, but it has limited functionality and it will only tracks walks that are 15 minutes or longer. We're hoping someday that RunKeeper will mesh M7 data with GPS tracking in order to produce more accurate data to users, and it's possible that the Breeze and RunKeeper apps will integrate with each other in the future, but we wouldn't keep our fingers crossed.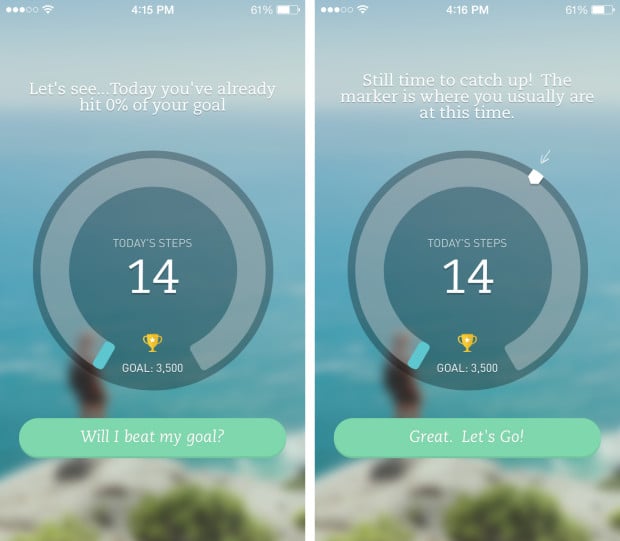 How Does Breeze Work?
Breeze works by curating all of the motion data that your iPhone 5s collects with the M7 co-processor and it keeps that data for seven days, so when you first open up Breeze, don't be alarmed when it gives you walking data from seven days ago before the app even existed; it's simply presenting you data that your iPhone already had on hand.
Read: 5 Apps That Use the iPhone 5s's New M7 Motion Chip
Every day you'll get a new walking goal in the form of number of steps you should be taking, and it'll present your current step count in the center in the screen with a giant speedometer-like graphic that fills up when you get closer to your goal. There's also a white marker that you'll notice, and this to mark where you're usually at during that time of day based on past data during the last week or so.
For a little added fun, Breeze comes with a feature that gives you your "spirit animal" based on your walking habits. For me, my spirit animal is a capricious lion, since I "enjoy slowly prowling the Savannah under the midday sun. It's tough work, but someone has to do it."
Under that description, it provides a basic summary of your walking habits, such as what time of day and week that you're most active, and what kind of activities you do the most (such as "long activities" or "short bursts"). It doesn't really add anything too useful, but it's just fun to check out every now and then and see what your spirit animal is.
What Makes Breeze Unique?
Breeze isn't terribly unique by any means, as there are tons of fitness apps catered towards the everyday user that simply counts your steps, but there are a few unique features that set Breeze apart from the competition.
The app sets goals intelligently and automatically based on your past walking performance, and it even provides encouragement and coaching in the form of push notifications, so if you're looking for a pedometer app that actually cares about your progress and reaching your goals (rather than just simply counting your steps), Breeze is the app to get. Previously, I enjoyed using Pedometer++, but Breeze is far more interactive and almost has a personality of its own, and Pedometer++ almost immediately became boring to use.
The closest app to Breeze is probably Moves, which also has a nice design and counts your steps using the iPhone 5s's M7 chip, but it costs $2.99. Since Breeze is free, there's really no point in paying more than that unless you want the auto-detect feature in Moves when you switch from running to walking or cycling.
Of course, there are caveats to the iPhone 5s's M7 co-processor, mostly the fact that it only counts steps if you're moving, but if you're just standing? I use a standing desk and I'm on my feet for about half the day, but I'm not necessarily moving or walking. Granted, standing shouldn't count as walking to begin with, but those are still calories being burnt that wouldn't normally be shaved off had I'd been sitting.
Read: 5 Best Running Apps for iPhone to Help You Get In Shape
In any case, if you find that you're on your feet for most of the day and are walking a lot, give Breeze a try and add a little bit of gamification to your day. You might find that you'll enjoy your days more and strive towards hitting those walking goals, while getting in a little more exercise, which is always good for you.

As an Amazon Associate I earn from qualifying purchases.