iPhone Focused Car Integration Arrives: Will Luxury Autos Suffer?
After Samsung's recent announcement of their new Galaxy S4 phone, the mobile landscape has been slightly altered once again. During the introduction of the S Voice Drive, Samsung has made it clear that it is targeting Apple's Siri Eyes Free, and is attempting to improve on the design. However, as I watched the event, and wrote the subsequent coverage of the feature, I began to wonder about how this will affect vehicle manufacturers and the systems they spent millions of dollars in development on.
Before Microsoft Car's platform, and the adoption of it by Ford for their Sync product, many in-vehicle voice control systems were abysmal at best. Mercedes-Benz's COMMAND system would hardly understand voice commands, and BMW's i-Drive system was over-complicated and difficult to use. Sync was one of the first systems that would actually understand spoken-word commands, and I argued that it was one of the best systems on the market.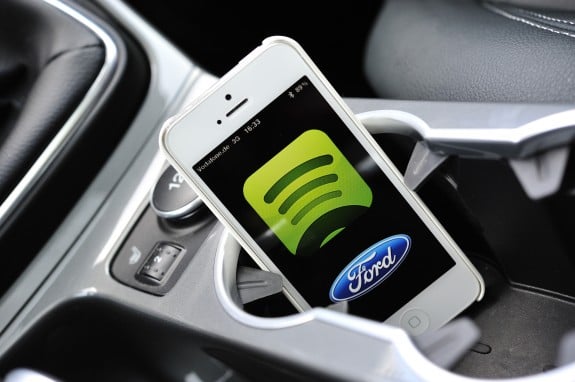 Ford attempted to follow that up with MyFord touch, which recognizes even more spoken-word commands but has been plagued with glitches in the interface. General Motors countered with Cadillac's CUE system, which is designed to mimic the touch screen on the iPad. Like MyFord touch, it has been plagued with issues as well. Both systems rely heavily on touch interfaces that lack the tactile feedback found on older systems, making it difficult to use while driving. Relying on voice commands is a must. While both systems do very well with voice commands, neither of these very expensive systems do more than what Eyes Free and S Voice Drive do (except for controlling climate control, which will likely be addressed soon).
Ford Sync is a modern success story for the company. Many people who order Ford vehicles or purchase off the lot upgrade their vehicles to include the technology. This raises the average cost of the vehicle. These luxury features are now being adopted by every automobile manufacturer, and new vehicle average prices are rising as a result.
Should the OEMs (Original Equipment Manufacturers) be worried? With voice command technology coming with the purchase of a smart phone, and a service like RealVNC's for interfacing that system with the vehicle, it would appear that many of the OEMs will have to redesign their systems to take advantage of what is built in to the phone. In the beginning, this additional integration may come as part of a more expensive "Luxury Package" option, but this type of integration is much simpler to put in vehicles because all of the heavy lifting is performed by the phone itself.
You are seeing this now with Opel's Adam, and Chevrolet's Spark. These inexpensive vehicles that do not have expensive OEM solutions are adopting the mobile interfaces more quickly than the vehicles with the expensive add ons. While I doubt this would drive a Cadillac CTS purchaser to a Chevrolet Spark, people are going to begin to question the need for the really expensive infotainment upgrades and may stop ordering their vehicles with it.
The OEMs will have to create other value-added options to make their expensive upgrades worth the price, and it will be interesting to see how each manufacturer addresses this potentially growing problem.

As an Amazon Associate I earn from qualifying purchases.