Dual-Boot Android, iOS Solution Coming to iPhone, iPad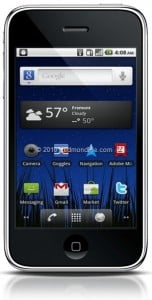 After we had reported that Android is being ported to the Windows Mobile HTC HD2, it looks like enterprising developers are going to be bringing the latest version of Android to Apple's current flagship iPhone 4 and iPad tablet. Android 2.2 Froyo had already made it to the iPhone 3G, and with the promised port to iPhone 4, current iOS owners will soon be able to dual-boot into the Android OS on their iDevice and get Adobe Flash support, albeit unofficially.
Developers are working to exploit the iBoot bootloader and are calling it OpeniBoot, which would allow users to choose which OS to boot into, whether it's Android or iOS. Theoretically, OpeniBoot can be used to call up other non-sanctioned OSes to be booted up as well, so a Linux port or a MeeGo port could also be possible by utilizing the bootloader.
With Steve Jobs denouncing Adobe Flash for its taxing use of battery life on a mobile device, it'd be interesting to compare battery life on iOS versus that on the iPhone 4 running Android with Flash support.
If you own the older iPhone 3G, you can take a spin of the dual-booting solution that is available right now.
Via: Uberphones

This article may contain affiliate links. Click here for more details.