iPhone Mail Alternatives: 3 Great Apps
If you're not a big fan of the stock Mail app on your iPhone, here are three great alternatives that you should try out.
The Mail app that comes pre-installed on your iPhone can be handy to have, especially if it's all you really know, and since it's natively integrated into the iOS ecosystem, it makes certain tasks really easy to do, like sharing a link through email or opening up an attachment from Mail to another iOS service.
However, we've discovered that the stock Mail app isn't the best available, and there are several options for third-party email apps that do a much better job. Plus, you can get them for free in the iTunes App Store.
Of course, many users are happy using the stock Mail app on their iPhone, and that's great! But if you're looking to take your email to the next level, here are a few apps that you should consider using.
Gmail
If you have a Gmail account (and most users do), it's most certainly wise to take advantage of the Gmail app for iPhone.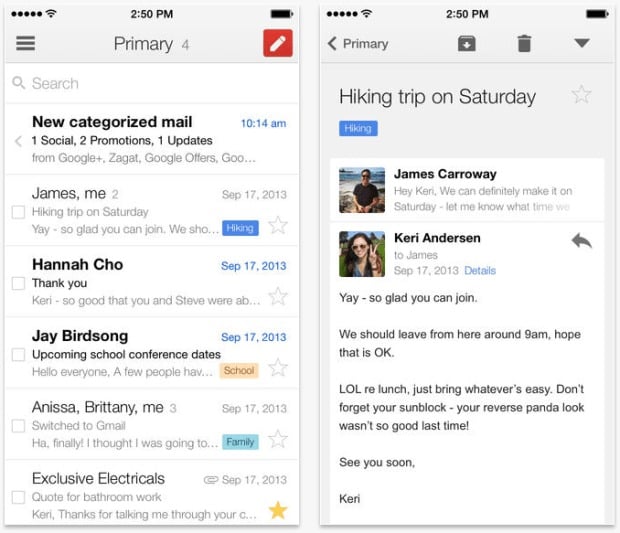 Gmail has all of the great features that you'll find on the web interface, including tags, filters, etc. All of your settings in Gmail will sync over to your iPhone within the app, and while importing your Gmail account into the stock Mail app works just fine most of the time, the Gmail app works seamlessly with your Gmail account, for obvious reasons.
While we would like the user interface to be a bit simpler and easier to navigate, it's no doubt that the Gmail app is packed with features that you can also find on the web interface, making it the perfect option for Gmail users on the iPhone.
Mailbox
If you'd much rather prefer a better-looking user interface, you can't go wrong with Mailbox.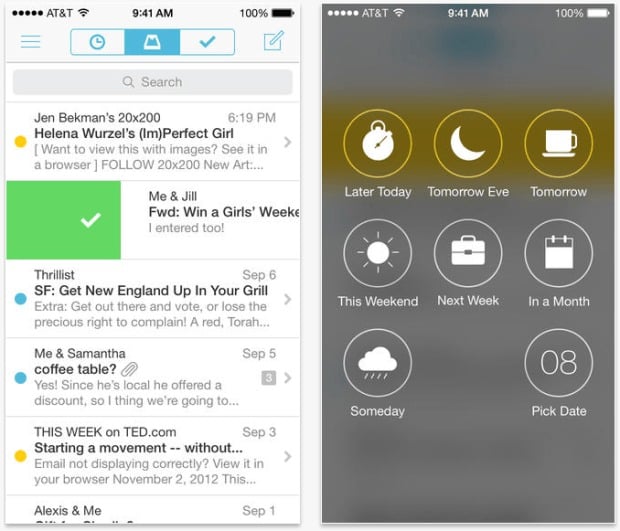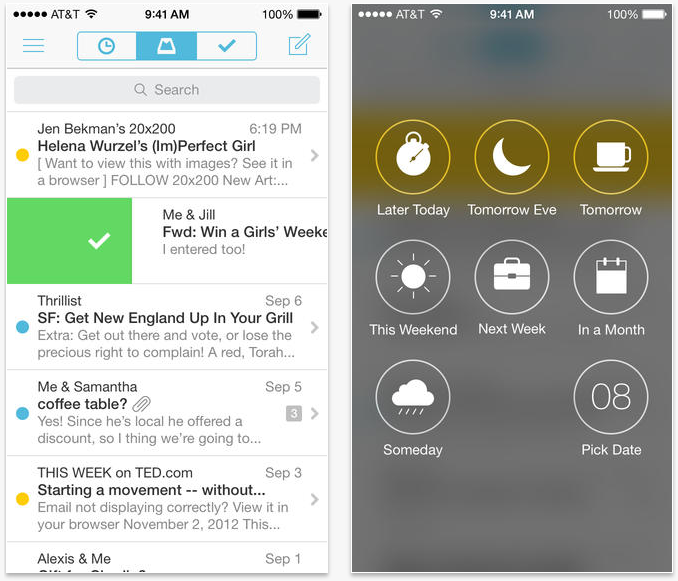 The app mainly relies on simple swipe gestures that allow you to archive and delete emails in a timely manner with ease. Mailbox is all about getting its users to "inbox zero," which is an internet phrase that means clearing out your email inbox completely to take away any stress of emails piling up. The quick swiping gestures definitely make that process much easier, and you'll find yourself completing the task in very little time.
Unfortunately, Mailbox only supports Gmail, so you're out of luck if you use Yahoo Mail or another email service, but the developers behind Mailbox say that support for more email services is on the way.
Sparrow
While development of Sparrow has ceased, the app is still available and is still one of the best email clients around.
Like Mailbox, Sparrow relies mostly on quick swiping gestures in order to help you get through your email quickly and easily. The app even comes with a unified inbox option that allows you to view all of your email from all of your email accounts in one combined inbox.
Sparrow can also integrate with various social media services, so that your address book is filled with your contacts' information and photo.
The biggest downside to Sparrow is that it doesn't offer push notifications, and they won't be coming anytime soon in an update since development has stopped, but if you're like and think push notifications are the devil, then this really won't be a big deal to you.
Wrap-Up
There are a ton more email apps for iPhone that are available in the iTunes App Store, but these three are really the only worthy alternatives to Apple's stock Mail app in iOS. Of course, if you use an email service other than Gmail, like Yahoo, Outlook, etc., you can download the iPhone apps for each in order to get the most catered email experience on your iPhone.
Otherwise, these three options are the best around, but we'd love to hear any other email clients that you use that we didn't mention. Feel free to shout them out in the comments and state your argument!

As an Amazon Associate I earn from qualifying purchases.