iPhone Mania Hits Fever Pitch and Deservedly So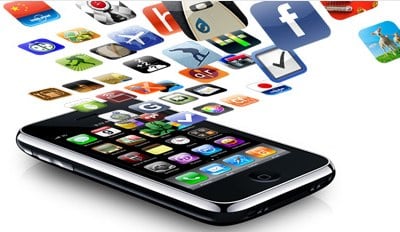 If you follow Twitter, Facebook, Friendfeed or any other service where folks can chime in at the drop of a mobile phone what you see this morning is a raft of posts that say "When is 3.0 coming out?" "Is 3.0 delayed?" "Can't wait for 3.0."
These are followed closely by those who pre-ordered the new iPhone 3GS from Apple trying to sort through the UPS shipping notifications (UPS servers must be going crazy). Many who pre-ordered from Apple saw delivery dates listed as early as today and tomorrow, both ahead of the official release date on Friday June 19. Well, Apple has put the brakes on early deliveries and it looks like all will roll out on Friday as scheduled.
Why all the fuss? Why the Christmas morning like craziness?   I'm sure many who don't want or use an iPhone think it is a bit silly. But as I've been using the iPhone 3G and following the news of the new OS and new phone, I think there really is a lot to get excited about here.
Everything is going mobile as fast as it can these days and has been for some time now. Apple's iPhone, I believe, has accelerated that in a big way the last two years. Yes, it has its faults and yes, here in the US it is tied to carrier who can't get its act together but like it or not, Apple has set the benchmark, and from what we're seeing about the new OS and phone, continues to do so. In fact they are in many ways defining the market and the possibilities even though they are still playing catch up on some features that existed long before they entered the market. Business schools of the future will study this phenomenon like crazy.
Why is that? Even with issues, Apple has delivered a product from day one. That differs from other mobile device promises we've seen (I'm talking MID, I'm talking UMPC). The closest we've come to seeing something else take off with the same momentum is Netbooks, and I think that was as much about price as it was about anything else. So, by pushing the product out the door, along with a very clever and manipulative marketing machine behind it, Apple has forced others to play catch up while it is catching up itself.
And even while playing catchup, Apple has created excitement that rivals nothing else. Some are excited by the phone being faster and containing more RAM. That will obviously improve performance but we all know that speed improvements will eventually bog down with software creep. Nonetheless, the improvements will be welcome. Some are excited by the "new" OS features such as cut, copy, and paste, which should have been there in the first place.   Some buy the new camera with video features. I have to admit this is one of the selling points for me. There are a host of new features that excite.
But in essence I think the excitement has to do with the entire package which inlcudes the App Store, and more importantly what the entire platform makes possible. Apple has taken the mobile concept and essentially created a personal device that you can tailor to your specific needs, desires and likes, and carry it around in your pocket. The ramifications offer new promise each and every day. Apple has taken Intel's MID concept and in my opinion delivered long before Intel is really ready to do so. (Remember the original Intel MID roadmap talked about 2010 as when we'd see things truly develop.)
Where this can go is anybody's guess. The new options of using the docking port to create accessories offers limitless potential that I think over time we'll see explode into things we can't imagine today. But this week I think you need look no further than the news from Iran to see how mobile technology can have an impact. I'm not giving Apple or the iPhone credit for that because I'm guessing we're seeing much of the video and photo coverage come from other platforms. But mobile tech is keeping a population's hopes of changing their political realities alive, while at the same time frustrating the ruling powers as they try to control it.
Apple's inclusion of video (with basic editing) on the new iPhone package, again following ground where others have already trod, will most likely offer big changes for consumers and have a big impact on the carrier control issue as more and more folks consume bandwidth to use that functionality.
The new power and speed of the phone will undoubtedly lead to more advancement of the iPhone and the iPod Touch as a gaming platform, putting pressure on other game and console makers. It is hard to tell with Social Networking which is the bigger driver, the concept itself or the fact that you can do so much of it on a mobile platform. It is not surprising to me that the Facebook app leads just about everybody's Top Apps list, followed closely by a Twitter client.
When you actually stop and think about it, what Apple has created with the iPhone is something quite amazing, even with its flaws. By defining the market they've shifted how their competition thinks and opened up some possibilities in consumers eyes. Carrier and media conglomerate restrictions still hold some things back in my view, but at some point those restrictions will eventually ease and when they do, we'll be even closer to having a device in our pocket that can do it all, whenever we want it to.
Here are some predictions about what we'll see when the   the iPhone 3.0 software rolls out later today (sometime after 10AM PT).
The load will cause complaints about being able to download the updates.
Some phones will get bricked and some data will get lost.
There will be a new jailbreak by tomorrow.
Someone will announce they are starting a line at their local Apple Store or AT&T Store.
There will be much updating of Apps already installed on existing iPhones.
Some Apps that have been very successful will no longer be needed. (Voice recording is one category here.)
There will inevitably be an update to 3.0 within the next month after its release.
And here are a few links to tide you over while you're waiting.
And while you're waiting, if you're waiting, make sure you backup everything up!

This article may contain affiliate links. Click here for more details.