iPhone MiFi App Needs Still Needs Some Work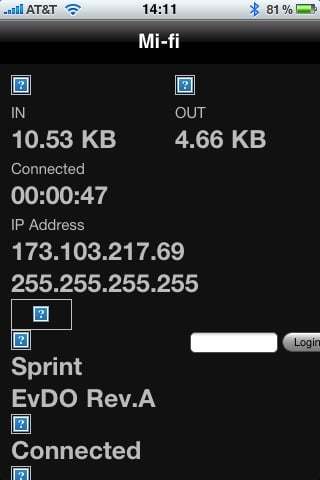 Well, I was pretty excited this morning when I discovered the existence of the MiFi app for the iPhone that lets you monitor your MiFi card's operations. I finally got a chance to check it out this afternoon, and it looks like we might be waiting for the next version according to my testing and also according to Gavin Miller who made some comments on the earlier post. Gavin says he tried it out on a stock GSM version from Novatel. I'm running it on Sprint's version which I do believe is CDMA. I'm seeing similar results as Gavin reported as you can see in the picture. The picture doesn't capture the fact that the images flicker and jump around.
There was a recent firmware update for the MiFi cards that I haven't applied yet, so maybe that might help things out. Otherwise, I hope this is something that the developers can work out soon. Looks like it could be a very useful utility.