iPhone Owners Can Use WiFi Personal Tethering to Provide WiFi-Only iPad 2 with GPS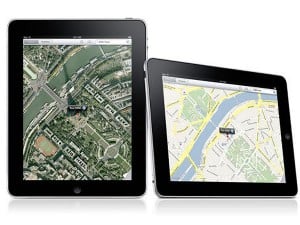 Part of the benefit of getting a 3G-capable iPad or iPad 2 is the ability to use the assisted GPS function of the mobile broadband chipset to get turn-by-turn driving directions and acquire location coordinates, useful for location-based services (LBS). However, it seems that if you've bought into the Apple ecosystem and possess an iPhone 4–from either GSM carrier AT&T or CDMA carrier Verizon Wireless in the States–you can join the GPS party on a WiFi-only iPad or iPad 2.
Through the use of iOS 4.3's WiFi personal tethering featured called iOS Personal Hotspot, users can connect their iPad or iPad 2 to their iPhone's WiFi hotspot to acquire GPS data from the iPhone's assisted GPS chip. It appears that in addition to tethering providing mobile broadband connectivity to a WiFi-only iPad tablet, the iOS 4.3 feature also shares GPS data.
For now, though GPS is said to be working fine with Apple's maps app, which is based on Google Maps. Third-party GPS apps for voice-guided turn-by-turn driving directions may not work so well as the GPS data refresh rate may be too slow for those apps. Hopefully, a fix will be forthcoming to add those apps to the fray and turn the WiFi-only iPad into a good navigation tool.
Via: Engadget

This article may contain affiliate links. Click here for more details.