iPhone Sells Out Despite On-Line Ordering Disaster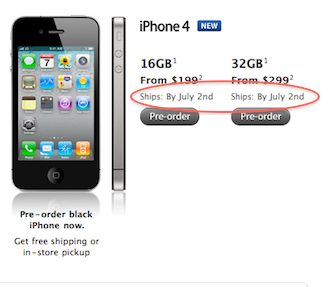 Strange, amazing, and well, strange. Given the total breakdown of the online ordering system for Apple and AT&T's ordering system for the new iPhone, I didn't expect to see this news. Apparently the first allotment of the new iPhone sold out by about 4:30 ET yesterday. AT&T was out of stock earlier according to reports and prior to that was taking orders using pen and paper, so who knows how many of those orders will get fulfilled on June 24. Orders taken now specify a July 2 ship date, so you won't be taking video of 4th of July fireworks with that new HD camera. From the way the news was running yesterday I wouldn't have been surprised to see that sales figures were down. Or maybe, they just don't have enough stock in the initial run. Remember no white iPhones were available for pre-order.
The engineers may have been pulling their hair out trying to make things work, but apparently the worked well enough to make the bean counters smile big this morning. There are still questions that I'm sure we'll hear over and over again about this crazy sales launch. Talk of a security breach at AT&T still lingers and sooner or later other companies will start using this meltdown in their marketing somehow. Or at least they should. I do note that Verizon and Motorola will be officially announcing the Droid X on June 23, the day before the lines will form to pick up all those iPhones at Apple Stores that folks couldn't get ordered for home delivery. Engadget has a preview. Maybe they'll be reading reviews and watching promos of the Droid X while standing in line. Unless the videos are in FLASH.
Picture via TechCrunch
UPDATE: Apple has issued a statement on the problems.
Yesterday Apple and its carrier partners took pre-orders for more than 600,000 of Apple's new iPhone 4. It was the largest number of pre-orders Apple has ever taken in a single day and was far higher than we anticipated, resulting in many order and approval system malfunctions. Many customers were turned away or abandoned the process in frustration. We apologize to everyone who encountered difficulties, and hope that they will try again or visit an Apple or carrier store once the iPhone 4 is in stock.
Apple is saying they sold 600,000 phones yesterday.
And AT&T has suspended orders until they can get caught up with all the pen and paper orders they took yesterday and also deal with the collapse of its system. Word is (unconfirmed) that AT&T had installed new software over the weekend and that may have led to some of the problems.