iPhone Tethering Coming to AT&T in June?
As Warner pointed out a few weeks ago, iPhone users are still unable to tether their notebooks here in the U.S. If the latest version of the iPhone 4.0 Beta is any indication, AT&T customers may be able to use their iPhones as a mobile 3G modem when the new OS and new iPhone launch next month.
The iPhone 4.0 Beta's network settings screen now has a button labeled "Set Up Internet Tethering." Tapping on the button brings up a window that gives you the option to either go to ATT.com or call the company to enable tethering.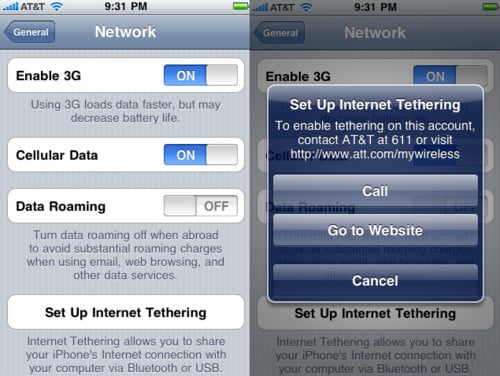 Before we get too far ahead of ourselves, it's entirely possible that AT&T isn't ready at all and the screen will change prior to the launch of iPhone 4.0.
If this is what ends up going public, it's pretty clear that AT&T will be offering tethering as a monthly subscription of some sort. If tethering was going to be a freebie, there'd be no reason for subscribers to have to contact AT&T to activate the service. It's anyone's guess how much AT&T will charge users for the privilege of tethering. Some are speculating that it'll cost the same as the iPad's $25 per month for unlimited bandwidth. I don't think AT&T will offer unlimited bandwidth since there's no controlling what kind of apps are used to download data (or how much of it) with a PC or Mac.
While some iPhone users are going to jump at the chance to tether, I'm not all that excited about this service. The last thing AT&T needs in the San Francisco is more network congestion. The network is still spotty and not a day goes by that I don't have several dropped or jumbled calls. I think $200 per month is already too much to pay to a network that can't even connect calls reliably. I'm going to continue using my Sprint MiFi card even if by some miracle AT&T offered tethering at no additional charge.

As an Amazon Associate I earn from qualifying purchases.