iPhone Transformed into LEICA Camera via Case Concept Design
The synthesis between phone and camera would be complete if a design concept produced by BlackDA came to fruition. The case would turn the iPhone 4 into a LEICA 12MP digital camera. The iPhone would fit into the case and essentially be the camera's storage and view screen, making the smart phone into an accessory instead of the primary device. The camera case would independently capture and process the images and transfer them to the iPhone. Because the back of the camera that holds the iPhone would be interchangeable, it could be removed and replaced when a new iPhone body is introduced. That's a good thing because this thing is likely going to cost over a grand if it ever gets made. Most people don't want to throw away a thousand dollar case just because they got a new iPhone.

The camera would have its own lens and sensor. It could shoot in burst mode, which is what photography types call it when they press and hold the shutter release button and shoot a bunch of pictures in a row. The pictures would be transferred to an app on the camera where the photographer could view them and maybe even process them or offload them to a computer or online site.
One of the biggest issues with the iPhone camera is how slow it is to start, prompting us to include that as one of the ways Apple could improve the iPhone in its next iteration. The camera in this concept design would be able to start up in .3 seconds from the time you hit the power button to the time you could shoot with it. But the iPhone can't keep up. So the camera would have the power to turn on the iPhone and fire up the LEICA app and begin offloading the picture from the camera's memory once it was ready all while still shooting photos and storing them in the camera's cache.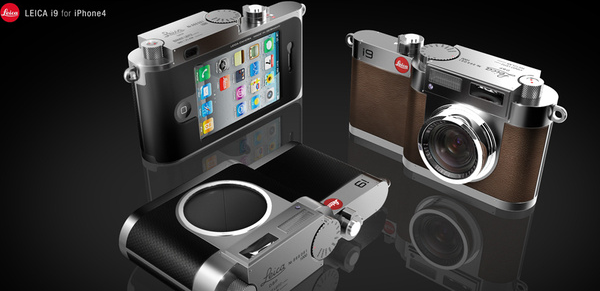 The volume buttons on the iPhone would be used to control the zoom lens on the camera case according to the design concept. We know this will never fly since Apple banned an app for using the iPhone's built-in buttons as a shutter release. The developers had to remove the feature before it was allowed back into the Apple iOS App Store. It is a silly reason to reject an app, but Apple has every right. Even though the concept is a great idea, it will never happen unless they get some kind of special permission from Apple.
The overall concept is cool and we hope some form of it shows up.