iPhone Web Browser Comparison: Safari vs Chrome vs Firefox
Firefox was recently released for iOS, giving iPhone and iPad users even more options when it comes to mobile web browsers on top of Safari and Chrome. Here's how the big three iPhone web browsers compare.
Safari, Chrome, and Firefox are arguably the three most popular web browsers that you can get for the iPhone, but which one should you use?
While Safari is the default browser on the iPhone and integrates with iOS nicely, Google's Chrome browser offers some unique features for iPhone users, and could be a great option for avid Google users. And those who are loyal to Firefox on the desktop will likely prefer the iPhone version as well, especially since you can sync bookmarks and other info across platforms.
However, if you're partial to all three options and just aren't sure which iPhone web browser to use, we've decided to try out all three and compare them to see which one would work best for most users on Apple's smartphone.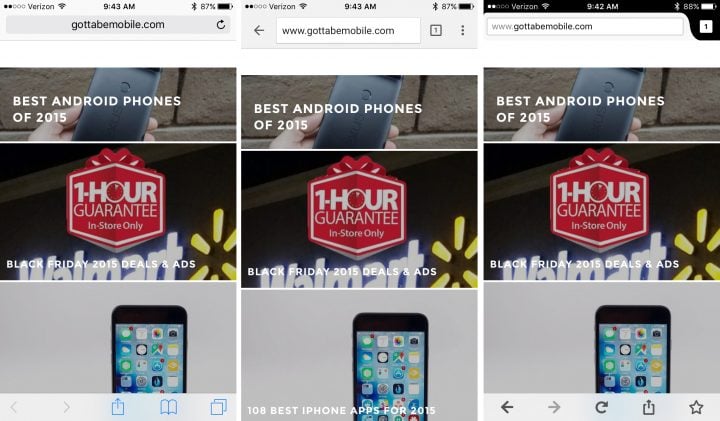 All three browsers are free to download, which means you can use them risk-free, but if you'd rather not bog down your iPhone with more apps on your home screen, here's a quick overview of Safari, Chrome, and Firefox on the iPhone, as well as which one of the browsers you should be using.
Safari
The default web browser that comes included on your iPhone is Safari. Perhaps one of the biggest benefits of Safari is that it's integrated nicely with iOS and is specifically optimized to run on your iPhone.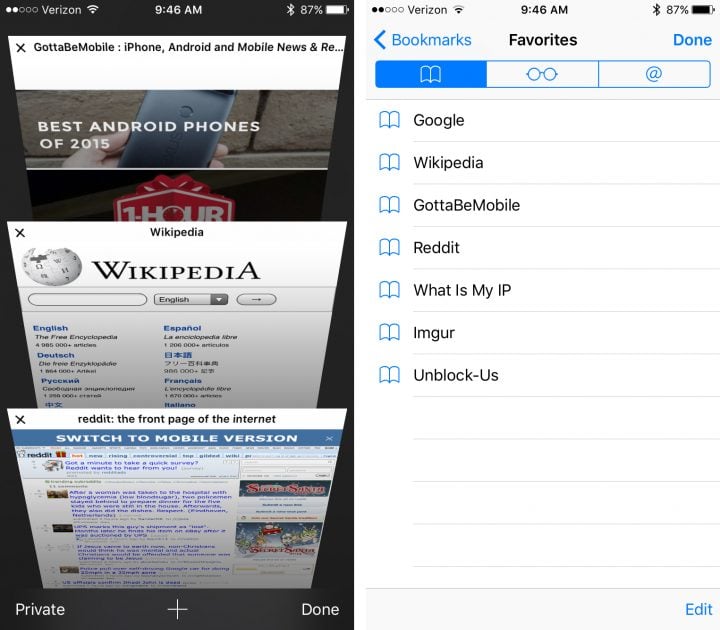 However, it's features are rather basic compared to Chrome or Firefox, but the good news is that it still has the essential features that you would want in a mobile web browser, like private browsing mode, quick access to bookmarks and favorites, and the ability to share webpages in a variety of ways.
Read: How to View Recently Closed Tabs in Safari on iPhone
Safari is also perhaps the cleanest-looking iPhone web browser out of the three, which isn't too surprising since Apple's design game is usually on point. The company is all about making things simple and easy to use.
Chrome
Like Safari, Chrome comes with all of the essential features you'd want in a mobile web browser, but navigation is a bit easier than Safari, giving you quicker access to Incognito Mode.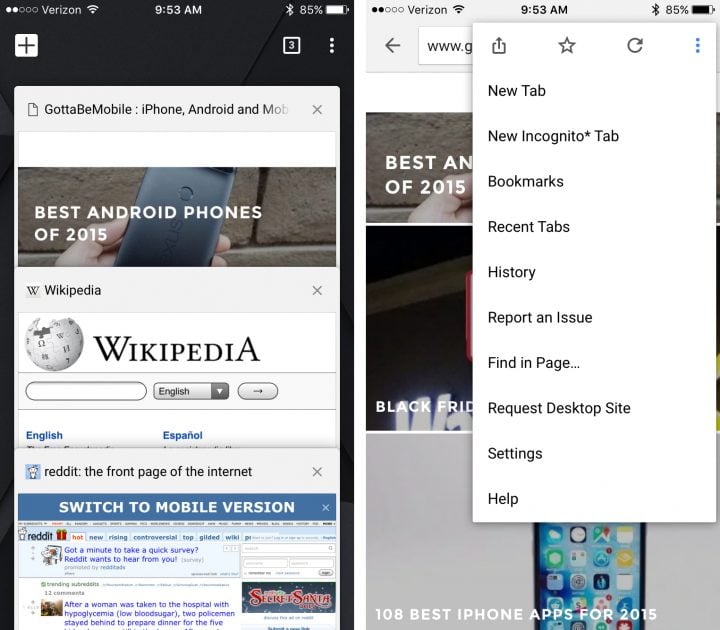 With one tap of the Menu button on the top-right corner, you get quick access to a number of things in Chrome, including Incognito Mode, Bookmarks, Recent Tabs, History, and even request the desktop site for the web page you're on.
And of course, if you're a Chrome user on the desktop, you can sync your bookmarks and other browsing data to the Chrome browser on iPhone.
Perhaps the best feature of Chrome, however, is the ability to do voice searches within the browser. Simply just tap on the microphone icon and then speak away to perform Google searches hands-free.
Firefox
Firefox has many similarities with the other two iPhone web browsers, including quick access to tabs in the upper-right corner.
However, Firefox comes with a cool toolbar of sorts right below the URL address bar, where you can quickly access bookmarks, history, sync data, and your reading list with just one tap.
Then, when you access a webpage, there's a toolbar that appears on the bottom that allows you to quickly go forward or back and reload the web page, as well as quickly share the web page in a number of ways. There's also a star icon that you can tap to instantly save the web page you're on to your favorites to quickly access it in the future.
Another cool feature of Firefox is the ability to search specific websites, like Amazon or Wikipedia, so when you begin to type in the search box, right about the keyboard will be a handful of websites to search from. Typing in your search query and hitting one of those buttons will take you to that website's search results for your query.
Which iPhone Web Browser Should You Use?
This is a tough question, especially since each of the three web browsers have their own pros and cons.
It makes sense to use the same web browser on the iPhone that you use on the desktop, but this doesn't have to be the case for all users.

If you browse a lot on your iPhone, then it makes sense to use the same browser and have your data synced between devices, but I personally don't browse the web a lot on my iPhone, so I just stick with Safari since it meets my basic needs, even though I use Chrome on my Mac.
Read: How to Save Website Shortcuts to Your iPhone Home Screen
However, if you use Chrome on your computer, you might benefit from using the Chrome web browser on your iPhone, especially if you browse a lot while on the go. Plus, you can use Handoff to send links to your iPhone from your computer, which you can't do if you use different web browsers on your two devices.
Nothing really stands out between the three web browsers except for maybe voice search in Chrome, which can be pretty cool. I'd say that if you usually get on your iPhone to search for something, you would benefit from a feature like that, although I wouldn't download Chrome just to have the voice search feature that I may use every once in a long while.
Overall, if you only do basic web browsing on your iPhone, Safari is a great option to use, but if you're a die-hard Chrome or Firefox user on the desktop, there's no harm in downloading the respective apps for your iPhone so that you can mirror the browsing experience.

As an Amazon Associate I earn from qualifying purchases.