iPhoto for iOS Hits 1 Million User Mark
Apple has confirmed to The Loop that iPhoto, the iOS app that the company launched during the new iPad event earlier this month, has topped the one million unique user mark in under 10 days. That total refers to active users and not just those who have downloaded the application. Apple did not release any figures on how many iOS users have downloaded the application.
The application is is on the iOS App Store for $4.99 and using some basic math, we can conclude that Apple has made somewhere in the neighborhood of $5 million dollars in the days since the software launched.
Not bad, not bad at all.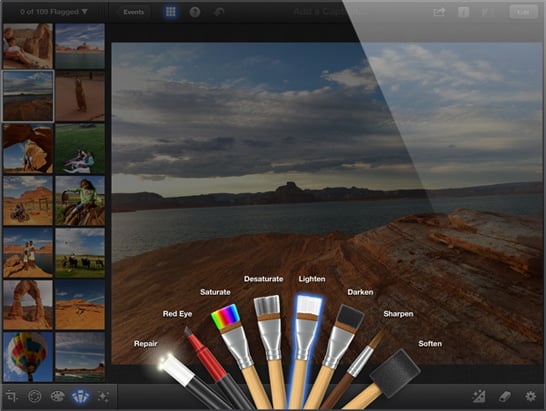 iPhoto for iOS is the version that is optimized for both the iPhone and the iPad. It allows users to perform a host of functions with the photos shot using the mobile devices including the ability to catalog and compare photos, adjust the color, share them with a favorite social network like Twitter, or even load them up on your television using AirPlay.
Interestingly enough it was the location sharing feature that revealed possible plans for a new Apple mapping service which could arrive with the new iPhone and Apple's iOS 5.
The application looks especially gorgeous on Apple's new iPad which boasts a Retina Display that offers 2048-by-1536 which absolutely crushes the resolution found on the previous two models.
iPhoto is perfect for those that love to take photos whilst traveling or even for those that just love to shoot photos of friends on a night out on the town.
You can find it on Apple's iOS App Store.