iPod Classic on its Last Leg as Apple Discontinues Refurbished Model
It's been known for quite some time that the iPod Classic is one of Apple's dying products, yet the company keeps it up for sale in the Apple Store. However, it's only a matter of time before the iPod Classic officially gets the ax, and it's already gotten it, in a way, as it has been removed from Apple's refurbished online store.
Apple has completely removed the link in the sidebar for the iPod Classic in the refurbished store, while other countries simply have it grayed out. The link has been grayed out for a little while now, but it's completely gone now. The actual web page is still live and doesn't lead to a 404, but users are met with a prompt saying that "there are no products available."
It's unknown when the last time Apple had refurbished iPod Classics in stock, but we're guessing it's been a while.
Of course, this may not mean that Apple is close to completely axing the iPod Classic, but it's definitely a sign that the MP3 player is on its last leg, especially since Apple hasn't updated it since 2009, which is over four years ago!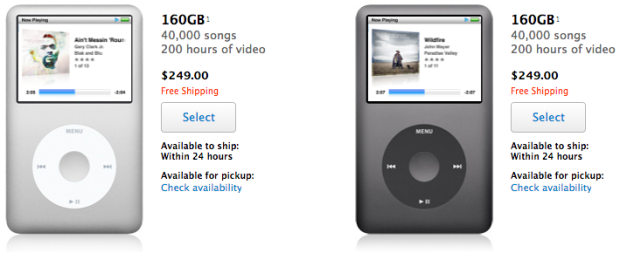 The iPod Classic was introduced in 2005 as simply just the fifth-generation iPod, but it was the first iPod that could play video. It's also the only device that Apple still currently sells that has a hard drive for storage. Rumors over the last couple of years have claimed that Apple is close to discontinuing the iPod Classic, but it remains standing as an option for those looking for a portable method to carry around their large music libraries.
We wouldn't be surprised if Apple updated the iPod Classic once more as a final hoorah, but the iPod Touch has been taking over for the iPod Classic, and we think Apple might go in that direction anyway.
Currently, you can buy a 160GB model for $249, but it's in serious need of a refresh. Technology has changed a lot since 2009, and we could see a next-generation iPod Classic that's thinner and lighter if Apple moved to flash storage and used 128GB. It's a downgrade from 160GB, but a price drop would also be in the cards, possibly down to $199 or even $149.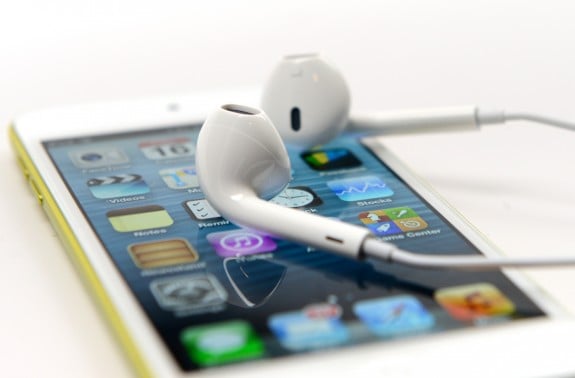 Of course, the iPod Classic is dying off because there's not a huge market for it anymore, but there are still plenty of users who need the massive amounts of storage in a small device.
iPod sales are down overall, though. Apple only sold 2.8 million iPods during its second quarter, which was down by over half from 5.6 million iPods sold during the same quarter last year. We can expect that number to keep plummeting, since the iPod is slowly dying off, even though the company gave the lineup a bit of attention late last year by announcing new color options.
Of course, Apple hasn't fully updated any of its iPods since 2012, and the company's most-recent updates include a measly additional color for the iPod touch, iPod nano and iPod shuffle at its September 2013 iPhone event, where customers could get a matching Space Gray color option that's also available for the iPhone and iPad.
Apple knows that its iPod business is getting worse and worse, and the company's earnings report from a couple of quarters ago was perhaps the first time that it addressed the situation head-on, saying that it has "known for some time that iPod is a declining business," yet it has failed to acknowledge iPod sales in its past press releases and earnings call in the past.
We're not sure what's next for the iPod Classic, but the removal from the refurbished store looks like the beginning of a process that could see the MP3 player shutting down in just a matter of time.

This article may contain affiliate links. Click here for more details.