iPod Touch Sets Fire to Boy's Pants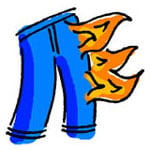 A family is suing Apple afer an iPod Touch being carried in a boy's pants pocket, supposedly caught fire. The pants and they boy's nylon underwear were burned, and the boy received 2nd degree burns. Here's a quote from the lawsuit:
"Plaintiff A. V. immediately ran to the bathroom and took off his burning pants with the assistance of a friend. The Apple iTouch had burned through Plaintiff A. V.'s pants pocket and melted through his Nylon/Spandex underwear, burning his leg."
Obviously we'll need to hear more about this to understand what happened, but keep in mind that the iPod Touch and iPhone batteries are non-user replacable. 3rd party user replacable batteries have been blamed for other such incidences in the past.

As an Amazon Associate I earn from qualifying purchases.