Irony: Apple can't make a white iPhone 4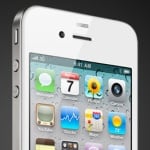 With all the crazy news spinning out from the iPhone 4, the constant delays of the white iPhone 4 strike me as the most hilarious. Why? Because darn near everything else they make is white.
Yeah, yeah, a lot of their stuff is aluminum/steel too, but white is pretty much their signature color. Walk into an Apple Store and it's like walking into a clean room at a chip manufacturer (or an Intel commercial). You'd think if anyone could make something white, it would be Apple. But…
Statement by Apple on White iPhone 4

White models of Apple's new iPhone® 4 have continued to be more challenging to manufacture than we originally expected, and as a result they will not be available until later this year. The availability of the more popular iPhone 4 black models is not affected.
Yes, not only are they having trouble designing an antenna that was supposed to be superior, but now the color white is proving "more challenging" to master than they thought. That's like Tiffany's not being able to make something blue. They're not even bothering to stick a date on this delay. This is one of the most laughable things I've read about the iPhone 4 thus far, and keep in mind, Apple sent me 40 SIM cards for mine. Keep an eye out for the "we can make a white phone" parodies. Oh well, guess Apple will be crying themselves to sleep on that big bag of money again.
Via Engadget

This article may contain affiliate links. Click here for more details.