Is Amazon About to Reveal an Android-Powered Apple TV Killer Next Week?
Amazon could reveal its rumored Apple TV and Xbox One rival at an event next week.
Invitations for the event, which is scheduled to take place in New York City at 11:00 am on April 2nd, began going out today, according to The Verge. Though Amazon isn't explicitly saying what it's going to reveal, the invitation itself invites press to New York for an update about the company's "video business."
Naturally, that could be a hint that Amazon is finally ready to talk about the set-top box that has been rumored to be in development for ages. Presumably, it would allow Amazon a way to get its Amazon Prime video streaming service directly into a user's hands without having to go through an intermediary. For example, Amazon relies on the Apple TV, Xbox 360 and PS3 to reach users in the living room today.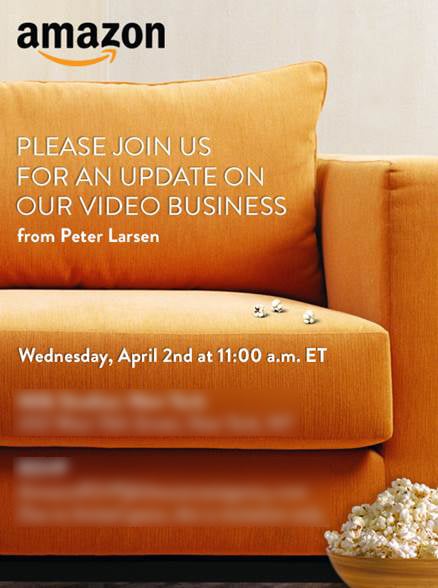 Video isn't the only thing that the Amazon set-top box is rumored to include. Leaks earlier this month of its bluetooth controller indicated that Amazon plans to at least make casual games available on the device. Amazon also purchased Reflexive Entertainment, a small game development studio earlier this year who'd last worked on Killer Instinct for the Xbox One.
As far as the software is concerned, it'd be shocking if Amazon didn't stay true to the way it makes its Kindle tablets and build the Amazon set-top box's software on top of a version of Google's Android operating system. That would allow the company to easily make its Amazon App Store for Android devices available to users in the living room.
Amazon seems to have all of the components it needs to take on the Apple TV, Xbox One and Google TV in the living room. Really, the only thing missing is pricing. If it borrows the pricing structure of Kindle, users could see the Amazon set-top box debut at a ridiculously low price. At the very least, the company would want to under price the console below the Apple TV, which costs $99.99. It's also possible that Amazon could introduce a Special Offers version of the set-top box in which users could purchase it at a lower price as long as they were comfortable with Amazon showing them ads.

This article may contain affiliate links. Click here for more details.