Is Apple Labeling Itself a Copycat for iOS 5 Camera Feature Updates?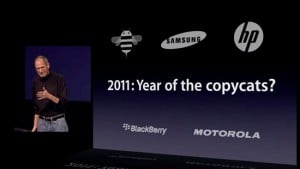 With the launch of the iPad 2 earlier this year, Steve Jobs introduced the second-generation tablet by first mocking the failures of Windows tablets and then poking fun at its Android competitors noting that 2011 is the year of copycats. A few months later, and the company began to preview its iOS 5 software update for the iPhone, iPod Touch, and iPad, bringing a new camera preview feature to the market along with new camera features for the platform, but in doing so, will Apple be labeling itself as a copycat as it 'borrows' some patented technology from rival Microsoft's Windows Phone 7 platform?
When iOS 5 was announced on stage at WWDC in San Francisco, California, Android fans were vocal about how the new Notification Center looked similar to Android's notification drawer, and there were even a few comparisons made between iOS 5's new iMessage chat system with RIM's BlackBerry Messenger. The new WiFi sync feature has gained the attention of the Internet in recent days as a shunned iOS third-party developer, whose app did the same purpose, was reportedly rejected by Apple to only later find that same functionality borrowed for iOS 5. Is Apple doing more borrowing than innovating?
The latest, and perhaps most blatant, example of copy comes from the new camera swipe gesture to move between stored and captured images in the the Camera Roll and the active camera user interface, a design and UI that's patented by Microsoft and is found on its Windows Phone 7 platform. Rather than requiring a user to tap on the camera roll, like on iOS 4, to see and preview already captured images, a user can just swipe to the left to see previously captured images in the camera roll, and then swipe towards the right to access the camera viewfinder again.
Redmond Pie compares the new iOS 5 camera roll and camera switching to Windows Phone 7 on video:
https://youtu.be/LzuZeWFSQzw
And here's the patent from Microsoft:
A user interface can display active and passive content. For example, a camera viewfinder image can be displayed on a screen, as part of a strip, concatenated with one or more other images, for example, images that were previously taken with the camera. A user can cause the viewfinder image and the other images to move together across the screen. This can allow a user to easily examine the other images and the viewfinder image without, for example, switching between different screens in a user interface. Media captured with a device can be associated with a media category by positioning a user interface element near one or more other elements associated with the category.

As an Amazon Associate I earn from qualifying purchases.