Is Google Working with LG on Nexus TV?
With rumors of Apple creating its own branded iTV HDTV unit, Google may be set to do the same thing with LG in developing a fully integrated Nexus TV. A Nexus TV would be a smart TV that may not rely on a separate, set-top box, like the Google TV boxes developed by Vizio and Logitech, and instead offer an integrated experience completely built into the HDTV itself.
Though Nexus TV isn't really named, rumors of Google officials visiting LG have begun to surface recently. Google and Microsoft had been making news lately with both software giants visiting South Korean electronics giant Samsung, but it looks like LG Electronics was also included on Google's South Korean itinerary.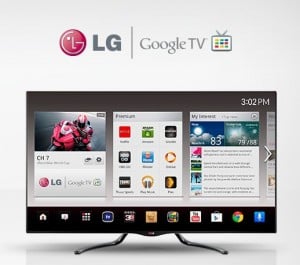 Android Authority is reporting that LG is discussing some futuristic projects with Google, making speculations about a partnership to help spur growth of LG's OLED TV business.
"Moreover, LG is pushing hard to expand the Google partnership to other products, such as a Google-integrated OLED TV and even a collaboration on a Glass-like device," the site reports based on information from Korea Times.
LG needs help from Google to continue its business momentum in smartphones and TVs. That's why Koo (Koo Bon-joon, LG Electronics Vice Chairman) met Page.
In the past, LG had built a standalone television set that comes with integrated Google TV at its heart, making the smart TV reliant on Google's core Android operating system. But based on closer collaboration rumors, perhaps LG is looking to extend its Nexus partnership with Google beyond the Nexus 4 smartphone and into the TV space with an LG-made Nexus-branded smart TV.
While all this is definitely is scintillating news, a Nexus TV that relies on Google TV may not be consistent with LG's most recent action. The company had purchased the defunct webOS project from HP, but rather than using the smart mobile OS on phones, LG had specifically mentioned that its looking at the Palm-developed operating system for its smart TV endeavors. A Google TV Nexus TV would compete with LG's webOS-powered smart TV when that gets announced and released.
But if LG offers a dual solution approach, a Nexus TV may be a good project for Google to compete Apple's current and future plans. Apple TV as it stands currently allows users to stream purchased or rented content, and mirror their Mac OS X, iPhone, or iPad display on a larger HDTV screen. Google could potentially use a Nexus TV to not only develop and showcase its vision for the connected living room, but also show a better integrated ecosystem between its phones and tablets with a Nexus TV.
Is a Nexus TV partnership in the works? And is a Nexus TV an enticing proposition against the rumored Apple iTV?

As an Amazon Associate I earn from qualifying purchases.