Is Kensington Powerback the Perfect Case for Super Moms?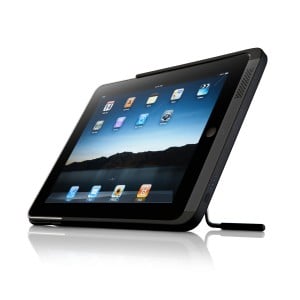 Kensington has a number of interesting cases for the iPad out, including the Powerback. The Powerback case provides some protection and 4400mAh of extra juice, providing up to five hours of use on top of the iPad's standard 10 hours.
Who needs 15 hours of battery life out of their iPad? Super Moms apparently. In this video demo of the Powerback, Kensington shows us how a mom can send her husband off to work, make lunch for her kids.  Then Mrs. Super Mom uses the iPad  to plan her day, navigate to a meeting, use it close an important business deal, fire off some emails from a cafe (notice the poor schmuck who has to plug in his iPad at the table behind her), surf the web on the train ride home, look up a recipe in her kitchen (precisely at 6pm) and then leave a family slideshow running as she sits down to dinner. Super Mom is presumably exhausted after dinner (who wouldn't be after that schedule), so Dad takes over and uses the iPad to read the kids their bedtime stories. Finally, at 10pm Super Mom wakes from her slumber to charge and sync the iPad with her MacBook Pro, which she doesn't use anymore.
The iPad is the only gadget I've bought where battery life isn't a concern. But for those who finds themselves using the iPad like the woman in the video, the Powerback has your back. It's available for pre-order for $129 at Kensington.com.