Is Marvell to Blame for the BlackBerry PlayBook's Launch Delay?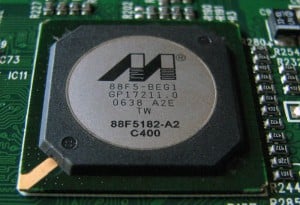 While RIM never really announced the PlayBook ealier than its Spring launch timeline, it is speculated that Research in Motion was hoping to launch the BlackBerry tablet in time for the holiday shopping season a few months ahead of the device's now confirmed April 10th launch date. That delay may be caused by RIM's partnership with Marvell, whose ARM-based chips are found on the company's current BlackBerry smartphones. According to a source familiar with the matter, Marvell was unable to deliver performance needed, forcing RIM to switch to Texas Instruments for the company's dual-core OMAP ARM-Based CPU inside the PlayBook:
"Marvell was having some serious problems getting the software to work with the hardware. The team was just taking too long and there were issues that weren't being resolved quickly enough."
Unfortunately for RIM, due to the Marvell issues, the PlayBook launching now would face stiff competition from the iPad 2, the Motorola Xoom, and a number of Android 3.0 tablets that are due to hit.
Via: IntoMobile