Is Microsoft OneDrive Worth Using?
Having a great operating system isn't just about stability. Companies have to keep an eye out for what's next. They have to go searching for features that'll make the digital lives of their customers as painless as it possibly can be. Microsoft OneDrive is a bet on the future, a future in which everyone cares less about the storage on their device because everything that is important is synced to a server.
In the early days, Microsoft played around with OneDrive's name and features a bit. Today, OneDrive is a cloud storage service and set of apps that back up your devices. Edit a document and you can send it to OneDrive for syncing with your smartphone, notebook, desktop or tablet. OneDrive acts as a digital storage service too. You can put files on Microsoft's servers and have them stay there for safe keeping.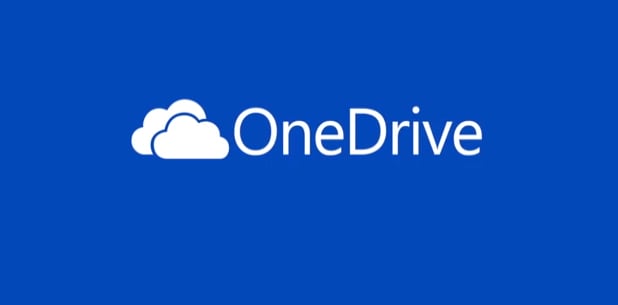 Microsoft is pushing the OneDrive integration in Windows 10 pretty hard. In fact, it's pushing OneDrive pretty hard on the iPhone and Google's Android operating system too.
Whether you should seriously consider it as an alternative to Dropbox, iCloud and Google Drive depends on what features you're looking for and which devices you have.
Microsoft OneDrive Apps & Experiences
OneDrive's apps for PCs act as the main spokes for the entire OneDrive experience. Available on Mac OS X and Windows, these apps provide background syncing. After you've logged in with a Microsoft Account and designated a OneDrive folder, things start syncing between your devices. For example, if you added a picture to the OneDrive folder on your Mac, it'll surface on online in a few minutes. If something should happen to your Mac, your picture is safe.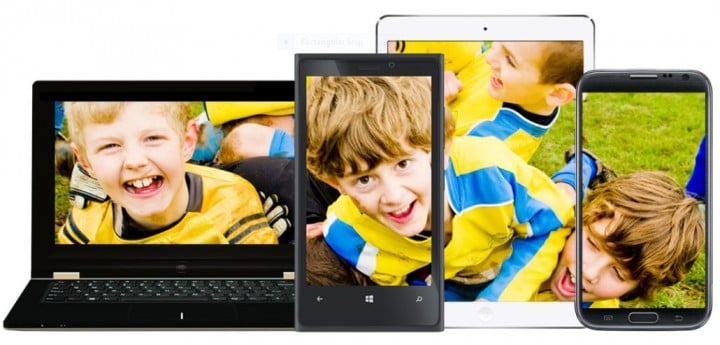 For the most part, OneDrive handles all of this syncing in the background. Users can stuff all of their important files and folders into OneDrive for safe keeping. Note that when you make a change on OneDrive or your PC that change also surfaces everywhere else. OneDrive is built into Windows 10, but the app basically forces users into its website for any settings changes, or additional storage purchases. Windows 7 users can install the classic OneDrive program from Microsoft's website.
Other devices have OneDrive apps of their own. Windows 10 Mobile, iOS and Android each have OneDrive apps that allow users to browse what's stored on their account, plus upload photos directly to their Camera Roll. Xbox One has a OneDrive app too, but it's more a showcase than useful tool.
When you're away from your PC or device, that's where the OneDrive website definitely comes in. It offers direct access to your pictures and documents online. You can manage everything there. Drag and drop for moving files is supported. It also directly links with Microsoft's free Office Web apps.
Microsoft OneDrive Prices
15GB of storage is free with every Microsoft Account. Users can purchase 50GB of storage for $1.99 a month or sign up for a companion service that gives them even more.
Microsoft Office 365 is one such companion service. Single subscribers get 1TB of OneDrive storage. Office 365 Home buyers get 1TB of storage for up to five different users. Groove Music is another companion service; Music Pass subscribers get 100GB of storage with their monthly $9.99 subscription.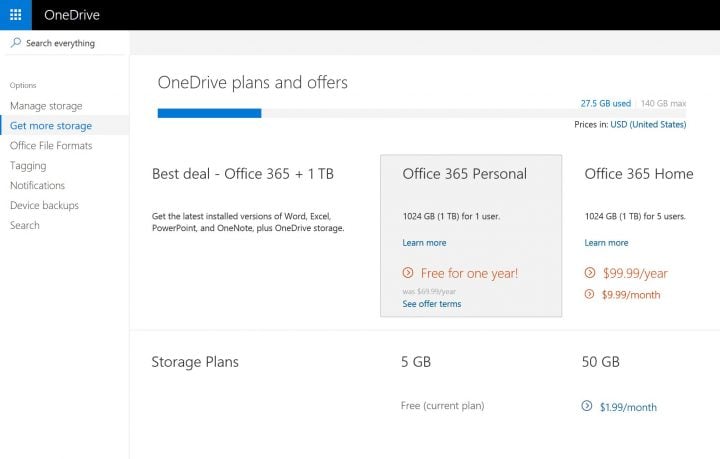 Both are a terrific showcase for how Microsoft's ecosystem fits together. Office 365 uses OneDrive to store and sync all the documents that users create. Groove Music acts as a cloud media player for anything stored in a user's OneDrive music folder.
How OneDrive Handles in Everyday Use
The whole point of any cloud storage service – anyone worth its price tag and branding, at least – is that you're able to offload something that you'd normally do.
The place that OneDrive is successful the most is stitching together a camera roll from all of your different devices. After flipping the setting on, OneDrive automatically uploads the pictures you take from Android, iPhone or Windows. You never have to worry about losing a picture because it's always there. You don't have to worry about syncing cables either. I do wish the service would add an option to delete a picture once it's been added to OneDrive.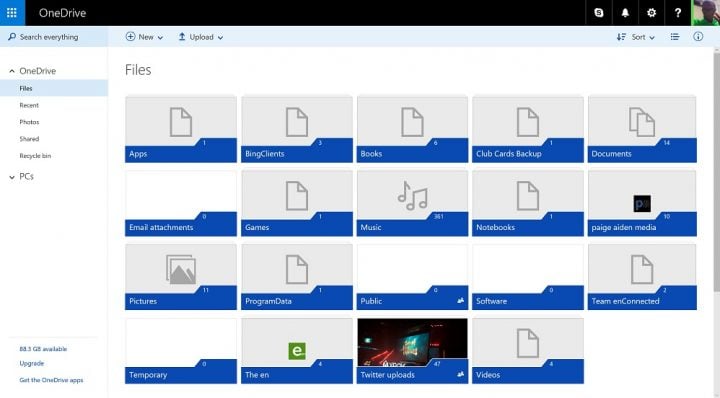 Syncing on the mobile apps feels effortless if you're near Wi-Fi. Outside of Wi-Fi, OneDrive will wait to sync until you're near a hotspot. You can configure the app to upload in the background and on a mobile network if you like.
The mobile and web versions of OneDrive are highly visual affairs, with great options for automatically tagging friends in photos or sharing documents, photos and videos. A single file can be 10GB of OneDrive. Uploading files doesn't take anything near the amount of time it used to.
The Windows 10 OneDrive integration is a joke though. Microsoft integrated the OneDrive program from Windows 7 into Windows 10. This program has long had issues with file-syncing conflicts and it still does today.You can't share anything from it. Sync problems sometimes surface again and again, even after you've dealt with them. OneDrive for Windows 8 had place holder files so that you had some idea of what files were in OneDrive, even if they weren't on your PC. That's gone now.
Backing up the OneDrive program that is integrated into Windows 10, the OneDrive app does allow for sharing. In fact, it's the only way you can see the things that are on OneDrive but not synced, unless you go on the web. Microsoft recently confirmed that it will bring back place holders so that Windows 10 users can see what is on their OneDrive. The feature won't arrive on regular user's computers until sometime next year. Meanwhile, Dropbox already has the feature available to its users.
Should You Use Microsoft OneDrive?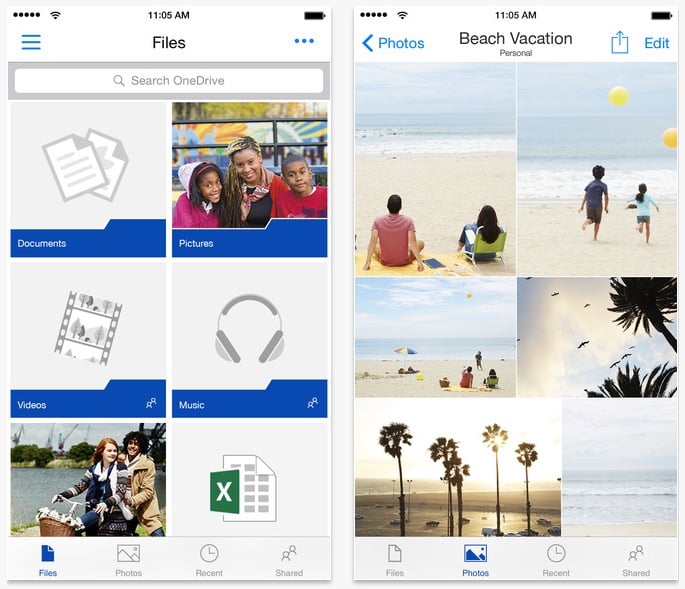 Syncing works quietly and flawlessly. There's a huge lack of add-on storage options at the moment, but $1.99 for 50GB of storage seems very reasonable to me. The Windows 10 experience needs some serious improvements, but you'd be hard-pressed to find issues with the rest of the OneDrive ecosystem.
Even if you have an iPhone or Android device, Microsoft OneDrive is definitely worth looking into. My advice would be to try it out before you pay Microsoft any more for additional storage or an add-on service like Office 365.

As an Amazon Associate I earn from qualifying purchases.