Is OQO Hitting Tough Times?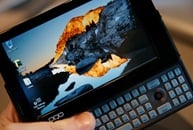 Consider this rumor and speculation at this point. Posts are bouncing all over the Internet prompted by this one from jkOnTheRun that OQO may be hitting hard times financially. Speculation is that the OQO Model 02+ may the last device in the line, if that even makes it.
According to the post on jkOnTheRun, eXpansys has removed the OQO from its website.   We don't have any more specific info to relate, and certainly hope this is all just a communication difficulty. If OQO is having difficulty, speculation certainly isn't going to help the matter, but then neither is keeping quiet in the face of reports surfacing on the Internet.
Xavier is working on nailing down some better information and we'll post more when we have it.
Update from Xavier:
I sent an email to one of the OQO execs asking if he could shed any light on the subject. He said he couldn't talk specifically about any possible buyout or the rumor that the OQO 2+ may not come to market.
He did acknowledge that "Times are tough right now for us like many other companies."

As an Amazon Associate I earn from qualifying purchases.