Is Sony Readying an iPod Wanna Be?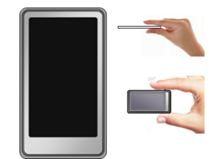 Rumors are rampant that Sony will be unveiling an iPod like device at CES2009. Does the world need another MP3 player? Maybe, maybe not, but if you can buy direct from the Amazon MP3 store that could shift that answer. If the specs I'm reading is true, there are a couple of very interesting aspects to this.
Two models: 16 GB and 32 GB
3″ touchscreen OLED display with a 10,000:1 contrast ratio (est)
WQVGA resolution
Wi-Fi connectivity
Onboard music purchase support via Amazon
Integrated FM radio
S-Master digital amplifier and digital noise canceling solution
Web browser
Dedicated YouTube interface
Of course I'm sure Sony will tag on its usual ridiculously high price tag to this.

As an Amazon Associate I earn from qualifying purchases.