Is the Cowon Q5W a PMP or a MID or a UMPC?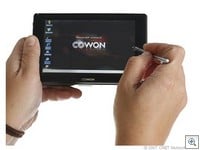 Interesting. Very interesting. We're seeing quite a few devices that at first glance appear to be yet another portable media player, but on digging further seem to have quite a bit more functionality, perhaps pushing them closer to MID or UMPC land. Is the Cowon Q5W one of those devices?
I'm not sure, but for a PMP it certainly packs quite a bit of functionality. Yes, it has the features you would expect of a media player. In addtiion it is running on WinCE and you can use a stylus with the onscreen keyboard to enter text on the 5 inch touchscreen. You can also hook up with WiFi and BlueTooth.
Interesting convergence or not?
Via Crave

This article may contain affiliate links. Click here for more details.